If you've heard of our video templates but you're wondering whether they can benefit you and how to use them for yourself then this is the blog for you.
We'll be showing you exactly where to find our templates, why you'd be crazy not to use them and how to edit them to suit your needs in 3 easy steps.
So let's get started - what exactly are the VideoScribe video templates?
Simply put they're short pre-made VideoScribe animations created by our talented team of animators. They're designed to help you easily and quickly create stand out video content by providing you with a template to edit, rather than starting from a blank canvas. They cover everything from education and back to school, to marketing and holidays like Halloween.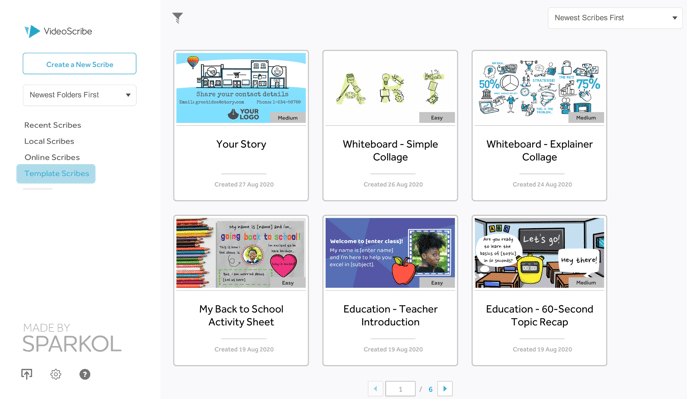 To check out our current range of templates, either log in to VideoScribe and click 'Template Scribes' on the left-hand side as you can see in the image above or start a free 7-day trial by clicking the button below.
The benefits of using our video templates
Now you know how to find them, here's why using our video templates is a no brainer!
1. They save you time
We're all busy juggling lots of responsibilities, especially right now in these uncertain times which means your time is more precious than ever. Helping you create effective videos quickly and easily has always been one of our main priorities and templates really just go the extra step.
Instead of starting with a blank canvas, we've done the hard work for you and our templates set the scene for you to add the final magic touches. Our simplest templates can be edited and rendered within just 10 minutes leaving you more time to tackle your to-do list or have a well deserved coffee break! 😌
2. They help you create more polished videos
Since each of our templates are designed by our team of professional animators, you're actually starting with a much higher quality video. With this foundation it's even easier to create really slick videos that'll impress your colleagues, customers and friends.
3. They're reusable, shareable and flexible
Plus, our templates can be adapted in as many different ways as you need, as many times as you need. They're the ultimate flexible tool to give you a helping hand. You also have the option to share your edited video files with others so your colleagues or friends can benefit too.
Spot the difference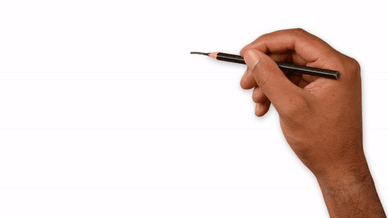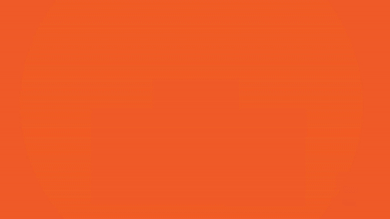 To prove just how much of a difference our templates make, here you can see our Halloween template on the right-hand side compared to the same imagery unedited on the left. Clearly the overall effect of the template is much more striking with the custom background and animated bats. But it's also in the details, some elements fade in and others are drawn, we've adapted the colors of the tombstones to create silhouettes and added extra messaging over one of them.
It's these small but effective changes that can take the time, which is why we've done them for you 😎
How to pick the right template for your content and needs
Now you know just how much our templates can benefit you, you're probably wondering how you can get started. The first step is choosing the right template. Bear in mind that you can fully edit the content of the template so what's most important is picking a template with the right structure for your video.
Our templates are each structured in one of three main ways that you can see below. Different structures are great for different topics. For instance if you're discussing a time based topic like what lessons will be taught over the coming semester or the impact your services have over time then a process structure is perfect.
Whereas explainer videos would benefit from a mind map or collage structure where ideas can be layered building up a full picture of the problem/solution. So keep this in mind when you're choosing a template and focus on the flow of the animation as this would be harder to change than the text and images.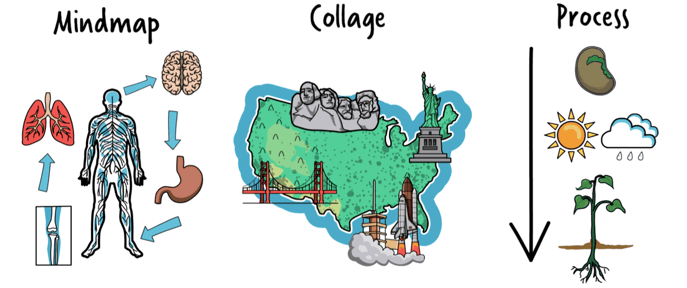 The 3 simple and easy steps to customize our video templates
Once you've picked a template to use you can move on to the fun part - editing! This is where your video starts to take shape and you can put your own stamp on it.
1. Edit the text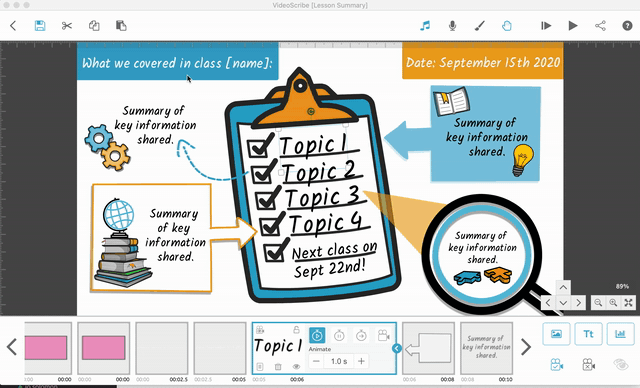 The easiest place to start is with editing the text. All of our templates have example text in them to illustrate where your content would go. So, start working through each text element and either edit the content as you can see in the example above or even remove the text element if you don't need it.
💡Top Tip 💡Don't forget you can also change the font, style and color of the text as you go to align it to your brand or tune it to your aesthetic.
2. Select new images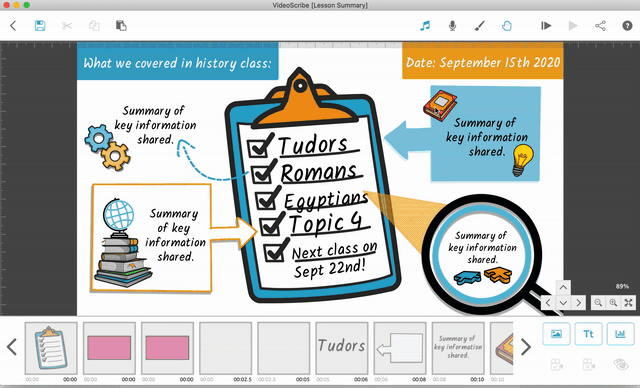 Once your text is in it's much easier to see what images you'll need to support your message. Just like the text, it's as easy as opening the properties of the images in our template and clicking the 'Select Image' option to switch out the graphics.
💡Top Tip 💡 You can search for images by category and by typing key words into the search bar. If you're looking for something specific, it's often easier to search for words rather than by category. But if you're just looking for ideas, browsing the categories is a great way to start.
3. Customize the colors and background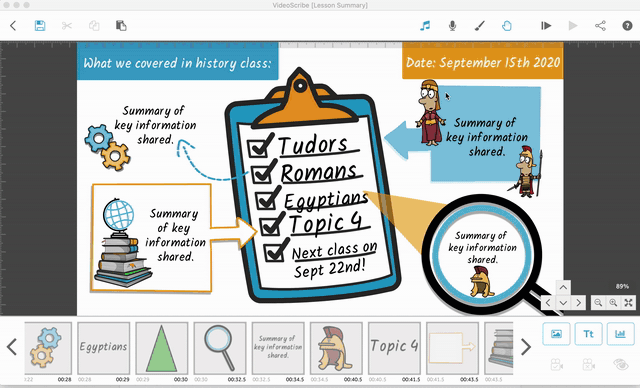 This last step can often have the biggest impact. It's time to switch up the color scheme. You could pick colors that are in line with your brand, suit your message or even just colors that you like.
Lots of the images in the VideoScribe library are color changing so all you need to do is open their properties and select the color you want. To get an exact match with your brand colors, type the color hex code into the 'Hex Value' option.
At this point you can also edit the background. Some of our templates already have a background texture or image while others like the one above are plain. By clicking the paint brush icon in the top right hand corner, you can pick from a range of background colors and textures including paper, chalkboard and marble.
Want to take our template beyond its current limit? Here's how
If you've reached the end of our template but still have more to say, don't worry you can easily extend it. In most cases our templates have background images or textures that are either set for the entire canvas, or are images that can be copied and pasted to continue the theme.
You can see an example of this below. Our brick wall background image has been designed to seamlessly blend with duplicates to create a bigger area. Which means all you have to do is use the VideoScribe shortcuts to copy and paste the background and then add your text and images over the top as normal.
💡Top tip 💡 In lots of our templates, we use the padlock icon to lock background images in place so they don't move while you work on top of them. To move or copy locked images simply click the unlock option, make your changes and then lock it again to work over the top without accidentally moving the image.

To start customizing our templates simply log into VideoScribe and click the 'Template Scribes' button, or start a FREE 7-day trial today (no credit card needed).