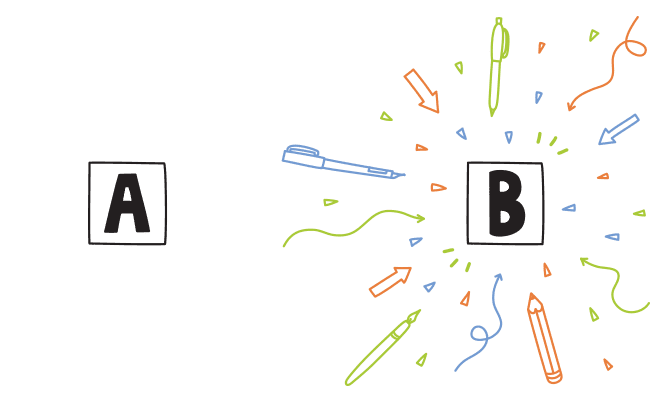 Have you ever made a stylish scribe that somehow failed to motivate your audience? We've seen a lot of scribes here at Sparkol Towers – here are three simple marketing tricks used by the most successful scribes.
This is the eighth article in a series that teaches you how to make powerful and unforgettable scribe videos. See the end of the post for more.

100 hours of video are uploaded to Youtube every minute. In this sea of video, it's essential to give your video the best chance possible of being heard. After all, over 6 billion hours of video are watched each month on Youtube – there's nothing to stop you from grabbing a slice of that pie.
The most effective scribes are those that are crisp and clear in the way they present information. Great style is a must, but your video will flop unless the script – the backbone of your video – can stand up to scrutiny.
Your viewers are bombarded with information on daily basis. They don't necessarily have the time or inclination to give your masterpiece the time it deserves. It's your job to make it obvious why they should be paying attention to you.
Spell out your features, advantages and benefits
Avoid producing a vanity video. Don't talk about how awesome your product or idea is– say what it will do for your listener. Cut out anything that isn't directly useful to them.
The best way to approach empathic selling is to go through the features, advantages and benefits of your product or idea.
Questions you need to answer – What's in it for me? Why should I pay attention?
Because it has [feature]...you will be able to [advantage]...what that means to you is [benefit].
A feature of VideoScribe is that you can work offline. The advantage is that you can use scribe wherever you are, even if you don't have access to the internet. The benefit to you is that you can make a killer scribe on the train in the morning.
It's not enough to say what the features of your product or idea are. You need to demonstrate what the jargon means for your viewer in real-world situations. Follow this pattern for a video that viewers will easily understand and connect with.
Even if you are producing a scribe for training or education, reinforcing what the topic is, why it will be helpful to the learner and what benefits the learning will bring them will make your audience understand the value of paying attention to your scribe.
Define your unique selling point
Unless what your business does is very niche, it can be difficult to set yourself apart from your competitors. Identify what it is that makes you special, and make that your unique selling point. Having a strong identity as a business will make your potential customers more likely to remember you.
Research your target audience and decide what their major motivators are likely to be. Imagine what your typical customer might look like and try to speak to them with your videos
Find out why your customers choose your products and not those of a similar but less successful competitor. Amplify those characteristics
Visit your competitors' sites and go through the process of buying their products or services. Was there anything that was done well or done poorly? Check industry forums, read reviews and ask around. What do people find irritating? What fails to meet their expectations? Make your product even better
A simple way to define your USP is to corner a certain market – by offering the lowest price, highest quality, best customer service, best choice, strongest security or a tailor-made product, you can claim the customers for whom that factor matters most.
If you get really stuck, write down all of the things that are important to you as a business. Keep cutting the list down until you are left with your core values. Define your promise. Make it your slogan and shout it from the rooftops.
If the purpose of your video is to deliver information, choose one interesting fact or story to return to in your scribe to bring the same kind of focus. For example, opening your scribe with a puzzle or an intriguing question that you promise to answer at the end can make dry material more enjoyable and your scribe more memorable.
Call your audience to action
Unless you define exactly what you want your potential customer to do, your video is pointless. Many viewers will not make the effort to search for you by themselves. You need to make it as simple for them as possible to get more information.
Decide what is the strongest call to action for your scribe. Do you want them to go to your website or your blog? Do you want them to go directly to buy your product? Do you want them to engage with you on social media? Choose one call to action and stick with it.
Finish your scribe with a strong command and any contact information they might need to follow that command, e.g. 'Contact Sparkol today to find out more about VideoScribe Edu licences!' Try to leave the viewer with a sense of purpose and direction.
If you are delivering a presentation, you might choose to end your scribe with one clear piece of advice you want your audience to act on. You could direct them towards useful reading and resources. You might prompt them to do their own research and feedback. Whatever it might be, it's important to choose one clear command and stick to it.
More expert advice from the Better Scribes series: