If you ask anyone on the VideoScribe team what their top tip for video creation is, we promise you the majority will answer "video templates". Why? Because they're fantastic for saving time, sharing creativity and increasing productivity. Many people think that video creation is a time-consuming process but we promise you, video templates remove the time pressures and make getting your message out to your students quicker than ever.
The 3 key layouts for educational video templates
We think there are three key layouts for educational video templates: mind map, collage and process. In this blog post, we'll talk through these three key layouts and how you can create your own teaching video templates, tailoring them to suit your subjects and meet your students' needs.
To see these three video layouts in action, watch our quick explainer video.
We created this video using VideoScribe. Did you know, with VideoScribe to have unlimited access to our library of free, editable templates? To get started with your own VideoScribe subscription, choose a subscription that suits you - maybe an annual subscription? Or if you want to try before you buy, take advantage of our free 7 day trial. No payment is required upfront - just create your account to get started today!
The mind map layout
So let's start with the layout we saw first: the mind map layout. In the classroom, mind mapping is a fantastic technique to visually and graphically represent ideas and concepts. Mind maps help present thoughts and ideas, and when put into a video format, it's a fantastic layout to showcase a central concept. Mind mapping in video works in the same way our brain does. That is, it allows us to organize and understand information faster and more effectively.
The mind map layout can be used as we have in our video example for a biology class - showing the human anatomy. But you could spin this template into many other variations. Check out what we've done below. Just by changing the central theme, we're able to repurpose the template to create 3 new pieces of video learning content.

The collage layout
The second layout that we saw in the video example was collage. In the example video, we saw the collage layout used to illustrate key landmarks around the United States of America. A collage is a great layout when you have the useful information laid out as one holistic image. In the VideoScribe template library, we have two collage specific templates, already loaded and ready to go!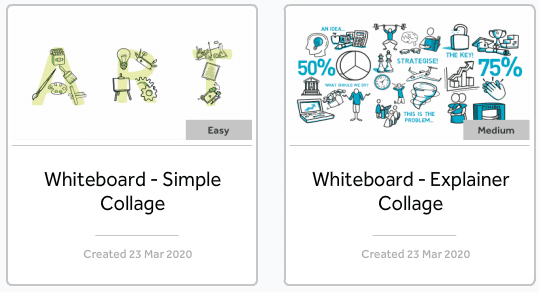 You can repurpose our existing templates to reflect your teachings for specific subjects. In this example below, we've taken our 'Whiteboard - Simple Collage' template for art and repurposed the template to be specific to maths.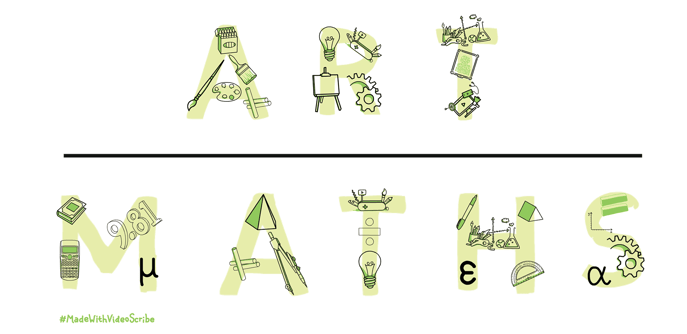 The process layout
The third and final template is the process layout. This is the most simplistic layout of the three (but sometimes simple is best)! The process layout has a clear start and a definitive end. In video form, a process layout flows from start to finish and if needed, easily allows you to travel back and forth between key points.
The example of a process layout in our video showcased the growth of a plant; from seedling to a sprouting plant. Other examples where a process layout works wonderfully is when discussing new processes i.e. the steps required when returning to the classroom after lockdown. Below, we've used a process layout to highlight the 5 stages of design thinking!
Repurposing and sharing video templates to save time
Having a suite of video templates in your tool belt will save you so much time in the long run. Plus with VideoScribe, you can share your templates with any other users who also have a VideoScribe account. Your repurposed templates could be shared with multiple faculty members, encouraging collaboration, creativity and knowledge sharing.
The educational VideoScribe discount
If you're an educator or student, you're entitled to an educational VideoScribe discount. Speak to our team today to see how much you can save off your subscription! If you'd like to try VideoScribe out before you buy, sign up to our free 7 day trial today!