When you create a video landing page, you want the maximum number of visitors to take the action you desire. That action could be making a purchase, opting on to your email list, filling out a form, or something else entirely.
While creating a video landing page that converts is difficult, there are proven methods you can use to maximize conversions. This guide will walk you through five important things to consider when designing and optimizing your video landing page. Ready? Let's jump right into this guide.
1. Create a compelling value proposition
If you want to convert people on your page, you need to understand their motivations and drivers. The better your landing page copy and the video sales script addresses those motivations and resolves the pain points your customers face, the higher your conversion rate.
So, how do you understand your customer motivations?
One of the best ways to start any marketing campaign is to create a customer persona. A customer persona is a semi-fictional archetype that represents your primary audience. The customer persona includes information about a customer's interests, pain points, and background.
Here' is an example of a customer persona.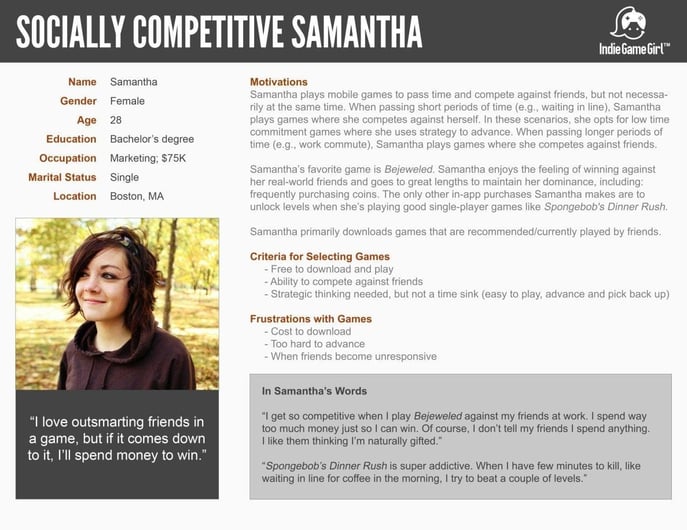 The customer persona is a nice resource for your marketing campaign. You can reference the customer persona when writing your copy, creating your video script, and designing your page.
The next step of the process is to create a hook. Your hook is the primary marketing message for your page. Let me give you an example.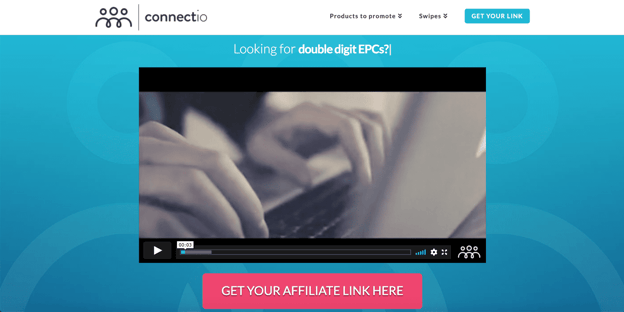 The video landing page above is for an affiliate launch. It's got a simple design. You have the headline, video, and a button. The product owner's goal is to get the maximum number of affiliates to sign up for the launch and promote it by pressing that big button.
The headline for the offer tries to hook the affiliate. The product developer has hypothesized that affiliates want to support products that make them money. So, they landed on the headline: "Looking for Double-Digit Earnings Per Clicks?"
The sales video elaborates on this key message. The video script goes a bit like this:
Examples of previous launches that have been a big success

Why an affiliate's audience will find this product so useful (first angle)

Why an affiliate's audience will find this product so useful (second angle)

An overview of the product that the affiliate can promote

It ends with a final call to action
You can see how the headline and the sales video message align with each other. They also seek to address the main driver that will make an affiliate take action; profit.
The secondary driver that the product owner addresses is 'trust'.
The product owner shows they have a track record for creating reliable products that customers love, which convert. That is an attractive combination for affiliates who want to promote products that make them money and make their subscribers happy.
Hopefully, you can see why an understanding of your audience's motivations and your ability to address those motivations through your sales video and sales copy is important. The better you understand and address your audience's needs, the more likely a person will take your desired action.
2. Use a proven sales video script
Video marketing is a great way to connect with people. Through a video, you can transmit a lot of information to a viewer in a short amount of time. For example, the average person speaks somewhere between 125-150 words per minute.
A full page of writing is about 500 words.
To put that in context, every 3.5 minutes of video is equivalent to a page of sales copy. Viewers will also pick up visual and audio cues when watching a video.
Video is a great format for engaging with your audience. You need to logically order your thoughts, though, if you want people to take action.
Creating a video script can be difficult if you've never created a video before. Thankfully, you can use proven outlines, scripts, and storyboards to create videos that convert.
For example, you can use the outline below to create a video sales letter:
Start with an

attention grabber

Highlight the main issue/ problem

Share an emotional story detailing your experience with the problem

Introduce the solution

Establish credibility in the solution

Provide proof the solution works

Encourage action

Summarize the benefits and a final CTA
You can use the same outline to create your sales video. You can even find a sales video script and adapt it to your needs.
There are great outlines, scripts, and storyboards for every type of video. Such resources are great for beginners who need support creating videos. As you grow in experience, you'll find these types of resources useful for creating content for your digital marketing funnel quickly.
3. Use high converting landing page templates
If you want to create a high-converting video landing page, it makes sense to utilize a proven template. Most of the best landing page builders have dozens of easy to edit ready to use templates. These templates utilize various copywriting formulas like the Z and F design.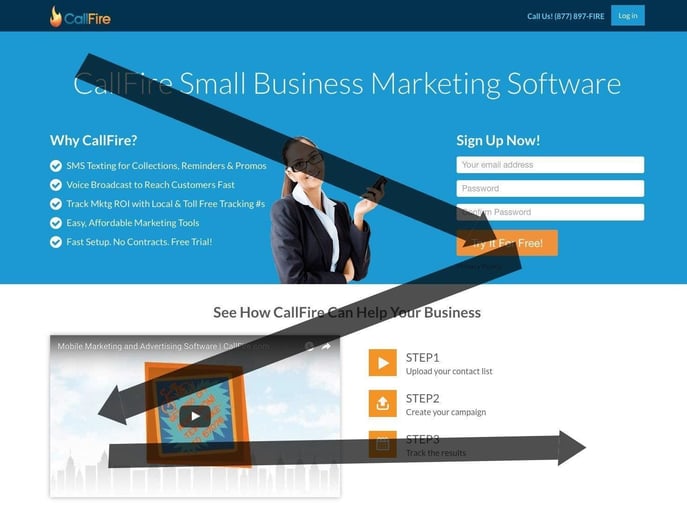 They also incorporate effective sales copy elements as well—for example, a prominently placed headline and sub-headline, bullet points for emphasizing benefits, and more.
Landing page templates are a massive time saver. I recommend you use a suitable landing page template when creating your page. You can edit the color scheme to fit your brand and insert your copy.
Other sources of inspiration for a good video landing page design include Pay Per Click ads. A quick look in the search results for expensive keywords can be a source of inspiration. You can use a tool like Keywords Everywhere to view the Cost Per Click for various search terms.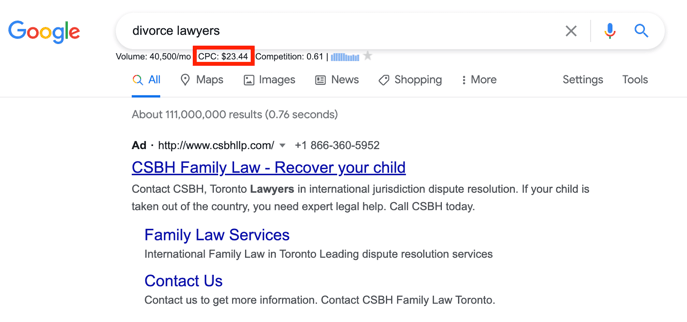 It's also worth reviewing the landing page designs of your competition. While you don't want to steal their templates, your competitors might have made some smart insights that you could borrow.
Once you've found a suitable template and done the necessary research, create your landing page. Make sure the page you create adheres to landing page best practices.
4. Run follow up campaigns
If you've created a great video landing page, a decent portion of visitors should convert. Many people, of course, will decide that your offer doesn't appeal to them. It happens.
There are a variety of strategies you can put in place to capture those potential leads. I'll walk you through the two main options; PPC retargeting and lead capture.
If your goal is to generate sales, it makes sense to set up an exit-intent lightbox on the landing page. As the name suggests, an exit-intent lightbox will appear when the visitor to the site tries to leave the landing page.
Here's an example of an exit-intent popup at work on the Zendesk homepage.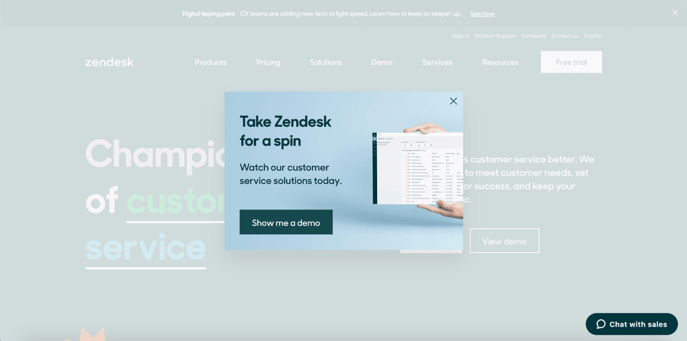 The optin form is an easy way to generate potential leads from people about to leave your site.
I recommend creating a nice complimentary resource you can give away to new subscribers. For example, if the landing page is for mechanics, you might offer a guide to "10 Expensive Problems With Your Car You Could Fix Yourself."
The content upgrade needs to be something that your target audience would find useful.
You could then run a drip-email campaign to anyone who signs up through the form. Below is an example of a simple email sequence you could use to turn some of those prospects into customers.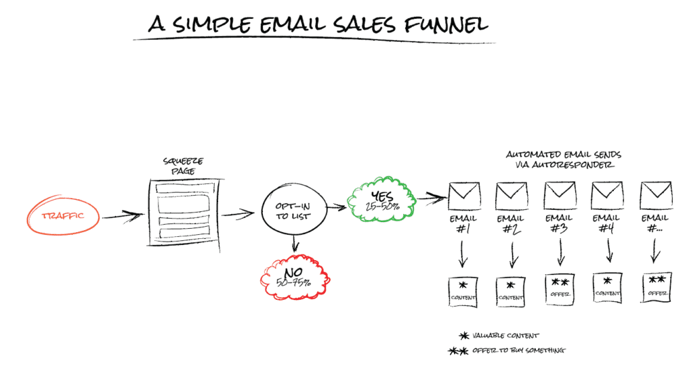 Another avenue to consider is paid retargeting. By adding a retargeting pixel to your site, you can collect the details of people who visited the page and run a paid campaign targeting these visitors.
Retargeting is an excellent way to increase your conversion rate. If you choose to run a retargeting campaign, make sure to monitor your paid ads' effectiveness.
5. Optimize your page with A/B or multivariate tests
Once you have set up a video landing page, do not sit idly. Instead, look at the metrics to track its performance. Are you getting the conversion that you expected? If you are not getting the desired conversion figure, where are you losing the audience?
You can gain insights into how people interact with your landing page using tools like heatmaps. You can then build on these insights using tools like Google Analytics, which shows you how long people are spending on your page and the page conversion rate. You should also use tools to monitor how people engage with your video.
Gather all the relevant data about the performance of the landing page. You can use this data to make educated guesses about how to make improvements. With the help of A/B testing and multivariate testing, you can refine the landing pages and ensure that you get the best performance from the target audience.
In summary
Creating a great video landing page is relatively straightforward when you follow a logical structure. Start by considering the motivations of your audience. You can use these insights to design your offer, craft your copy and create your video.
To speed up the creation process, use and adapt proven landing page templates. You can use video storyboards, scripts, and frameworks to create engaging video content. Then, set up a process for generating leads from people who don't convert on your landing page on the first visit.
By following those steps listed above, you should end up with a great landing page. To maximize your conversions, use tools to monitor your landing page's performance and then run A/B or multivariate tests to boost your results.
Guest authored by: Matt Diggity, Search Engine Optimization specialist and founder of Diggity Marketing.