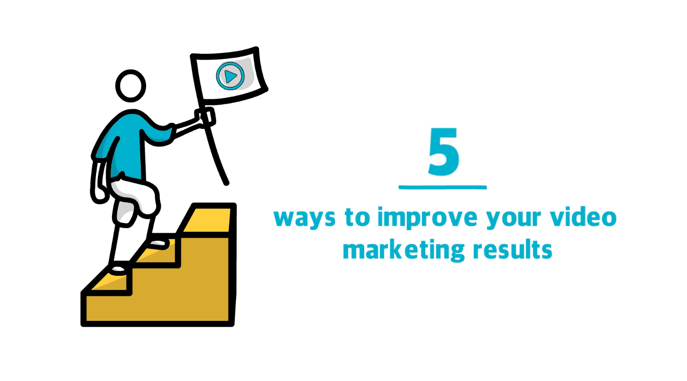 If you're in any way involved in generating sales for your business, then you're bound to have heard all the fuss about the power of video in attracting and converting potential customers. But… just in case you've been under a rock and haven't yet heard about why you should use video in your business, here are the headlines.
75 million people (in the US alone) watch videos every day
95% of the message is retained after watching a video versus 10% from text alone
Videos on landing pages increase conversions by 80%
Videos get 33% more engagement on Facebook
13% increase in email click-throughs if 'video' is included in the subject line
64% of consumers buy after watching a branded video
Sources: Dreamgrow and Impactbnd
Why is video so captivating?
It's obvious from these statistics that video is working to turn leads into customers, but what makes it so captivating?
The 'mirror' effect
Well there's a strong chance a big part of it is down to something called a mirror neuron.
Mirror neurons were first discovered in the 1990s, when a team of Italian researchers found individual neurons in the brains of macaque monkeys that fired both when the monkeys grabbed an object and also when the monkeys watched another monkey grab the same object.
Scientists have since suggested that finding mirror neurons might just be the most important discovery since DNA, because they tell us how we relate to other humans.
What mirror neurons do is map the actions we see others perform, onto the motor and sensory parts of our brains. It's not only movements though, we map the intentions and emotions accompanying the actions.
This means that when we see a movie or a play or even a painting, we subconsciously map these fictional humans' actions, emotions, and sensations onto our own brains' visceral, motor, and sensory representations. We have an emotional experience, even though it's not happening to us!
By using video in our marketing, we can tap into this mirror effect to get emotional buy in to our product or service.
Video hits our primal psychological triggers to increase engagement
Smart marketers have intuitively known about how powerful video is for sharing stories that break down barriers and connect to our hearts. That's why charity telethons like comic relief can raise so much money, and Christmas adverts are like mini movies!
Having video on your website and in your social media posts to promote and explain your business, products and services is also taking advantage of human evolution to grab peoples' attention.
Dr. Susan Weinschenk also known as the 'Brain Lady', is a renowned speaker, author and consultant, with a focus on the psychology of customers and why they do what they do. She uncovered four core reasons why we find video so engaging:
We're hardwired to pay attention to faces.
Hearing a human voice helps us convert information into meaningful content.
Body language evokes emotion in us.
Evolution has taught us to be alert to things that move so we don't get hurt!
These primal cues are why videos grab attention and also why it keeps people engaged much longer than text-based articles, or posts.
Video is easier for us to process and remember
They say that a single minute of video is worth 1.8 million words, and that's because we process visual information 60,000 times faster than text (HubSpot). It's one of the big reasons why video is so effective when you want to share information or explain complex topics in a short timeframe.
Which is just as well because a study by Anagard shows that people normally stay on your site for six seconds or less. If people don't stay, your site can't convert, so anything that makes them hang around longer will help with conversions.
If people are more likely to stay and consume your video then they're more likely to share it too, and data from Marketing Land shows that tweets with videos received 28% more retweets.
Given that the stats and the science are compelling about the power of video, it's likely that you're feeling one of two ways about it.
One, you're excited and want to go straight out and make videos, (potentially without considering the best way to use it for your business). Two, you're feeling overwhelmed by the whole thing and you want to go back to your rock!
Whichever scenario you're in, we want to give you some tips for using video in your marketing, so that you get it right for your organization.
Five tips for using video in your marketing
1. Choose the right type of video for your target audience and purpose: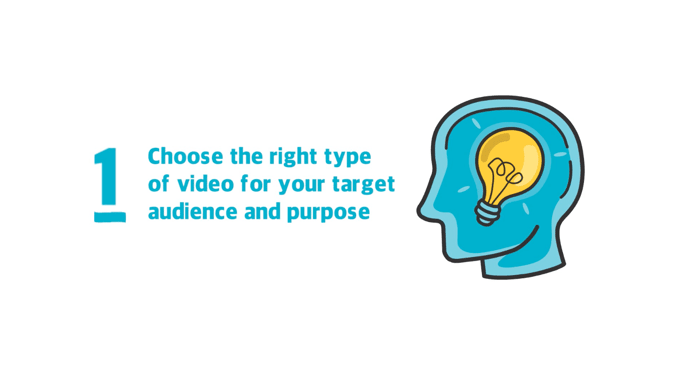 There are at least 15 types of video you could choose to create, but each type has a different purpose. You need to decide who your target audience is and what you want to achieve with your video before you start creating something.
There are four key objectives for videos:
Raising awareness - these videos are generally designed for an audience with little awareness of you or the problem you solve. They're typically short with high entertainment value to grab and keep attention.
Engagement – the aim of these is to get you interacting with the person, brand or organization and connecting with it on an emotional level, so that you want to learn more and/or share.
Education – these are to teach your viewers something, and that's where 'explainer' videos come in.
Offer promotion – when you have sufficiently warmed your audience up these videos aim to get them to take some sort of action, whether that's to 'opt in', 'buy' or 'donate'.
However, these are just a rule of thumb as there are videos by brands like 'Pinterest' and 'Dollar Shave Club' that manage to cover all of these objectives in one video.
2. Make your video mobile friendly: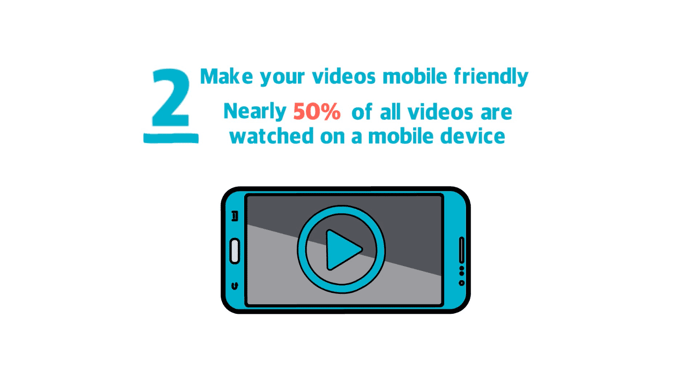 Nearly 50% of all videos are watched on a mobile device, so make sure you create your content with this in mind. Here are the key things you need to be aware of:
Load time and size – mobiles have lower bandwidth so you need to make sure you use a platform to host your video that can detect and dynamically respond to mobile bandwidth and screen size. Platforms such as Vimeo and YouTube will do this.
Sound quality – make sure your audio is good quality especially for headphones.
Text – compared to desktop, mobiles have teeny tiny screens, and text can be really hard to read, so make sure your text is clear and large enough to read!
Thumbnail – choose a thumbnail for your video that will be easy to see on mobiles too, for example a standard iPhone is 640px wide and a large monitor is 1920px wide.
3. Choose the right length: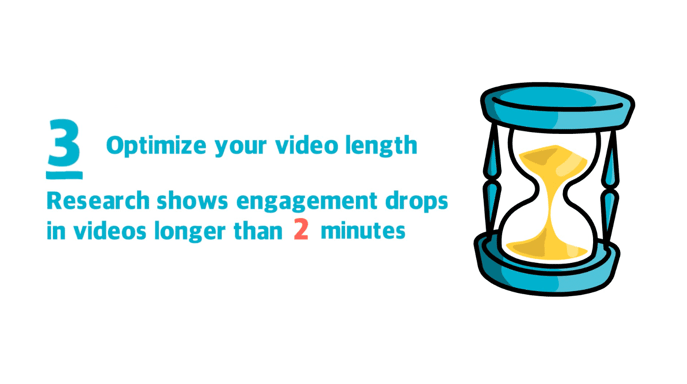 Pretty much all social media platforms now support video of varying lengths. However, just because it's possible to put a feature length video of your product's technical specifications on a platform, it's probably not the best idea. One of the main reasons is because we do have short attention spans, and even though video is more engaging, the longer video, the higher the drop off rates.
We always use these as our rule of thumb based on advertising rules, results of work we've done for clients and our own marketing experience:
Instagram, Twitter and Facebook feed posts between 30-60 seconds
LinkedIn feed posts 1-2 minutes
Website home page intro videos 2-3 minutes
YouTube / website explainer videos 2-5 minutes
The bottom line is that videos up to 2 minutes in length get the best engagement, but if you want to find out more then check out our blog post on 'How to Optimize Your Video Performance on Social Media'.
4. Add subtitles to maximise engagement: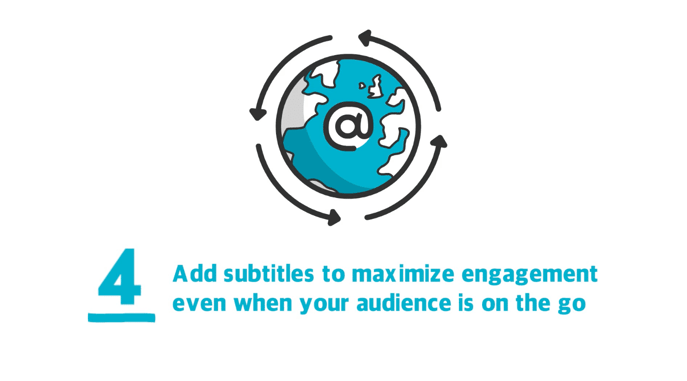 A massive chunk of your audience is watching video content on their mobile, but many of them won't be in a position to have the sound on. They could be in the toilet at work, in a noisy place, or on public transport… or they just can't be bothered to turn the volume on until they're satisfied your video will be worth it!
With that in mind, subtitles are key.
You can outsource the creation of your subtitles to companies like Rev or find someone selling this service on Fiverr, or, if you have the time you can do it yourself. All you'll need to do is create your voiceover in an SRT file and upload it to YouTube, Facebook or your video platform of choice.
5. Recognise that content is more important than production value: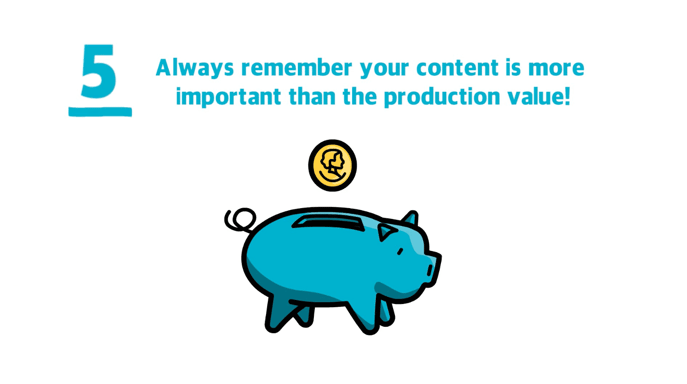 It's a truth universally acknowledged that the content is more important than production value of your video. In fact, according to HubSpot research in 2018, "consumers and customers actually prefer lower quality, "authentic" video over high quality video that seems artificial and inauthentic."
If you have the budget to hire a film company then do it, alternatively you can just start out using your iPhone. If you like the idea of an animated video and you want to take advantage of the higher retention rates that the mix of words, images and voice bring, then VideoScribe may be a good option for you.
What is VideoScribe?
VideoScribe is a tool that's used across the globe, across multiple industries for lots of different projects. It's a video animation tool that lets you create your own videos quickly and easily without any design skills or the need to hire an agency.
With VideoScribe, you can explain complex ideas and deliver powerful marketing messages in an engaging, inspiring and concise way.
It uses a combination of spoken word, animated hand-drawn images, music, and sound effects to create eye-catching and attention-grabbing videos on any subject. It's simple and intuitive to use, gives you the choice of thousands of library images, or you can use your own.
There's also a huge library of video tutorials, blogs and support resources to take advantage of and our technical support team is on hand to answer any questions as well.
Get started making your own video by signing up for a seven-day free trial of VideoScribe today, (no credit card required).
Once you've created your video, give it the attention it deserves and share it on social media with #MadeWithVideoScribe for a chance to be featured on our website!