With the global pandemic limiting international travel, volunteers who would normally support refugees fleeing war and violence have been unable to get to them.
Those volunteers include people like John Namkung who plays a vital role helping refugees learn English. But while John can't teach in person, he's found another way to ensure students can continue developing their language skills - with video.
In this blog, we're honored to share John's story and an insight into how he uses video to make learning English accessible and easy for all!
1. Could you tell us a little bit about yourself and the people you've been working with?
I retired in 2009, having spent my entire career as a teacher and administrator in the field of special education for children with disabilities.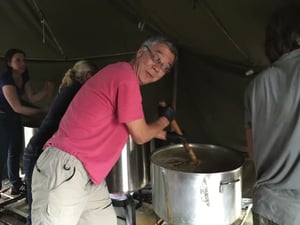 The day after my 68th birthday in 2016, I went to Greece to help Syrian refugees as they were escaping war. I served hot meals to thousands of hungry people and families. When I returned home to the United States from this life-altering experience, I volunteered with an agency called the International Rescue Committee to help refugees resettle in the US.
Then in 2018 I heard about the genocide of a group called the Yazidis in northern Iraq. They were targeted by ISIS in 2014 and thousands were killed. On top of that, thousands of young women and girls were kidnapped and became sex slaves of the ISIS soldiers. The Yazidis that managed to escape ended up in Turkey, Greece, Germany and other countries. I learned that there was a camp for Yazidi survivors in northern Greece, an hour from where I volunteered in 2016.
So in 2019, my wife and I volunteered with an organization called Lifting Hands International and went to Serres, Greece where I taught English for a month to the Yazidis. It was the most rewarding experience of my life as the students were 100% engaged in learning English. We decided to return in the spring of 2020 to continue our work at the camp.
However, our plans were dashed due to Covid-19 and we haven't been able to travel back since. In the meantime a small group of volunteers attempted to hold in-person English classes but, ultimately, had to close down the program due to the lockdown of the refugee camp in late 2020.
2. How do you use video to support Yazidi refugees?
The Education Director developed a plan where homework packets are distributed to the students each week. The packets are collected, corrected and returned the following week. We share resources and connect with students via WhatsApp groups and the videos we send them are the only form of instruction they receive in order to complete their homework.
Most of the Yazidis do not have computers. However, almost all of them have smartphones that they can view the videos on and use to communicate with us. Without their phones, they would be totally isolated from the rest of the world. Without the videos, they would be unable to learn the English language.
3. Why do you think video is such an effective teaching tool?
Short videos are extremely effective teaching tools because visuals are a key for those learning a new language. Grammar, vocabulary and concepts can be reinforced with the use of video clips, photos and pictures.


Well done videos encourage engagement and active participation as the students' attentions are glued to the screen and the sensory messages.

The students can pause the video, rewind to repeat a section they didn't understand, and save it to view later. They maintain control over their own educational experience.
4. What feedback do you get from the community on your videos?
The Education Director has reported that the students enjoy seeing the videos, and some students thank me in the WhatsApp chat groups. A survey of the program is also being conducted to collect more feedback and evaluate the success of the videos.
5. How do you create your videos?
I begin by reviewing the content of that week's planned lesson. For example, one week the goal of the lesson was to teach students the vocabulary associated with health ailments and their definitions in simple English. The next step was to decide how many, and which ailments to cover in the lesson.
Then VideoScribe comes into play! I upload lots of my own images that I find on free photo sites to help illustrate the vocabulary and/or grammar of the lesson. Next I add any text needed to go with the images and add a voice-over. Then I download the scribe onto my desktop before uploading it onto iMovie to add extra content.
I usually record a few brief clips of myself illustrating what was covered in the lesson, and I try to make them interesting and/or humorous. This step is important because I want them to connect with a human being instead of just a voice, and to bring a smile to their faces.
6. What made you choose VideoScribe to create your videos?
I chose VideoScribe after researching a number of
whiteboard animation software
programs on the internet. I was immediately impressed with the hand writing out the words and knew that this feature would "hook" my students and catch their attention. The following are the major reasons I use VideoScribe exclusively to create my lessons:
7. What's your best advice for others wanting to create educational videos?
Develop a clear goal for the lesson, keep it simple, and make sure that each video clip and page supports the goal.
Keep it brief (no more than 5 minutes max for my videos).
Minimize the use of text. Use animations, photos and images to maintain interest.
Provide opportunities for active listening and response to questions.
Be authentic, be yourself and relatable.
Use humor as a powerful teaching tool to encourage interest and to create a connection with the students.
The saying that "You can't teach an old dog new tricks" is untrue. Here I am 72 years old, not particularly technologically adept, and I've pretty much mastered the basics of a whiteboard animation software program called VideoScribe and a video producing and editing program called iMovie.
Ten years ago, I would never have imagined that I could create a video lesson and have students in a refugee camp 6,500 miles away view it on their smartphones immediately after posting it on an app.
While there are aspects of technology that negatively impact student learning, there are, on the other hand, powerful technological tools available to enable students to learn more efficiently and effectively.
Big thank you to John for sharing your story with us! 🙌