With the unprecedented spread of the Coronavirus disease (COVID-19), countries all over the world are temporarily closing their doors to schools, universities and colleges with remote learning (or virtual classes) becoming the next best learning option. What this means is, teachers are hosting their lessons online - through various tools such as Skype, Google Classroom or Zoom - so students can continue to learn and collaborate while the world tries to overcome and contain the virus.
All over the web, we've seen memes and videos of how students are reacting to this new remote learning approach (here's a handful of the ones we've enjoyed)...
MY PROF SHOWED US HIS DOGS IN CLASS TODAY 🥺🤲🏼 ##fyp ##foryou ##onlineclass ##coronavirus ##lifeathome ♬ Supalonely (feat. Gus Dapperton) - BENEE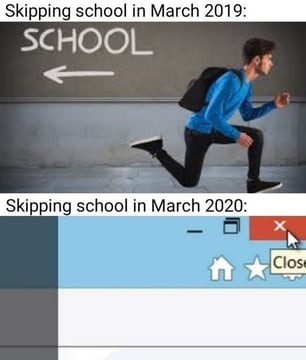 Still don't know why Barbie was there ♬ original sound - boiohboii
---
...which raises the point of, how can teachers deliver the most effective remote lesson for their students? In this blog post, we share our 5 tips and tools for effective remote teaching to get your students engaged.
1. Invest in a decent headset
You're going to be spending a decent chunk of time behind your computer everyday, delivering your lessons and engaging with your students. And with that, we recommend investing in a headphone microphone pair to clearly hear and respond to your students, rather than relying on the speaker and microphone in your computer.
2. Your classroom environment
Make sure the classroom environment from your side is as distraction free as possible! Unlike the teacher and his two dogs in the TikTok video above, we recommend removing as much noise and movement as possible. Look to host your lessons with a blank wall behind you to avoid people walking past or loud sounds like fans, washing machines or music. Try to keep your pets away and out of ear shot to keep your students engaged in your teachings.
3. Create remote learning guidelines
Having your own remote learning guidelines helps you and your students understand what is acceptable and your expectations for the class. Consider adding in timing guides where the students must remain muted for the first 15 minutes while you lecture, after which point questions can be discussed via chat boxes. These guidelines will help keep structure and routine to the online classroom.
4. Produce a video recap of your lesson
We absolutely recommend recording every lesson wherever possible for your students who can't attend. But on top of that, think about producing a quick 2 - 5 minute summarizing video of your lesson. These videos should highlight the main ideas and points from your topic. They should also ask questions to get your students thinking openly about the subject and encourage deeper engagement. And the benefit is, video creation of this type isn't complicated with VideoScribe - anyone can create engaging videos with no video or animation experience. Our library of free video templates is the perfect place to start to create your own video recaps. Check them out here.
5. Test your students with video creation
Completing a quiz in solitude at home and online may not be as effective as in-class, real time quizzing. So, rather than sticking with previous practices, why not think outside of the box and change it up slightly? Consider challenging your students to create their own video recap of what they learned during the lesson, the week or the subject. VideoScribe can be downloaded directly to each students' device and once installed, they don't need an internet connection to create their summarizing videos. A) it's a more engaging experience for your students - and they don't need any video creation skills or experience, and B) it's a more exciting way for you to check their retention.
Maintaining student engagement is already a challenge in the classroom, let alone remotely. However, by implementing these tips and tools for effective remote teaching, your students have fewer reasons for distractions and will hopefully be more likely to actively engage and retain your learning content.
Want to try it out before you share with your students? You can sign up to our 7 day free trial to VideoScribe today (plus, no payment is requirement upfront)! Click here to start your trial.