Creating your own videos has never been easier. You no longer need to be a video editing pro or any expensive equipment thanks to a whole host of online tools that help you drag and drop your way to impressive videos.
To help you decide which tool is right for you, we've compared our favorites below…
1. VideoScribe
VideoScribe for desktop and VideoScribe for browser are both versions of VideoScribe - an animated video maker. It turns your ideas into engaging video experiences that make people stop, listen and remember. It's super simple to use and has a huge range of animated images and quick-start templates for all occasions.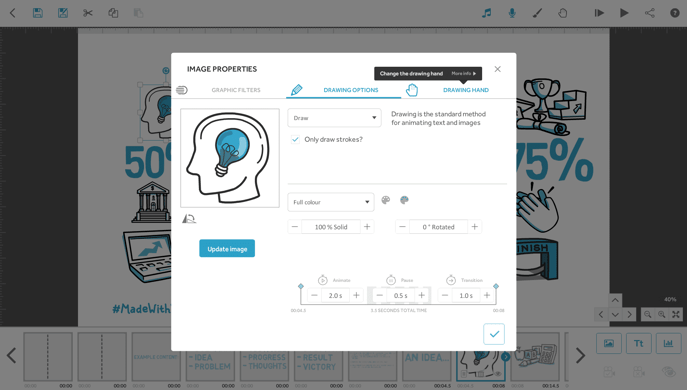 What the community likes
VideoScribe's unique hand drawn style is much loved by the VideoScribe community. The interface is fresh and clean and easy to navigate, so no previous video experience is necessary. In VideoScribe for browser you can select one of three canvas sizes to choose the best format for a range of social media platforms (e.g Instagram Stories or YouTube). Or, in VideoScribe for desktop the infinite canvas feature gives you complete freedom in how to layout your video animation.
It's library of 8,000+ images is packed full of everything from characters to visual metaphors. The best part is, all elements including images, text and shapes animate automatically. Just click play to watch your creation come to life!
Plus, the template library is constantly updated with seasonal and topical templates including tips for returning to the office after COVID and sales promotions.
You can record your own voice-over or upload an MP3. Once your masterpiece is complete you can export your full video as an MP4 or turn it into a GIF.
Limitations
While VideoScribe is awesome for animation, if it's a live-action video you're looking for then VideoScribe is probably not the one for you. Check out the other options below.
Pricing
You can get started using VideoScribe for free with a 7-day trial!
For full unlimited access, check out our paid plans. VideoScribe is by far the best value online video maker out there. You can start creating unlimited animated videos today!
2. Promo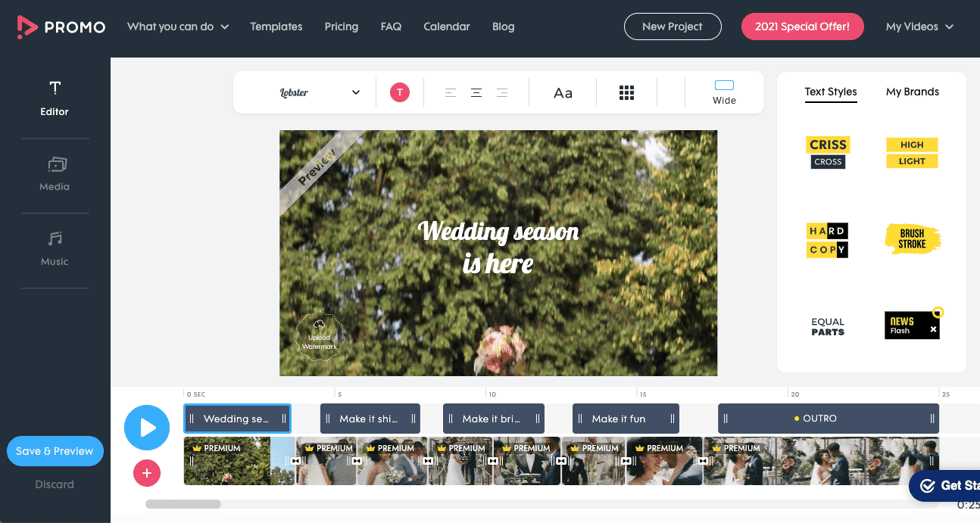 What we liked
Promo has a huge bank of live-action video clips and templates. You can also upload your own footage, change the dimensions of your video, add music and add your logo as a watermark.
Limitations
There's very limited animation options. The stock footage library is difficult to browse, there's no categories so you need to use the search function, which is tricky if you need some inspiration. A lot of the content requires a more expensive subscription than the basic plan.
Pricing
Plans start from $49 per month, although you're limited to using 3 premium clips on this plan. For unlimited access to the content library you'll need the $99 per month plan.
3. InVideo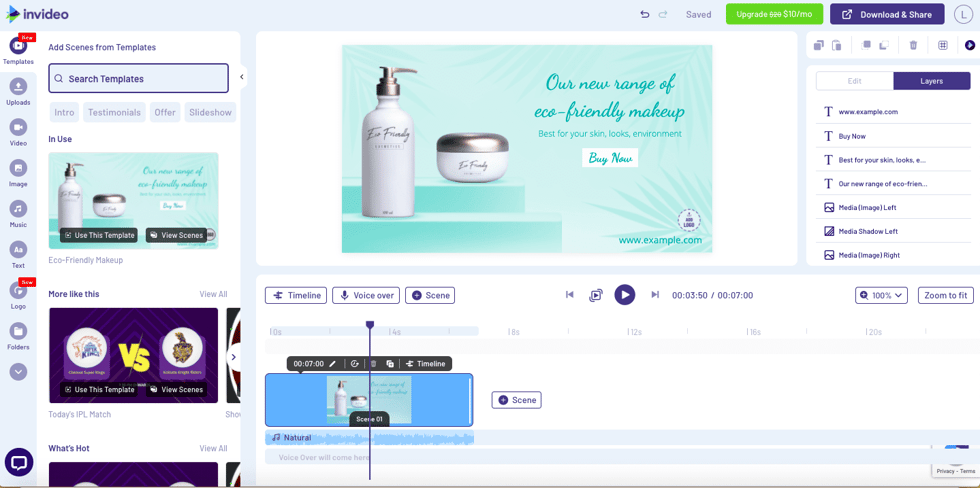 What we liked
InVideo has a good range of editing options and a library of thousands of video templates. Plus some nice extras like stickers, shapes and masks. You can also generate a preview link to share your creations with teammates, which we thought was a nice feature.
Limitations
The interface is more cluttered and daunting than some of the other tools on this list, most users would probably need to watch a few tutorials before jumping in.
Pricing
Plans start from $20 per month with limitations on the stock content you can use, for unlimited access you'll need to pay $60 per month.
4. Adobe Spark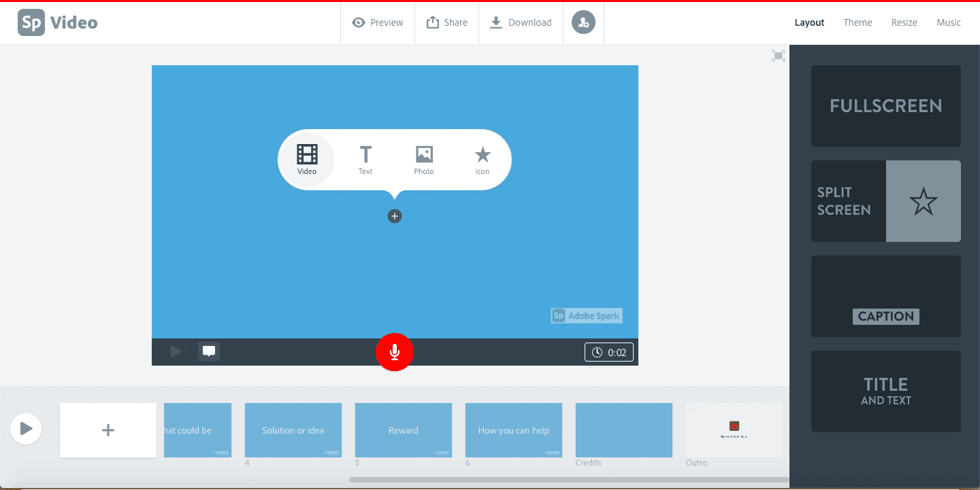 What we liked
Adobe Spark is pretty sophisticated, you can create customized graphics, webpages and videos. It has a huge selection of templates, but it's not so easy to see which are for videos and which are just static graphics.
Limitations
Videos can only be 30 seconds long (which is pretty limiting), and there's no stock video available. No portrait video format, only landscape and square, so not the best tool if you create a lot of content for Stories. This is a versatile tool if you need to create lots of different types of assets from graphics to videos. But probably not the one for you if your focus is video.
Pricing
There's a 14 day free trial. The pricing plans aren't very straight forward to work out which you would need and what's included. Individual plans start from $9.99 a month with team plans starting at $19.99.
5. Animoto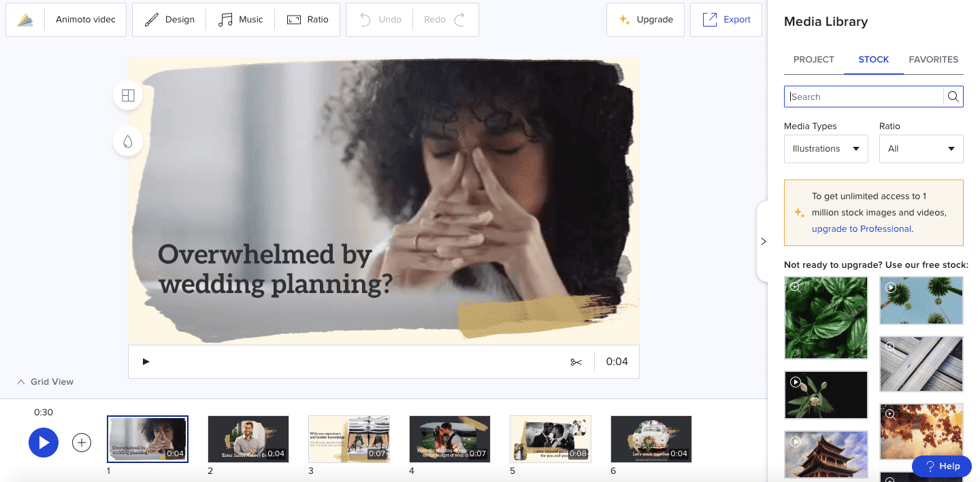 What we liked
You can change the aspect ratio of your video at any time, meaning you can easily adapt your videos for multiple platforms. Plus, you can add filters to your video to change the overall aesthetic.
Limitations
Only text can be animated, and there's very limited stock images and footage options on a free plan. The interface can be a bit clunky to use and not very logically laid out, so can be a bit of a learning curve to get used to.
Pricing
Plans start at $15 per month.
There you have it, our favorite online video makers. Start creating your own videos today 👇