Which of these statements are true: the average adult spends a) 11 hours asleep or b) 11 hours staring at screens? As much as we wish it was option A, the reality is, we spend on average 11 of our waking hours looking at screens.
This statistic may seem surprising, but what's even more surprising is how some marketers are still neglecting video as a key channel within their marketing plans. Video is an effective channel for attracting, engaging, and converting prospects through your marketing funnel, especially considering the heightened level of screen engagement.
But what is the marketing funnel?
The marketing funnel is a visual description of your customer's journey, from the initial stages through to purchase. There are multiple names for the marketing funnel - you might've heard about TOFU (top of funnel), MOFU (middle of funnel), BOFU (bottom of funnel), or content funnel, but the principles remain the same.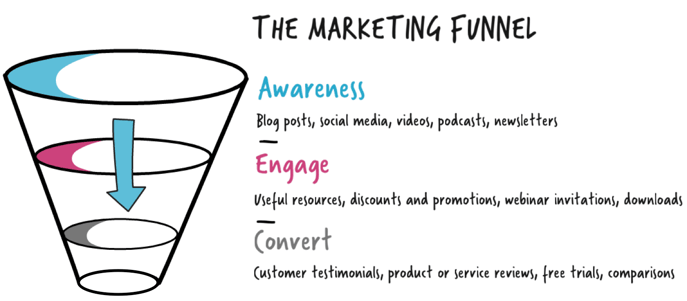 So how can you use video at all stages of the funnel, you ask? Here's our five tips!
1. Awareness: Quickly and visually explain your product or service
Do you have a complicated product or service and struggle to succinctly get your message across? Video is the best way to explain your complex product or service in much less time. Forrester research uncovered that a minute-long explainer video is worth 1.8 million words. Use video the walk your prospects through your features, advantages, and benefits much faster (and clearer) than text ever could.
You can find more advice on creating a successful explainer video here.
2. Awareness: Video is great for digital advertising
You have a great explainer video so now it's time to take your message to the advertising world and attract more prospects. Did you know, the average business pays a YouTube advertising cost of $0.10 to $0.30 per video view or action, with an average daily budget of $10. This means, every time your ads are viewed or clicked on, you pay around $0.10 to $0.30 - we don't think you can buy candy this cheap anymore! And you don't have to be an expert to get advertising on YouTube; HubSpot recently published a great article on how to launch and optimize a YouTube video advertising campaign.
3. Engage: Use video to run contests and showcase promotions, and discounts
Your database is growing thanks to your YouTube advertising and you want to push a quick promotion to drive end of month sales. Video is a great way to engage your audience with your promotions. In fact, over Halloween we ran a contest to increase the awareness of our three new Halloween-themed VideoScribe templates and ghoulish hands.
We promoted our Halloween contest video on social media, our blog and through email and as a result, reached 214.25% of our template usage targets and delivered 191% of our new VideoScribe users target. Check out one of our template teaser videos below!
4. Engage: Increase time spent on your web pages and blog
Time on page is an important metric that shows just how well your content is resonating with your audiences. If you loaded a page full of text, how likely are you to stay on the page and read through it all?
Statistically speaking, you'll leave after 5.59 seconds but what happens when you add video to this mix? A good marketing video can increase your visitors' time on page by 2 minutes on average. Our suggestion: start by adding videos on the website pages that already drive high volumes of traffic. Socialmediatoday.com published an infographic highlighting that "videos keep people your website longer and engage them with your content".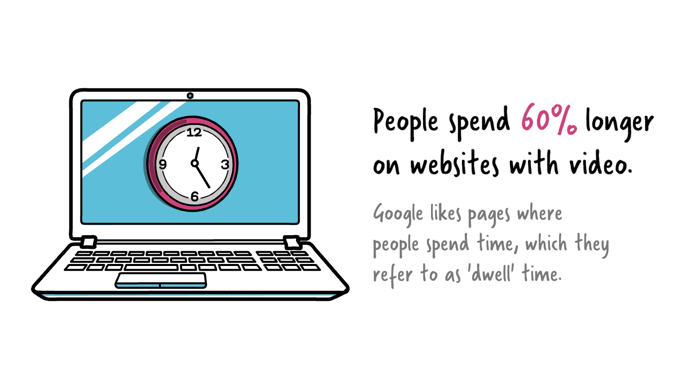 5. Convert: Improve your landing page performance with a video
You've done all this work to drive prospects into the top of the funnel, now we need to get them converting. Building a landing page that successfully gets these prospects converting is a trick that only a few master. By using a video landing page (literally a landing page with embedded video), your conversions can increase by 80%. Once they're on the page, give them a reason to stay. Showcase your product or service reviews, emphasise customer testimonials, and answer any questions - all with video.
VideoScribe is a global leader in whiteboard animation software and a tool used by marketing professionals across the world. Get the most out of your marketing funnel by using VideoScribe to attract, engage and convert your 2020 prospects. Try VideoScribe for free: click here to start your 7 day no-obligation trial!