It's 2019 and we're all officially obsessed with watching videos online. Text-heavy communications are on their way out and video marketing is taking over.
You might be sceptical, however the facts of the matter are 5 billion videos are watched on YouTube every single day. On top of that 100 million hours of video per day are watched on Facebook.
For marketers, business owners, and content producers, video is becoming the chosen platform to win, serve and retain customers. Don't worry though, you don't need to spend loads of money on an expensive agency, nor do you need to be a video producer to create professional looking videos that get noticed.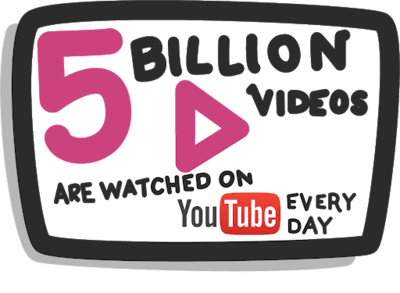 Video marketing & social media
We can thank the accessibility of the internet along with the rise of social media for giving video such a vast platform. Because of sites like Facebook and Twitter, 45% of people watch more than an hour of Facebook or Youtube videos a week and 82% of users watch video content on Twitter.
And incredibly, 1200% more shares are generated by social videos, than text and images combined.
With these enormous statistics in mind, you need to ensure video marketing plays a vital part in your overall digital strategy.
A great way for companies starting out with video marketing is to repurpose written content into video marketing content. This will improve ROI/ROAS of existing content, reach a wider audience as well as saving valuable time and effort. Think about all of those 'likes' and 'shares' waiting to happen!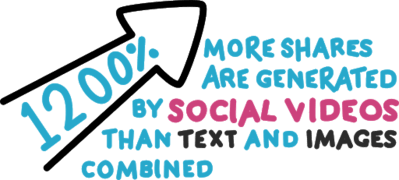 Videos are memorable and persuasive
It's common for large, B2C companies to use product videos, demos and how-to explainer style videos in their video marketing strategy. Big tech companies such as Apple, Dyson, and Samsung have been advocates for a long time, however retailers are now capitalizing on them. Take ASOS for example - you can see product videos showing the user what its clothes look like on living models.
All successful product videos are memorable because they tell a story and tap into the viewer's emotions and needs. Video marketing statistics show 80% of users recall a video ad they have viewed online in the past month.
According to Forbes, the average user spends 88% more time on a website with video. Consequently, statistics say that including video on your homepage can increase conversion rates by 20% or more.
Video marketing = huge return on investment
The main (and obvious) reason why video marketing has blown up in recent years is because of the satisfying return on investment (ROI) it provides.
88% of video marketers are satisfied with the ROI of their video marketing efforts on social media. Research also suggests another 80% of video marketers claim to be satisfied by their ROI from posting video adverts to social media.
Video marketing is not only proven to increase sales, but also builds brand awareness and trust, keeps current users up to date, as well as reaches out to a wealth of potential customers.
How to get started...
Do you want to get started on your own video marketing journey but are stuck for time and budget?
We are passionate about helping marketers and business owners create great content. Our VideoScribe, a video marketing software, VideoScribe, can help.
For a fraction of the cost of a creative agency fee, VideoScribe lets you create your own engaging, personalized explainer videos that will get your business noticed.