Customers often need a small final nudge so they can go ahead and make a purchase. People, after all, often need some extra assurance their time and money will be well spent.
You can give them as much assurance as you like. But since you're the brand that will benefit if they push through with their purchase, your comment won't mean as much. Assurance from their peers is much more powerful.
That's why customer testimonials are so important.
The thing is, though, making great testimonials is not easy! So, we've compiled a list of the top 5 companies that nail video testimonials, and dissected the lessons you can learn from them.
What's the significance of video testimonials?
But let's back up a bit. Why are video testimonials so powerful? We all know how powerful word-of-mouth has always been. Then there's the fact that most of us read reviews about products and services we're interested in. The famous review site Yelp even claimed that 97% of people buy from local businesses with positive reviews on their site.
Word-of-mouth and positive online reviews usually result in people making a purchase. That's because the people who gave the reviews that prompted the purchase are ordinary people. They have no affiliation with the brand whatsoever. Thanks to this social proof, people are moved to action.
Now let's talk about videos. Videos are something people really watch. More than 80% of Internet users in the US, for instance, watched online video content monthly on any device. Videos can boost your website traffic, too.
So, what happens when you combine videos with social proof and create video testimonials? Thanks to videos, people will visit your website. The videos will get your visitors' attention and sustain it. When you include social proof in the mix, you'll get your visitors to act.
In other words, video testimonials make for a potent conversion tool.
5 companies that did it right
Convinced? Now it's time to look at how to create those video testimonials. Here are some companies that nailed them so you can be inspired when you create your own. Complement the lessons learned from these companies with a great product, and you'll get those conversions.
1. Slack
Who said video testimonials need to look and sound serious? Certainly not Slack. The messaging app is known for its quirky video testimonials that will make just about anyone laugh.
In the video below, you see Adam, founder of the Sandwich Video, talking about how he came across the messaging platform. But instead of having one boring shot of Adam making an entire speech about how great the platform is, you have multiple hilarious shots in between.
For instance, at one point in the video, the people at Sandwich explain how they used to communicate with team members before Slack came. So, in the video, Slack inserts a scene where Sandwich's executive producer Shadie is holding a meeting in the company's, well, utility closet:
Slack's video testimonial is proof comedy and humor can go a long way. Just look at how many views and likes this video on Slack's YouTube channel got: 1,255,966 views and 3,800 likes---and counting!
Just make sure that when you do use humor, you don't offend anyone. Show your video to people first before hitting the publish button. A/B test your copy and concept to ensure your campaign hits its mark. Humor is subjective so you need to check first if it will be okay with your target audience. Check, too, if it's okay with people who are not part of your intended audience since they might also watch your video.
2. Zoom
Zoom's video testimonials aren't really that out-of-the-ordinary. You have a number of people from one company seated in their office, talking about how Zoom changed their business operations in a good way. Check out all of Zoom's video customer testimonials, and you'll see the formatting is the same.
So, why did Zoom even make it to this list?
Well, it's because of how it uses video testimonials to its advantage. Go to the Zoom website, and you'll see a page--yes, that's one entire page---dedicated to video testimonials: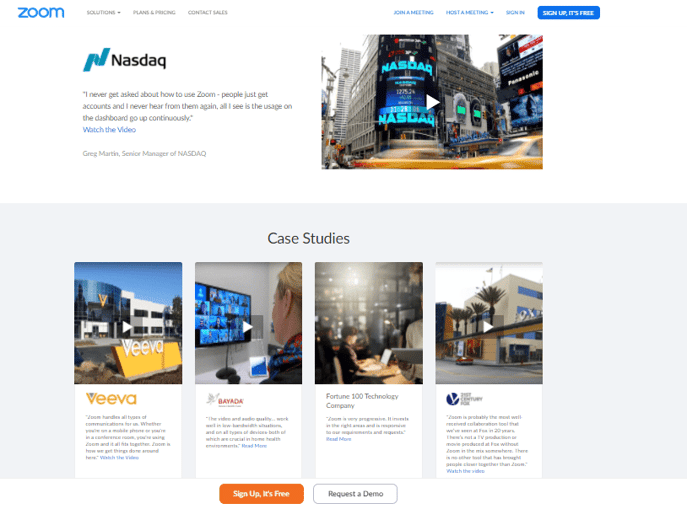 The page isn't just a video repository. Because Zoom knows what video testimonials can do, right after those videos the company includes several calls to action for its visitors. See the "sign up it's free" button and "request a demo" buttons there?
Notice that the placement of those buttons is very strategic. Once visitors are convinced about what Zoom can do for them (hello, video customer testimonials), they can immediately take action by clicking on any of those buttons.
Genius, right?
You can do what Zoom did--create a page dedicated to video testimonials. If you're running an ecommerce website, though, the most strategic place for your video testimonial is the product page. The video can easily complement the product description.
The product description explains the benefits a consumer can have when they make a purchase. The video testimonial, on the other hand, gives them that assurance that it's a good investment. It's a great formula for conversion!
3. Dropbox for Business
Dropbox for Business took a slightly different approach to video testimonials. Rather than having one company describe the benefits of Dropbox in a video, it had multiple companies do that in a single explainer video.
In this video below, for example, you have the CEOs of Dictionary.com and Mindsnacks, the head of product of ThreadSuite, the founder of Centric Projects, among others, talking about how Dropbox made their workflows more efficient.
The stamp of approval of one consumer is oftentimes enough to get another consumer to take action. Imagine what more of those can do then.
If you opt to use this strategy, make sure each person you talk to for your video highlights a different aspect of your product. So, overall, viewers will get a holistic view of your product and understand how every little feature can contribute to their business success.
4. Codecademy
Codecademy is an online learning website focused on coding. Apart from online video tutorials, you can see video testimonials from satisfied clients on its YouTube channel. Try watching each of the company's video testimonials, and I'm sure you'll reach the same conclusion for all of them: They're all really simple.
Unlike the video testimonials we've seen on this list so far, Codecademy's videos are straight to the point and have no fancy graphics. They're basically just shots of the resource speakers talking or working.
But that's what makes the videos so authentic.
Codecademy's video testimonials serve as proof that your marketing content doesn't need to include fancy editing to reach people. All you need is the right people telling true stories to inspire and interest your target audience.
That's not to say you'll no longer pay attention to your video quality. It pays to be authentic, sure, but that makes sure that your video overall still makes the cut--visually and content-wise.
5. HubSpot
HubSpot is a software solution for inbound marketing. Take a look at HubSpot's website, and you'll see it fully understands the pain points of its target audience. The website copy focuses on what consumers can get from using the HubSpot product. HubSpot doesn't enumerate features. It enumerates benefits.
HubSpot uses that same approach in its video testimonials.
In the video below, for example, Will Curran of Endless Entertainment only mentions the HubSpot and Wistia integration in passing and focuses instead on how his company was able to get more leads through that integration. Thanks to the data provided by HubSpot through that feature, Endless Entertainment was able to create content that catered better to its target audience.
So, what's the moral of the story?
When creating video testimonials, don't just tell your interviewees to rattle off your product's features. Instead, tell them to explain how your product actually changed their lives and the value it gave them.
That's the only way consumers will be able to relate to your interviewees and understand how life-changing your product can be.
Wrapping up
Video testimonials can help you generate conversions. They don't just get people's attention and sustain it. They also provide the social proof consumers need to get them to take action.
But video testimonials need to be done the right way for them to help you reach your marketing goals. In this article, we looked at five companies that nailed the use of video testimonials. Understand how they do things and learn the lessons they seek to impart. Be inspired by their videos so you'll know how to create your own. Be aware of video marketing trends, too.
Leverage the power of video testimonials and you'll see results.
Guest authored by: Allie Decker
Allie is the Head of Content at Omniscient, a marketing agency that works with SaaS brands. Before working with Omniscient, she spent 5 years as a freelance writer and then joined the content team at HubSpot where she worked for nearly 3 years. She has contributed to more than 100 high-converting articles for HubSpot and collaborated with the folks at Entrepreneur, Hotjar, and Foundr. Her words are bookmarked by entrepreneurs, small business owners, and digital marketers worldwide.