Whether you're making your first or 100th animated video, storyboarding is a crucial part of bringing your idea to life. In today's blog, we're breaking down exactly what a storyboard is, how they improve your finished videos and how you can create your own in minutes.
Plus, we've created your own downloadable editable storyboard template. Click below to get your copy and use it as you follow our steps 👇
What is a storyboard?
A storyboard is a powerful tool to help you visually plan out your animated video. Storyboards use your story, ideas, text, or scripts as the base and illustrations, graphics, or drawings to bring it to life visually. A storyboard is typically seen as a sequence of scenes (squares or rectangles) containing keyframes linked to corresponding sections of the script, dialogue, or story.
A storyboard makes approving concepts and creative directions significantly easier. Just think, without a storyboard, you would need to create a full animated video to illustrate your concept. This can take hours, days, and potentially weeks without careful planning.
With a storyboard, you don't need to go through all the hassle. Draw rough sketches into your storyboard template, visualizing it all together and you/your team/your clients can feedback on the direction. Trust us when we say, this will save you hours.
The benefits of animated video storyboards
We've already mentioned it, but it's worth repeating - one of the key benefits of animated video storyboards is the time-saving when it comes to concept approvals. But that's not all. Working with storyboards when putting together an animated video has so many more benefits:
Storyboards strengthen your vision for your animated video
Storyboards let you (and others) "see" your animated video from beginning to end, without the effort and time needed to create the first pass of a video
Storyboards encourage team collaboration on videos and projects
Storyboards help identify errors or issues at the early stages
Storyboards help you get buy-in from other people, quickly and easily
And we practice what we preach! For example, when we work with our Studio team, we consistently use storyboards. It helps our Studio team nail the creative direction that we've briefed, and of course allows us the chance to view, review and approve the animated video direction.
This is one of the recent storyboards we received from our Studio team, to go alongside our script. In this storyboard, you can see how our animators have created each frame to support the dialogue from our script.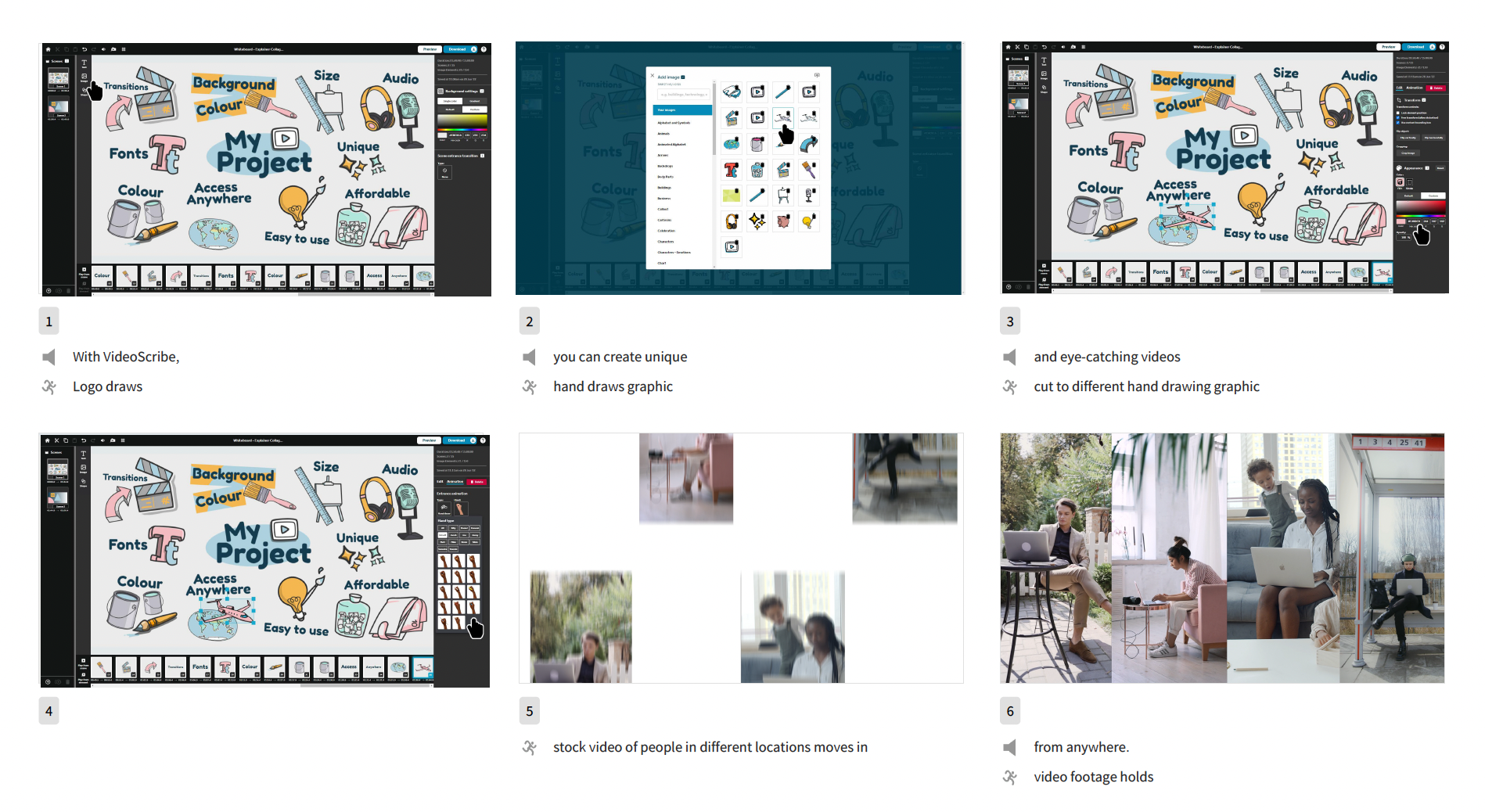 This visual aid helps us give feedback on each frame alongside the script, and provide more feedback as and when we need to.
How to create your storyboard
So you know what a storyboard is, and you know the reasons why you should use them and the benefits. How can you get started? It's easy with our free downloadable storyboard template. If you're looking to storyboard for an animated explainer video, we have a blog on how you can do this and a quick recap video:
Step 1:
Download our free storyboard template!
Step 2:
Add your script, story, or dialogue to your storyboard so you can start visualizing your supporting animated frames.
Step 3:
Start drawing! You don't need to be a good drawer or illustrator. This is an honest, simple representation of what you're visualizing.
Step 4:
Edit and refine your storyboard. This is where you can add in additional visual cues like camera fades, the camera zooms, etc.
Step 5:
Share! Be open to feedback and encourage your people to be honest with you. The more feedback you get at this point will also save you time in the long run!
Once you've finished your storyboard, it's time to bring it to life with animation. Log into VideoScribe or start a free trial to make your vision a reality! 👇