We're really proud of the organizations we work with. Including highly respected education institutions like the University of Applied Sciences in Utrecht, Netherlands.
With that in mind, we're excited to share our case study with the university's HR Development Adviser, Ronald Bremer. Big thank you to Ronald for sharing his insights into how VideoScribe benefits the organization. As well as how working with our training team has helped his colleagues to innovate and create stronger video content as you can see below.
Before we dive into the full conversation, let's look at the top results the university achieved:
300 VideoScribe subscriptions help implement modern multi-sensory teaching methods that boost student knowledge retention.
Improved job satisfaction as the university's 3,500 lecturers and support staff enjoy teaching with video.
Lectures look more attractive with VideoScribe videos, while the combination of words and images make it much easier to teach difficult content.
On-site video training from the Sparkol team helped staff to create beautiful productions that have a greater impact.
Please can you tell us a little about yourself and the university?
The University of Applied Sciences was established in 1995 after the merger of several smaller colleges in Utrecht. We offer vocational training to our student population of 38,000.
My focus is on ensuring that our employees (3,500 lecturers and support staff) can easily up-skill themselves to improve their own job satisfaction, but also to maintain the university's modern and forward thinking status.
To do that, I organize training courses on topics like video creation that are all free for staff to access. Meaning there's no reason not to continue to develop themselves and start a lifelong journey of learning!
How do you use VideoScribe at University of Applied Sciences Utrecht?
For us, using VideoScribe is part of being a 21st century university and inspiring students and staff to think creatively. We use our 300 VideoScribe memberships to consistently innovate and deliver video lecture content that students enjoy and most importantly, content they remember.
As it's such a flexible tool we can create videos in Dutch and English as well as with subtitles to ensure all students and staff can benefit from them.
What made you choose VideoScribe?
Simply, VideoScribe was the best software! I researched different tools online and had calls with existing users of different video tools and VideoScribe came out on top.
The combination of hand drawn images, sound and animation gets students' attention and helps them to learn faster.
How have you introduced VideoScribe across the university?
Firstly, to ensure our staff could all access VideoScribe if they wanted to, we made it a registered piece of software across the university. This was key as like lots of organizations we cannot download software without IT sign off.
At the University of Applied Science there's also a rather big help desk to help lecturers create all kinds of e-learning and video content for their lectures. The help desk have their own website, and they hosted great support materials for employees to learn how to use VideoScribe and create great videos.
The other way we've introduced VideoScribe is by offering introductory and advanced training workshops, facilitated by the Sparkol team. The in-person training delivered by Jonny and Oliver from Sparkol was wonderful. It was a combination of theory and practical exercises to get the students making things with the software. This worked really well and built confidence in video creation and helped staff to get more out of using VideoScribe.
In the advanced training there was also the opportunity to get personal feedback on the videos the students had made. I would definitely recommend this to help you make far more beautiful videos that are impactful.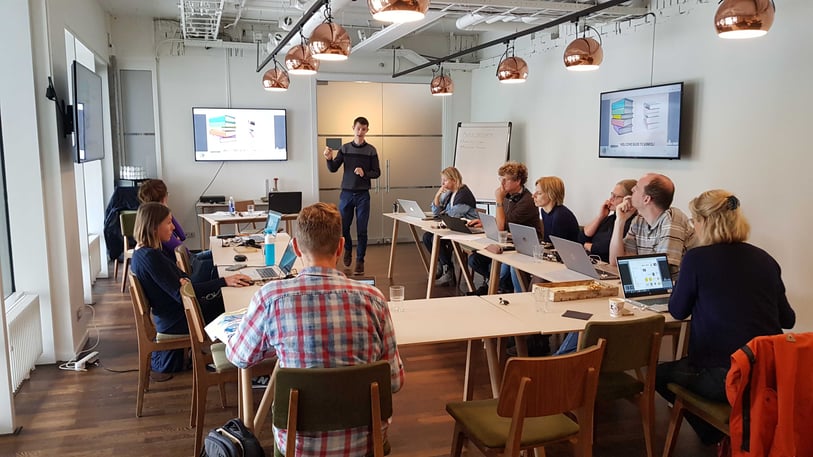 What benefits have you and the university seen from VideoScribe?
The key benefit for me is that I have happy employees, who in turn make our students happy!
That's because our lectures look so more attractive with VideoScribe videos and the combination of words and images makes it much easier to teach difficult content. Students can then watch the videos again after the lecture to solidify their learning.
Do you have plans to expand your use of VideoScribe further?
Yes! Our central staff departments are looking to use VideoScribe more widely across the University to enhance the skills of all employees.
Our marketing communications team have also started using the software to make videos to attract new students to the university.
Thank you again to Ronald for sharing his experiences. If you'd like to try VideoScribe for yourself then why not start a free trial today (no credit card required)! Alternatively, if you'd like to discuss using VideoScribe across your university or organization, contact our friendly team here.