The soundtrack to your video really sets the tone. Music is so emotive, it can lift your video from banal to blockbuster. And the last thing you want after spending hours crafting the perfect video is to have it blocked on YouTube for copyright infringement.
The world of music licenses and copyright can be confusing to navigate and expensive to get wrong! Below we've given a brief explanation of the most common types of copyright you'll encounter and the best places to find royalty free music.
If you're not already part of the VideoScribe community, take advantage of our free 7-day trial and start creating animated videos today! 👇


What does Royalty Free mean?
Royalty free music allows you to pay a one-off fee to use a particular track as many times as you like rather than paying recurring "royalties" for every use. The word "free" often leads to an expectation that there is no cost associated with royalty free music, which is not usually the case. The music's creator has the ultimate control of what kind of license is required to use their tracks.
What is Public Domain music?
Public domain music refers to tracks that are not protected by copyright. The rights may have expired or the author chose to submit them to the public domain. This music can be used for free in any way you choose.
What is a Creative Commons license?
A Creative Commons license is a way for music creators to allow others to copy and distribute their work while still retaining copyright and getting credit. Usually, you can use these tracks for free as long as you attribute them to the artist in the way they have requested.

Where to find quality stock music?
Now you know what the different types of licenses mean it's time to find some quality stock music. There are thousands and thousands of websites offering music, so where on earth do you start?
If you're a VideoScribe subscriber, you already have access to nearly 200 royalty free music tracks within VideoScribe for desktop. When you're creating your video simply hit the music note icon to load the menu. You can search and filter by tempo, length and genre. Have a listen, there's some funky tunes. All of these tracks are included in your subscription. (Psst. If you're currently using VideoScribe for browser, don't worry! We're working on adding a new music library VERY soon. Stay tuned!)
Our top 5 favorite sources of royalty free music

What we think: Created by French composer and musician Benjamin TISSOT, Bensound offers hundreds of amazing tracks. With beautiful illustrations, immersive track descriptions and simple search functionality, it's incredibly easy to find your perfect tune. This site does have a smaller catalogue than some of its competitors though.
Price range: Some tracks are free if attributed, and licences start at $37 per track. You also have the option of paying an annual fee to gain access to unlimited downloads, this starts at $131.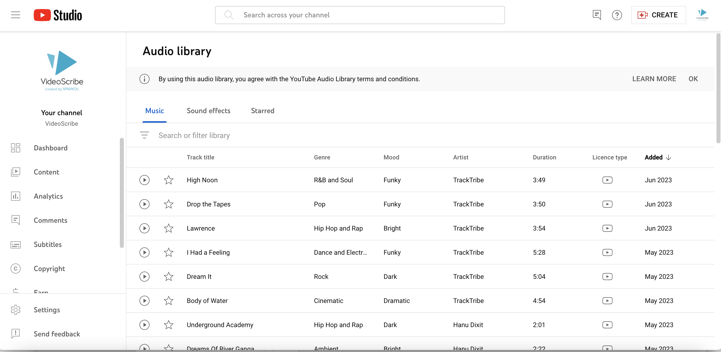 What we think: It's not widely known that YouTube has a large database of free music tracks and sound effects. As you'd expect with all things Google it's easy to search and filter based on mood, genre, length, instrument and the type of attribution required. You will need a YouTube channel to access the database.
Price range: Free, although some require attribution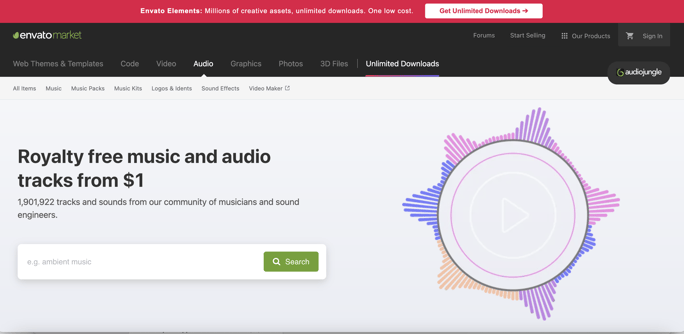 What we think: AudioJungle has a huge database, over 1.5 million tracks, sound effects and idents. Spanning heavy metal to children's. The site has extensive filters and search options. You should definitely be able to find something you love, but it might take you a while!
Price range: Tracks start around $1, but depends on how you plan to use the track, so choose carefully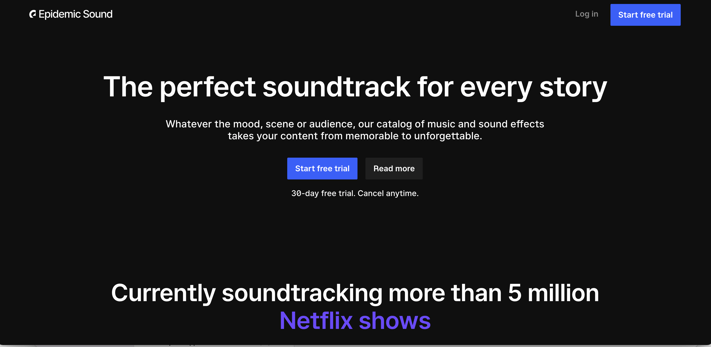 What we think: With over 40k tracks and 90k sound effects Epidemic Sound is a hugely popular resource for royalty free music. They've taken the stress out of picking which rights you need with their simple subscription packages. You can search and filter by genre, mood and theme.
Price range: unlimited downloads with subscriptions starting from $12 per month. Or you can buy a single license if you know exactly how you plan to use the track.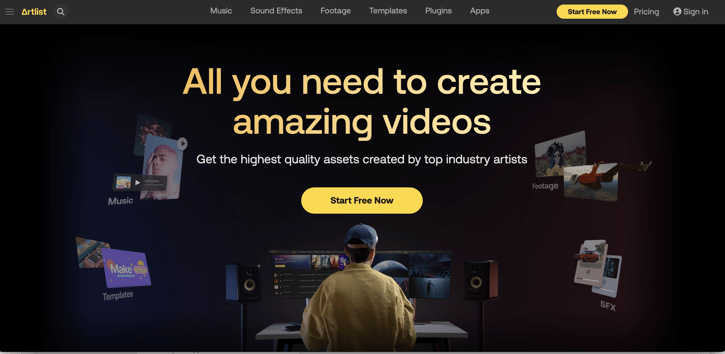 What we think: Artlist has tracks sourced from a huge number of indie artists and producers around the world. The quality is premium and the selection is great but the search and filter options are not as comprehensive as some of the others on this list.
Price range: straightforward subscriptions starting at $119 for a year
Need to find stock images to use in your projects? We've rounded up the best places to find royalty free stock images for your videos here.
Now you've got the perfect audio track to add to your videos, it's time to start animating! Get started creating the perfect video today with a VideoScribe free trial, no credit card needed.