Video training has become our new 'normal' with businesses, schools, and universities (...and loads more) adapting remote teaching and learning practices. Our goal, with all types of training, is to make sure our audience retains the information we present. When it comes to video training with whiteboard animations specifically, this is where our specialty shines through thanks to VideoScribe.
So, what do we know? We know animations are 60,000x faster absorbed than text, and they improve the amount of knowledge your audience retains by 15% - both substantial figures. This is why in this blog post, we share our top 5 tips for knowledge retention with video training. Now you know why whiteboard animation is great for video training *cough cough, look at those stats*, so let's take a look at when and how it is most effective for you and your audiences.
When should whiteboard animation be used with video training?
TIP 1: Use whiteboard animation to introduce, explain and recap a new topic, subject or process
Whiteboard animations are useful for a variety of different topics but for video training specifically, they are most effective for introducing, explaining, and recapping different messages. Introducing a new topic or subject to your audience with whiteboard animation gives your audience the chance to remember the key takeaways with image association i.e. image by image, you can guide your audience through the process.
The second-best scenario for whiteboard animation is to explain. You and your audience can rewind and replay with a repeatable set of information that explains your topic or process.
Finally, recapping information with whiteboard animation takes the same concept of having that repeatable piece of information. All the information is covered in the one video and the audience can rewatch at their own pace. These three scenarios are useful in all situations; whether that's introducing a new policy, like how businesses will return to work or running revision in a school setting.
How to create an effective whiteboard animation for video training?
TIP 2: Plan out the

logical order

of your training session
Thinking about how to create an effective whiteboard animation for video training, ask yourself, 'What is the logical order that I want to put this information into?'. Imagine that you have a table and all of your content is laid out on the table like sheets of paper or individual images.

Once you have your content laid out, start thinking 'What is the best way to order these images into a sequence?'. Follow your finger along your sequence to get a sense of whether this is being explained well, or not. This is a great visual way to identify improvements and plan out how you're going to order the information.
TIP 3: Identify a

video layout

that elevates your message
You've got your content sequence defined, now it's time to think about how you're going to structure your video to showcase your content. There's no 'one size fits all' layout and your topic will be a big decider in choosing the video layout to explain your information. We've chosen three of the most effective layouts below.
The first layout is the mindmap which is really good for when you have a central concept that you want to then explore in different levels of detail. The second is to create a collage. A collage is a useful layout when you have all your information laid out as one 'broad' image. You can move around to different points at your own pace. Finally, the simplest layout is the linear process which is useful when you have a message with a definitive start and end. This layout easily allows you to visually go back and forth along the process to revisit any previous points. Linear process layouts are useful for math equations, or complicated policy changes.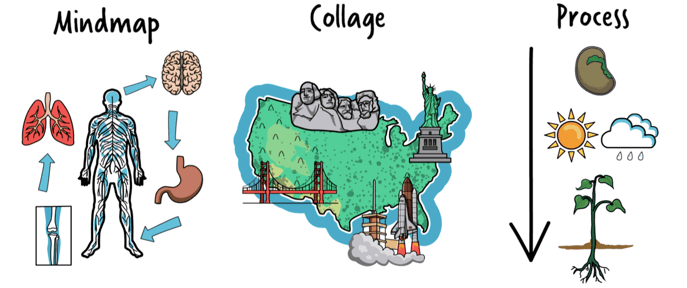 TIP 4: Make your explainer video stand out with

customization

and

impress your audience
Never underestimate the animation functionalities within VideoScribe. There are so many different types of animation styles that you can use: fade-in, morph, the classic illustration/draw technique with a hand or no hands, different pens, and so on. By including a varied mix of animation styles, you give the impression of a much more interesting video.
You can also take customization up a notch by including the faces of your audience in your videos. With VideoScribe, you just upload a photo to the image library and it will automatically animate it to reveal or fade in. The same customization can be done for drawn diagrams or graphs.

Don't forget to add a voice-over too. This gives the impression of you actually teaching the content. Particularly if it's being provided online, which is such a relevant point in the COVID-19 lockdown situation. A voice-over helps bring your personality through and reassures your audience that you are there, and you're ready to train.
TIP 5: Save your future-self time and energy by creating

video templates
Although creating videos is made easier with VideoScribe, there's still the investment of time. You might be thinking, 'How can I make all the videos I actually need without taking hours on end?'. The answer is simple: templates are your friend. By working with video templates, you can capitalize on the same creative tools that you've already used in your other videos.
For example, you can take your template and change out the images and text through the 'Image Properties' within VideoScribe. All the animations, timings, and effects remain the same, meaning the hard work is already done!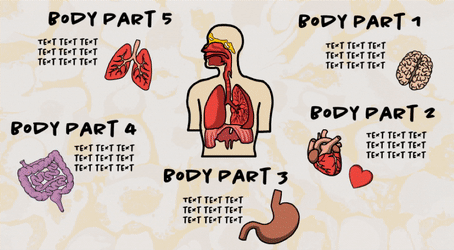 Try to stick to a template that you can use for different scenarios and once you have this, you can share with your colleagues so they too can create engaging whiteboard animations for their own audiences. VideoScribe has a range of free, editable templates available to you to edit as you want.
So there you have it. Our top 5 tips for knowledge retention with video training. Creating whiteboard animations may seem like an overwhelming task for your video training but trust us when we say, it's worth it. Your audience will be more engaged, they'll retain the knowledge for longer and in the long run, you'll save time because you'll be able to reuse your existing video content and create more using your customized VideoScribe templates.
If you are new to VideoScribe, you can sign up for a 7 day trial for free. Click here to get started!