It's the spooky season! From decorating your office with Halloween-themed decor to carving scary faces into pumpkins with your friends and family, October is a great month to pack your social media platforms with tons of exciting and fun content. And if Halloween isn't for you, we've collated lots of other celebrations and awareness days to fill out your content calendars.
But before we get stuck into the October social media content calendar, don't forget to sign up for a 7-day free VideoScribe trial so you can create awesome video content with ease! Click the button below to get started 👇
Ultimate October 2022 social media video content calendar
Whole of October - Black History Month
The month of October is known as Black History Month in the UK, a month dedicated to honoring notable people and events in history.
Whole of October - Breast Cancer Awareness Month
October is Breast Cancer Awareness month, a time to raise awareness of the symptoms and impact of breast cancer.
Whole of October - Stoptober
The month of October is also dedicated to Stoptober, a major annual event that encourages smokers to quit smoking for 28 days, with the aim of stopping permanently.
1st October - International Coffee Day
Americano, Latte or Flat White? Whatever your coffee preference, International Coffee Day is a day to celebrate your love of coffee with friends and family.

5th October - World Teachers' Day
World Teachers' Day is held annually on October 5th to celebrate teachers all around the globe.
10th October - World Mental Health Day
The World Health Organization recognises October 10th as World Mental Health Day, a day to raise awareness for mental health issues around the world.
14th October - World Egg Day
Fried, scrambled or poached? World Egg Day is a day dedicated to celebrating the benefits and nutritional power of the egg.
16th October - World Food Day
World Food Day is celebrated annually on October 16th to celebrate the delicious food we all get to indulge in, as well as raise awareness for those who suffer from hunger.

19th October - International Gin and Tonic Day
If you're a pub, bar or club owner, then October 19th is a date to add to your diaries! Why not run a special promotion to celebrate International Gin and Tonic Day with your customers?
20th October - International Chef's Day
International Chef's Day is a day to promote healthy eating and the career of chef's to children around the world.
24th October - Diwali
Diwali is a festival of lights and a major festival celebrated by Hindus, Jains and Sikhs. The festival usually lasts for five days.
25th October - World Pasta Day
Pasta lovers, behold: October 25th is World Pasta Day! Celebrate pasta on this day by cooking up your all-time favorite pasta dish.
31st October - Halloween
Spooky season is here - and we've got new video templates for you to share across your social platforms for Halloween. Check out one of the new templates below 👇
When posting social media holiday posts on your accounts, you must get the timing right. Since holiday-themed posts are time-sensitive, you don't want to forget to share them at a specific date. So, to make sure you stay on schedule, use SocialBee — a social media management tool that allows you to plan your posts months ahead without having to worry about posting the content yourself.
With SocialBee, you can create, schedule, and share all your social media content from the same platform. It has an integrated social media calendar that allows you to oversee your entire posting strategy in a visual manner.
You can create a content category dedicated to your holiday posts, customize your content for every social media platform, and organize your holiday hashtags in collections you can add to your posts later on. And that's only a fraction of what SocialBee has to offer! Start your 14-day free trial today to discover all the SocialBee features yourself!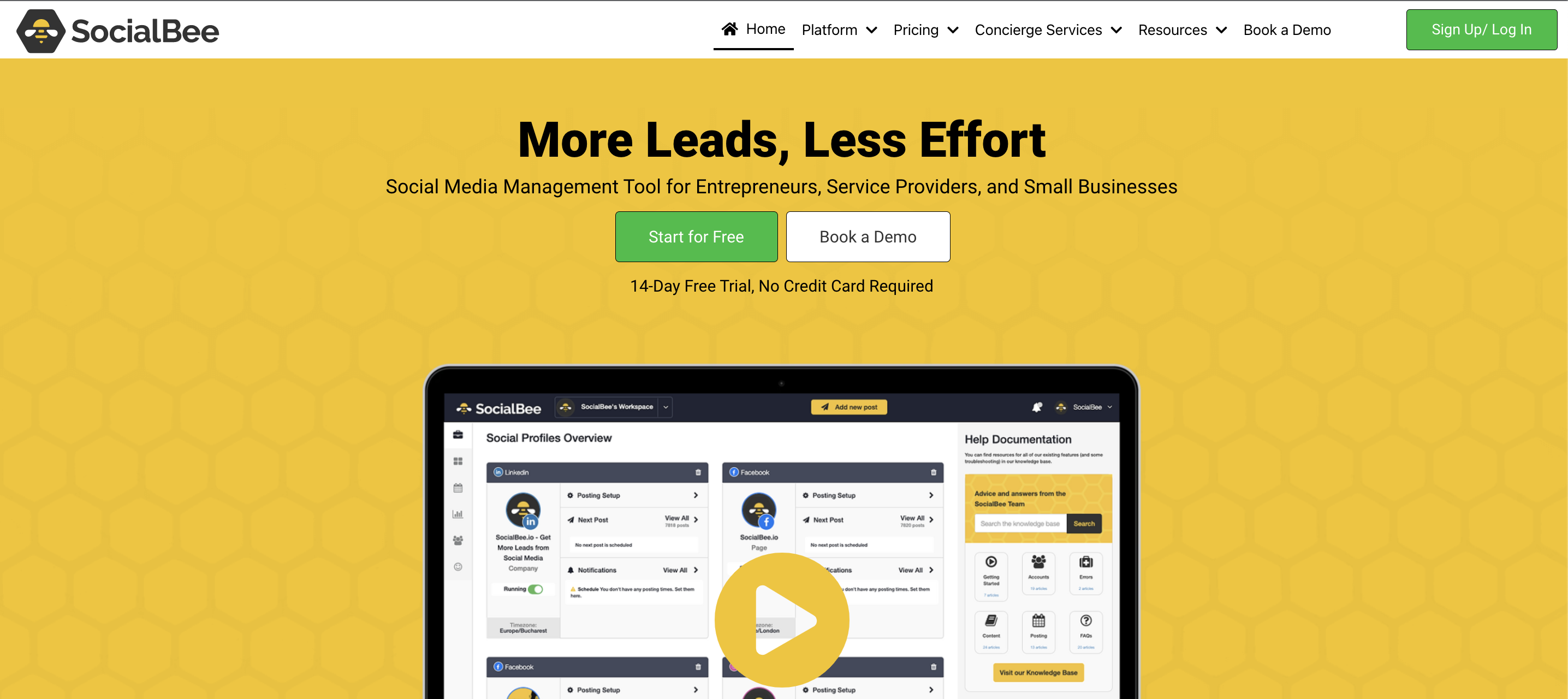 So there you have it - our ultimate October 2022 social media content calendar! Let us know in the comments which dates you'll be adding to your social media calendars 👇