From boosting sales and attracting new website visitors, to raising awareness about important causes and recruiting new students, we could write an entire blog just on the benefits of social media. But we're pretty sure you already know the potential of social media, you just want to learn how to harness it's power better. Which is where video comes in...
Why video is great for your social media
Videos on social media consistently outperform images and text alone. For instance:
Which is why if you really want to maximize your return from social media, video has to be a key feature in your social media strategy. But how do you get there?
In this guide we'll be answering that question and a whole lot more as we walk you through the steps to create your own video-focused social media strategy and tips and tricks to optimize your social media videos for each platform.
You can read this guide step-by-step or skip ahead to specific sections using the links below 👇
1. Developing a video-focused social media strategy
- Identifying your audience
- Setting objectives
- Auditing your existing content
- Video content planning
2. How to create video content for social media in 5 easy steps
Step 1: Outline your goal
Step 2: Determine your message or story
Step 3: Create a storyboard
Step 4: Bring your vision to life in VideoScribe
Step 5: Add extra details
3. Optimizing your videos for top performance on each social platform
- Facebook
- Instagram
- YouTube
- Twitter
- LinkedIn
- TikTok
Developing a video-focused social media strategy
First things first, whether you've already created videos for social media or will be making your first video after reading this, it's important to have a strategy in place. This could form part of an existing social media strategy your organization has or it could be a completely new exercise. Either way, we're walking you through the elements your video-focused social media strategy should include...
Setting objectives
That starts with a strong understanding of what it is you want your social media videos to deliver. Social media can be used to support lots of different objectives so think about what would really make a difference to your organization and bring you closer to your personal or company goals.
Common objectives include:
Use video to drive website traffic

Use video to attract new customers to fill in a contact form

Use video to engage existing audiences on social media to improve retention



Just make sure whichever objective you set is SMART (Specific, Measurable, Achievable, Realistic and Time-bound) after all, no one wants to work towards crazy objectives that just aren't achievable. Set yourself up for success by picking a goal that's right for you and where your social media activity is at.
Identifying your audience
Next, you need to think about who your video content should appeal to. Unless you're running social media adverts to new audiences, this will most likely be your existing social media following and people who are similar to them.
So head into your social media analytics to understand who exactly is following you already and how closely they match your ideal customer or audience persona. In each of the social platforms you can get data on your followers' location, age range, gender and often extra information like job title, interests and education. This will help you build a rough image of the people you're talking to.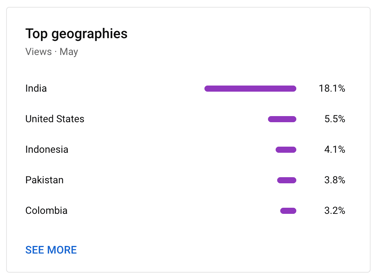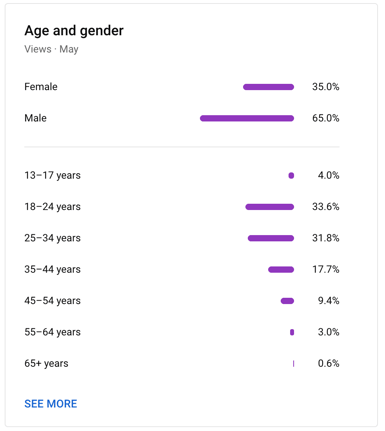 But don't stop here, for your social videos to really connect, you have to think about the problems these people might be trying to solve of the goals they want to reach. This will help you create more emotive content that hooks them in. Detail all of this information in your strategy so you have it to refer back to throughout the video creation process.
Auditing your existing content
Now it's time to think about the types of video content you'll be creating. The best place to start with this is to look at your existing social media content (assuming you've been sharing image and text posts already) to see what's performed the best in terms of your objectives.
So if your objective is to drive engagement with your existing audiences then looking at the posts with the most likes and comments will give you a good idea of what type of content your audience likes. Alternatively, if it's web traffic you want to boost, looking at posts with the most clicks will point you in the right direction.
The key really is to learn from your existing work to create videos that your audience is most likely to resonate with. Plus, most content can easily be transformed into a video, it's just a case of uploading the images and content you need and pressing play!
Video content planning
Once you've got an idea of what works, who your target audience is and what results you want your social media videos to deliver, you're ready to start planning your content!
For this we recommend just creating a quick list of video ideas with a rough timeline of when you'll create them. This will help you allocate time and resources effectively and ensure you don't take on too much or too little. With your complete social media focused strategy in hand, you're ready to move onto the next step 👇
How to create video content for social media in 5 easy steps
Now's the fun part! Creating your very own animated video for social media 🎉 We're walking you through the 5 simple steps to achieve this in VideoScribe, highlighting some of our top tips along the way.
Step 1: Outline your goal
This first step should be fresh in your mind as we've just talked about overall social media strategy objectives. Here's where you start putting that into practice by ensuring the objectives for each of your videos tie back to your overall goals.
After all, there's no point in creating a video that will get views but has nothing to do with helping you market and sell your product. So start by focusing in on what it is you want your video to deliver in one simple sentence. This will help inform the rest of your creation.
Step 2: Determine your message or story
Once you know what you want to achieve, you'll be able to define a message or story that speaks to that objective. It could be your company story, a customer story or advice and guidance on how to do a specific activity - whatever it is, keep it simple. You only have a short time to engage your audience and share your message so fewer more impactful points will work better than a longer more complex story.
It's at this point you might also want to write a script if your video will have a voice-over (though remember most social media video is played with sound off) For added storytelling power, keep these points in mind 👇
Step 3: Create a rough storyboard designed for social
Once you're happy with your story it's time to start thinking about how you're going to visualize it. Which is where a storyboard comes in. Now as these are most likely much shorter videos (unless you're creating for YouTube), you don't need to spend a long time on this. A hand-drawn sketch of your ideas will be enough to plan out your content. Or you can use our storyboard template that you can find here 👇
Your storyboard just has to help you define how many scenes your video will have and what will be on them to ensure you get your message across. To make sure your video works well for social, keep these points in mind:
Attention spans are incredibly short and there's a whole lot of content out there so focus your effort on ensuring your first couple of frames are the best. By that we mean, your content is the richest, the visuals are the most striking and your animation effects are most impressive. After all, if they don't stick around to watch the first couple of frames, there's no way they'll see the rest!

Consider canvas size - as you've seen, different sizes of video work best on different platforms. From square canvases on in-feed Instagram videos to vertical on Stories, make sure you pick the right aspect ratio for your intended platform. Read on to learn more about this.

Make a strategic decision about the length of your video - again, different lengths of video perform better on different channels to really focus in on the platform you're creating video content for and stick to the recommended durations. Learn more about this in the next section.

Consider color - color can greatly impact how we think and feel about certain ideas and content. So make sure your choice of colors stimulates the right emotions for your video. Or, use your organization's colors to help boost brand recognition. Learn more about color theory here 👇
Step 4: Bring your vision to life in VideoScribe
With your storyboard at hand, you're ready to create your video. So head over into VideoScribe and start adding your images, text, voice-over and animations to bring your story to life. It's as simple as dragging and dropping your elements onto your canvas to suit the story you're telling for your platform of choice.
For extra impact, try using morph to create even more impressive animations. Here's how 👇
Step 5: Add the extra details
Lastly, it's time for some final touches that could make your video more accessible, recognizable and most importantly, more successful. Consider the following:
Adding your logo - this can boost brand recognition and add a final professional touch. Uploading your own logo into VideoScribe is super easy too - just click the image option and then the upload icon from the bottom left hand side of the screen.

Does your video need subtitles? Most videos on social media are watched without sound, so if your content doesn't make sense without audio then consider adding subtitles. Learn how here.

Do you have a strong call-to-action at the end? When you're focused on the visual side of your storytelling, it can be easy to miss key structural elements like telling your audience what you want them to do next. Whether it's visiting your website, commenting on your post or booking onto your event, make it clear what the next steps are.
Optimizing your videos for top performance on each social platform
Now you've got the basis for your video, it's time to fine tune it for each social network. This final step is especially important because it can really make or break the success of your video. After all, each of the networks have different file allowances, algorithms and preferences when it comes to video, so making sure you tick every box is key.
Facebook
Let's start with the social media giant, Facebook. While new platforms are growing in popularity, Facebook still reigns as King of social media with an enormous active user base. Which means ensuring your video is tailored to suit users of this platform is very important. Here's what you need to know:
Supported file types:

Recommended video formats are .MP4 and .MOV (learn how to export to both in VideoScribe here)

File limitations:

Max file size is 4GB

Recommended video length: 15 seconds to 2 minutes for higher engagement (max video length is 240 minutes!)
Aspect ratio:

16:9 (landscape)

Facebook is a much more community focused channel than the others so try to spark conversation or reactions to help build relationships. We like to do this by asking questions in our videos or asking our audience to leave their reactions or vote on a topic 👇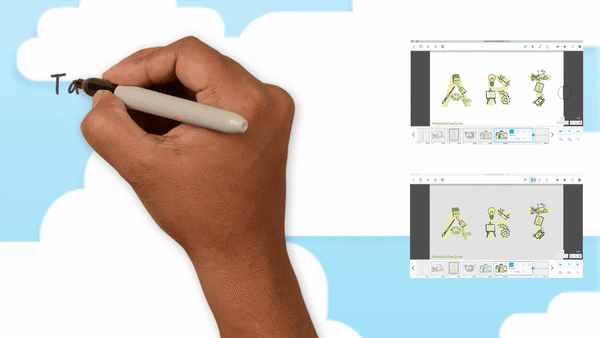 Instagram
Now it makes sense to move onto Instagram. Here you have three main options for sharing videos. The first is in-feed content - this means sharing a video directly to your profile that will appear on your follower's home page. The second is Instagram Stories. These are short videos that only stay live for 24 hours and they tend to be more fun and interactive. You can find examples of Stories at the top of the Instagram app - just click to watch. Finally, the third comes off the rise of TikTok, and that's Instagram Reels. Reels are entertaining videos where creators can use the format to express your brand story, your message or yourself in creative ways.
In-feed:
Supported file types: Recommended video formats are .MP4 and .MOV.
File limitations: 4GB
Recommended video length: best performing at 26 seconds (max is 2 minutes)
Aspect ratio:

1:1 (square)

Remember that unlike lots of the other platforms, Instagram is visuals driven so ensure your first couple of frames are your best as people won't see the rest if they're not hooked in. Keep color in mind to help you with this - bold bright and eye-catching designs can help set you apart visually.
Plus, set a cover image in the upload editing options. You'll be able to pick one frame from your video to act as the thumbnail for your video on your Instagram grid. If you don't pick one, it could leave you with a white square as the thumbnail which isn't great for attracting views so don't skip this step!
Instagram Stories:
Supported file types: Recommended video formats are .MP4 and .MOV.
File limitations: 4GB
Recommended video length: Maximum length is 2 minutes for ads and 15 seconds for organic. If you upload a longer video on organic, it will be clipped into multiple Stories 'slides.'
Aspect ratio:

9:16 (vertical)

Don't forget you can increase the interactivity of your stories by adding Instagram features like polls and quizzes over the top of your videos. Do this in the app directly as a final touch.
Instagram Reels:
Instagram Reels are the exact same format as Instagram Stories you're already familiar with

Format: MP4, MOV.
File size: 4GB.
Length: up to 60 seconds.
Aspect ratio: 9:16.
Video settings: H. 264 compression, fixed frame rate, progressive scan, and stereo AAC audio compression at 128 kbps+
Resolution: At least 500 x 888 pixels.
Looking for ways you can level up your social exposure with Instagram Stories or Reels? Check out the template library in VideoScribe for your browser, under our Social Media Reels & Stories category. This is just a taste of one of our free templates available for you to use:
YouTube
Now, as a platform YouTube has lots of different benefits. Not only does it have a large and very active user base but as it's owned by Google, your YouTube videos could also appear high up in Google search results, giving your content much greater visibility. But to get there, you're going to need to get the basics right first. Let's take a look 👇
Supported file types: Accepted video formats include: .MOV, .MPEG4, MP4, .AVI, .WMV, .MPEGPS, .FLV, 3GPP, and WebM.
File limitations: Max file size is 128GB or 12 hours, whichever is less.
Recommended video length: Longer videos at a minimum of 10 minutes have been found to be more popular(max 12 hours)
Aspect ratio:

16:9 (landscape)

To boost the performance of your video and help it get found by more people on and off the platform ensure you've added related key words to your title, description and tags. For instance, if your video teaches people how to write a script you'd include phrases like 'how to', 'scriptwriting' and 'tutorial'.

Once you've uploaded your video, there's also the option to add end screens. These are tiles that appear over the end of your video that you can use to push people towards watching more of your content, subscribing or heading to your website. They fit perfectly into our outro video template that you can see below. Just edit the details and add this to the end of your video to boost results 👇



Twitter
Let's talk Twitter. You probably already know that Twitter is a much faster paced platform with content only really sticking around for a couple of hours. Topical stories, opinion pieces and humor work best on this channel as it's where users head for quick entertainment and updates between activities.
Supported file types: Recommended video formats are .MP4 and .MOV.
File limitations:

512MB

Recommended video length: Twitter

recommends videos be 15 seconds or less.

Maximum length is 140 seconds
Aspect ratio:

16:9 (landscape) or 1:1: (square)

Our top tip here is really to keep it short and sweet - put the main information you want to get across up first so there's less chance it can be missed.

Plus, don't forget those hashtags! Adding a couple of relevant hashtags to the copy with your video to help it get seen by more people.
LinkedIn
Moving onto LinkedIn. This platform is great for people and brands looking to boost their profile in the B2B space. Whether you're looking to recruit new team members, highlight new developments in your products and services, or position yourself as a thought leader - video can help.
Supported file types: Accepted video formats are .ASF, .AVI, .FLV, .MOV, .MPEG-1, .MPEG-4, .MP4, .MKV, and .WebM.
File limitations:

5GB

Recommended video length: LinkedIn says that a video under 30 seconds has a 200% lift in completion rates. Minimum is 3 seconds, max is 10 minutes.
Aspect ratio:

16:9 (landscape) or 1:1: (square)

Hashtags are also very useful on LinkedIn - users will get alerted to your content if it matches hashtags they're following. So it's a good idea to search for relevant hashtags and add them to the end of your content.
TikTok
Last but by no means least is the latest social media platform to take the world by storm. Whether you're a TikTok addict or still unconvinced, we have all the information you need to start creating great content.
Supported file types: Recommended video formats are .MP4 and .MOV.
File limitations:

287.6MB

Recommended video length: 15 seconds recorded in-app, 60 seconds in-app (4 sections of 15 seconds)
Aspect ratio:

9:16 (vertical)
With that, you're ready to create social media videos that stop thumbs scrolling in their tracks! Create your own attention-grabbing animated video today with a VideoScribe free 7-day trial (no credit card needed) or by joining our creative community as a VideoScribe subscriber! 👇