Have you ever wondered how training and bespoke courses in using VideoScribe could support you in becoming a super user? Our recent Solution Package customer - a global pharmaceutical company, leading the way in cancer treatments - wondered exactly that and with the help of our Enterprise Solution Package, their teams left knowledgeable, and with a high-end video that they shared at their global corporate Town Hall.
In this blog piece, we wanted to give you an overview of their experience and why they finished saying, "The support provided was outstanding. I was completely motivated knowing that we had such amazing content and that I could get past any frustration with the hands-on support and creative genius".
So let's dive straight in, starting firstly by explaining what our Solution Packages are so you have some context. Our Solution Packages are three different options that individuals, teams, or businesses can take advantage of to maximize their usage of VideoScribe.
For example, you may have a team of six, with six VideoScribe subscriptions, but everyone feels they're not making the most of the product. They either lack the creative flare, or technical know-how to make show-stopping animations. Depending on the level of package you choose, our Solution Packages offer various workshops and assets like animated logos or customized templates to get your team upskilled and ready to animate!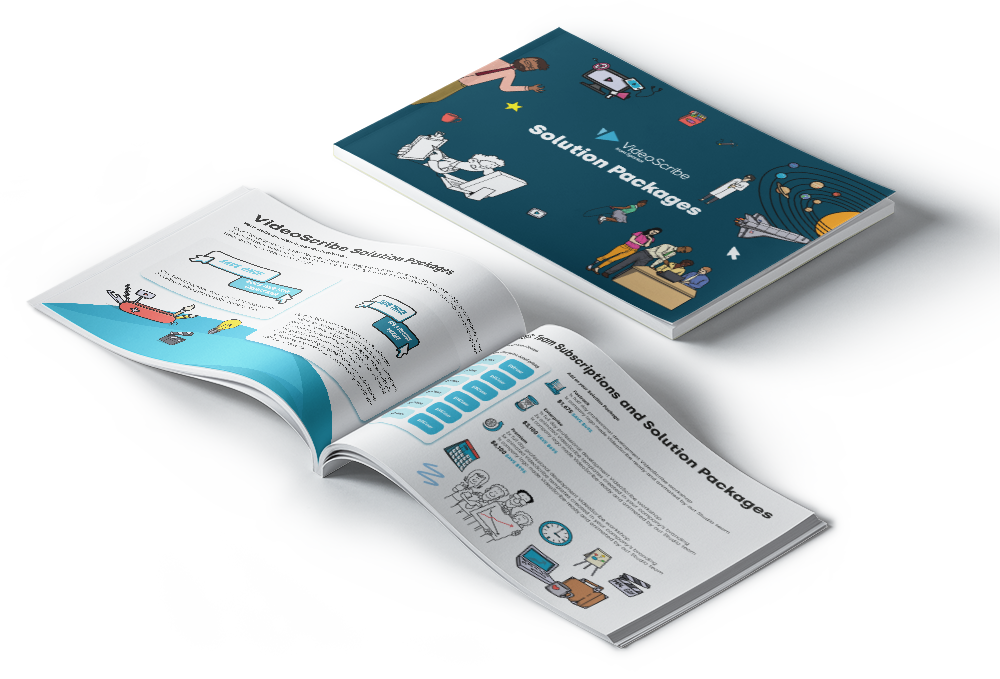 In this case study, our customer purchased four subscriptions and the Enterprise Solution Package in January 2022. We initially provided training for the team in New Jersey and they left with a polished video. We heard from them again in October, asking for further training.
Why? Because the first video they made in their first training session went down so positively! They wanted to use VideoScribe once again to communicate in their upcoming global Town Hall meeting in November 2022.
Knowing we'd facilitated training earlier in the year, we did a recap and refresher for the existing team but most importantly facilitated the training for their new member.
The training was made up of three two-hour online sessions. At the end of each session, the team members were given 'homework' to keep them on track and prepared for the next session. It also helped with knowledge retention of VideoScribe itself.
By the end of the training sessions, they'd left with a finished project that was presented at their global Town Hall. They were very happy with the result, and it was a big success at the Town Hall.
Here's what they had to say about it all:
The video, shown at the very beginning, set the tone of what many say was one of our best and most engaging Town Halls! Here are a few of my favorite comments I received at the preview of the video:
"This video is WOW!" – Global Head of R&D and the Town Hall host
"Wow – it looks great!! Thank you for sharing in advance!!" – Global Head of Regulatory Affairs and the creator of the audio script and narration
"This is awesome!!!!!!!!!!!!!!! Wow really great. Thanks so much." Global Head of Change & Enablement
The support provided was outstanding. I'll admit, it was a heavy lift at the time and we had a lot at stake with an aggressive timeline as I was learning the application for a second time while managing other deliverables. I was completely motivated knowing what was possible with our amazing content that was perfectly narrated. Combined with Sparkol's creative genius, I knew I could get past any frustration and the end result speaks for itself.
What we created together was something that not only showcased the excellent script and audio but most importantly it uniquely acknowledged the tremendous success the people in our company have had in advancing treatment for those suffering from Stage 4 breast cancer. We hope it has the motivating impact on the R&D team that they deserve.
If you'd like to find out more about how we can support you with our Solution Packages, get in touch with our team today! We'd be happy to discuss ways in which we can support you and your teams to create show-stopping animated videos.