The big R-word… recession. And unfortunately in the UK alone, we've read mixed reports on whether the world will or won't suffer a recession this year. But one thing is for sure, we've all started to feel the impact of the cost of living crisis. Often when businesses are put into the position of having to save on costs, one of the first things to be slashed is the marketing budget. But how can you make sure you're still meeting your targets, while your budget is being cut? That's where we come in.
In this blog post, we'll be sharing our 7 tips to make your marketing budget work harder for you. You'll be the hero in your team by gallantly letting your budget be reduced, while maintaining strong marketing performance.
TL;DR? Watch our 1 minute explainer video recapping our 7 tips to make your budget work harder for you.
So, what are our 7 tips to make your budget work harder for you? Let's get into it:
1. Create content in-house
Creating various elements of marketing content may have been something you left to your agency design partners. In our experience, agency partners aren't always the most affordable so this a quick way for you to claw back some of your marketing budget.
Ask your agency partners to pause your contract, on the goodwill that you'll re-instruct them once you're in a more stable financial position, and look to bring content creation in-house. Now, you might be thinking "I'm not a designer - I have no idea where to start!". Never fear - that's where templates are your best friend.
In all sorts of different software solutions, products and brands are offering up customizable templates saving you the trouble of needing to be creative. For example, in VideoScribe, we have a range of free editable video and GIF templates - included as part of your subscription and free trial - to help you on your video creation journey. All that's needed from you is your own flare - customize the colors to match your brand identity, choose one of our stacks of Google Fonts (or upload your own), and switch up the imagery from our library of over 11,000 images. Editing our templates is as easy as choosing a template you like, clicking 'Use', and customizing - check it out:


2. Write content that ranks on Google
I'm sure you've all heard the term 'SEO' - this is Search Engine Optimization - and what this means is, how hard your website works for you. If you have 'good' SEO, your website pages ranks well on Google, and ideally on the first page. To know whether or not your website is ranking well with SEO, you can put your URL in this online too: https://www.seobility.net/en/seocheck/
Let's take a look at VideoScribe.co:

Ranking well on Google can be achieved in a number of ways, but because we're all about making our budget work harder for us, let's talk about how you can do it for free. You just need to keep writing content that is relevant to you, and relevant to your brand. Let's say for example you're a hairdresser and you don't want to lose you steady flow of clients with the cost of living crisis pinching everyones wallets. A quick way for you to a) broaden your websites potential, and b) start ranking more highly on Google, is to spin out website/landing pages and blog articles. If we were in this position, these are the types of articles we'd be churning out:
How often should I get my hair cut?
How do I know if my hair is healthy?
"Insert hair stylists" 5 top tips to styling hair
"Insert hair stylist brand" 7 top tips for long, healthy hair
How often should I get my hair dyed?
How long does a haircut normally take?
It's these "question & answer"articles, and top tips, that people love. Think about your own search patterns on Google - are you often searching for answers? We certainly are! And if an article ranked with my search query, like "How often should I get my hair cut?", I would read it!
Can you apply this type of thinking to your business? What kind of questions do you get asked? Your FAQs are probably going to be the strongest performing website, landing or blog pages across your site.


3. Upload videos to YouTube
Following the same vein as boosting your SEO rankings with good content, don't ever neglect YouTube. YouTube is one of the largest search engines in the world. You might be saying to yourself, hang on - it's just a video gallery - but that's not true. YouTube is so much more. Just read what Forbes has said: "With 3 billion searches per month, YouTube's search volume is larger than that of Bing, Yahoo, AOL and Ask.com combined. If YouTube's user base were a country, it would be the third largest in the world. Since Google owns YouTube, video content hosted on YouTube ranks well on Google"... The potential is huge!
As a business, you have a message to share, or a story to tell and YouTube is the perfect platform for this. In fact, for each of the new pages you've created to get ranking content, take it one step further and add in a unique video. We're going to let you in on a secret - no video is too long or too short for YouTube. In fact, the more content you can create and share on YouTube, the better!
Plus, there's absolutely zero costs involved in uploading content - all you need to do is create a YouTube channel, create your 'About' page (include your logo, a nice hero banner, and a blurb that explains exactly who you are and what you have to offer), and upload your videos. Don't have time to create a voice-over? No problem! With VideoScribe, you can use the text feature to animate out your message. No need to worry about who's going to be the voice behind the video.
Check out how we've used the text feature with the iconic hand animation in the video below:


4. Email marketing to your CRM
A Customer Relationship Management (CRM) is one of the great tools in your toolbox, and in our opinion, is often one that is overlooked. Your CRM is loaded full of existing customers, past customers, and potential prospects - and if they've opted in to your commercial marketing, they're primed and ready to start hearing more about what you have to say! Do you have a discount running? Email your CRM. Do you have a new feature release? Email your CRM - let them know! Do you have a new article that you just published, on 'How long does a haircut take'? Email your CRM to help boost the views, but also inform your subscribers.
Email marketing is the best way to get back in the minds of your subscribers. A past customer might see your email and remember that they need a haircut. But, here's our tip - there are three key parts to making an email successful:
A catchy subject line: It's the first thing your recipient will see, and needs to hook them in to open the email and find out more.
A visually exciting layout: Once they've opened the email, make sure there's some interesting visuals to help the recipient get excited about what you've got to say
A strong call-to-action (CTA): A CTA is what you want your recipients to do - do you want them to book an appointment? Then make sure you link to your booking site!
Let's take a quick look at point number 2 - a visually exciting layout. The majority of email providers (like Gmail, Outlook, Yahoo etc) don't support the embedding of videos in emails but they do support GIFs. Using GIFs is an attention-grabbing, eye-catching opportunity for you to captivate your reader. Plus you get the added benefit of being able to fit multiple messages in one asset - with a static image, you're limited to the size of the image only.
With VideoScribe, you can create animated GIFs with the click of a button. Just create your video, and when you're render to export, choose the GIF option. Now your GIF is ready to add to your emails!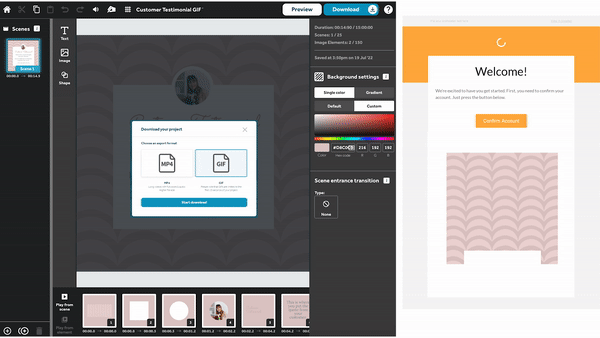 5. Get social on your socials
We don't know about you, but we're definitely guilty of spending too much time on our socials - both professionally and personally. But, as marketers, you can argue that it's "research time"... right? 😅
All jokes aside, social media is a powerful channel for brands when they're active. And that doesn't just mean actively posting - you need to engage with your community. Ask your followers questions, reply to the comments and messages, foster conversation and grow the affinity for your brand.
Knowing what to post on social media can be a hard task, but with the right tools - like VideoScribe - it is made a whole lot easier. Did you know we have template sections dedicated to social posting?
As a starting point, you can get started with our range of seasonal templates. As new events and celebrations take place around the world our 'Birthdays and Celebrations' category grows.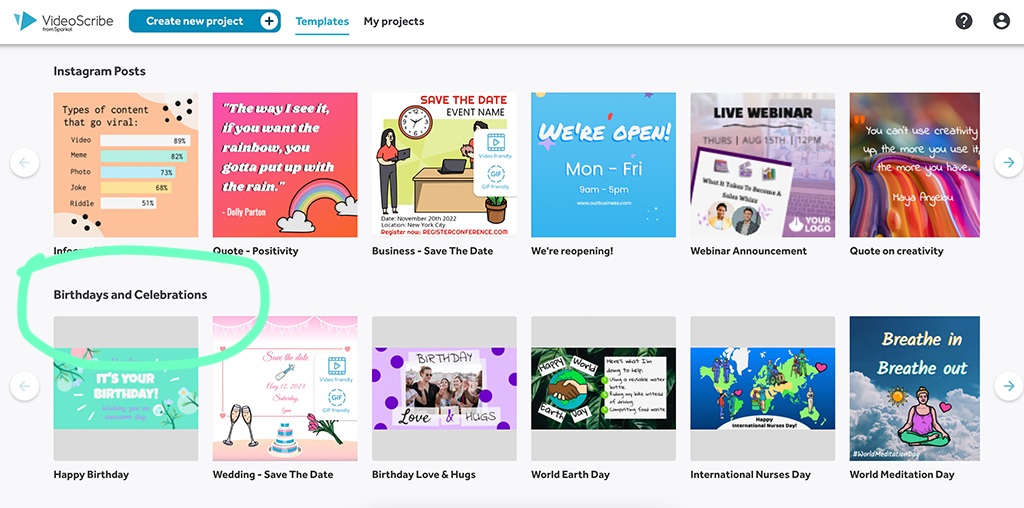 Share a festive message at Christmas, or a message of love and acceptance for Pride - you name it, we've got the templates. Plus, we're constantly adding to our template library and want to make sure that whatever we're creating, it's what you want. You can have your say with our Template Survey.


6. Improve your website performance
How your website performs is a real reflection of how much effort and energy you put into it. This isn't just looking at your SEO rankings - it's so much more:
✅ Do you have good page load speeds?
✅ Does your website work well across desktop and mobile?
❌ Do you have dead links that send visitors to a 404 page?
❌ Does your website only use static images?
One of the most reliable tools we use to monitor our site performance is the Page Speed Insights tool by Google. We want to make sure our site is ranking well with Google, so naturally we will use Google's monitoring tool.
By running your website through Page Speed Insights, you get an indication of how things are stacking up. But we wanted to focus your attention briefly on the last point we made - does your website only use static images - because if you answered yes, this section is for you.
People are watching and consuming more video now more than ever. On average people are watching 16 hours of online video content each week and this continues to grow each year - we're choosing video over other formats. Why wouldn't you make the experience easier for your website visitors? If you could tell you story succinctly in 1 minute, rather than pages and pages of content wouldn't you? Or, why not do both!
Get the SEO benefits from the written word, as well of the YouTube gains from hosting the video on the platform. You probably would've noticed that we've been using video left, right and center in this blog - we're practicing what we're preaching! And once again, adding embedded video to your website is completely free when hosting with YouTube. Just copy the embed code, and paste this on whichever pages you'd like it to feature.


7. Use VideoScribe
Now, we're 110% biased but we think VideoScribe is one of the best "value for money" tools out there. You get a video animation maker, a GIF creator, the ability to create content on the go with your iPad on VideoScribe for your browser, or offline if you're using VideoScribe for your desktop.
There's stacks of free editable templates - for your website, your social media posts, your YouTube channel, and your emails - meaning you don't need to compromise on design by creating content in-house. With a VideoScribe subscription, you really beat the pinch of the recession - this is marketing on a shoestring budget.
Create as many videos as you want with your subscription from scratch or using a template, plus you get access to our royalty free music library, and over 11,000 custom illustrations and GIFs (all handcrafted by artists).
It doesn't matter if you're just starting out in your marketing career, or if you're seasoned marketer - VideoScribe is an easy to use, drag and drop software available to use on your favorite browser or downloaded onto your computer. But don't just take our word for it - one of our super users, Carol Alalalouf, can't stop raving about how she empowers her clients with VideoScribe. Check it out:
Want to try before you buy? Sign up for our free 7 day trial of VideoScribe. Absolutely no commitment, no risk, no obligation - all we need is your name and email address to create your account and get started. If you're not a fan after the 7 days, then you're free to go! At no point will we ask for your credit card or payment details. That just means 7 days of uninterrupted video creation time! Happy video marketing.