Have you ever been in a situation where you just can't find your 'inner-creative' to produce video content? 🖐we have too and we hate it! According to Google, creativity is "the use of imagination or original ideas to create something; inventiveness". But what do you do if you can't turn on your imagination tap? This is where we think we can help.
Every day we're creating video content and every day, we face the battle of creativity. Because of that, we think we're a pretty reliable source when it comes to finding out how you can unleash your creativity with video. We're going to walk you through how we identify new creative video concepts and how we give it life using VideoScribe, running with the super-popular theme of '2020'. Here's a sneak peak of our finished product but don't worry, we're going to talk through our steps and how we got there!
Want to create videos like this? You can get started on your free 7-day trial of VideoScribe.
Getting started
Let's start by asking ourselves some foundational questions:
1. What is the primary platform for the video?
This will influence whether you create a 1:1, 16:9, or 9:16 ratio video. We're answering 16:9 for our example (the traditional video size) because then we can repurpose the content across multiple platforms i.e. blogs, social media, and emails. To find out more about how you can repurpose your video content, you can read our blog here.
2. Do you want a voice-over in your video?
Adding an audio narrative to your video can make your video more memorable and educational. However, for this example, we're going to answer No. This video requires a fast turnaround time meaning we don't have the capacity to write, record, and edit a voice-over.
Now that we know a rough 'style' of video, we can start the thinking process. What's first?
Do some research
When we're looking for inspiration, we always start with some research. Check out what other people are creating for the same topic across multiple platforms. And don't just limit your research to video only - we find inspiration in images, photos, and even text! Some places we love using for our research are Pinterest, Instagram, YouTube… even Google by searching the term or keywords.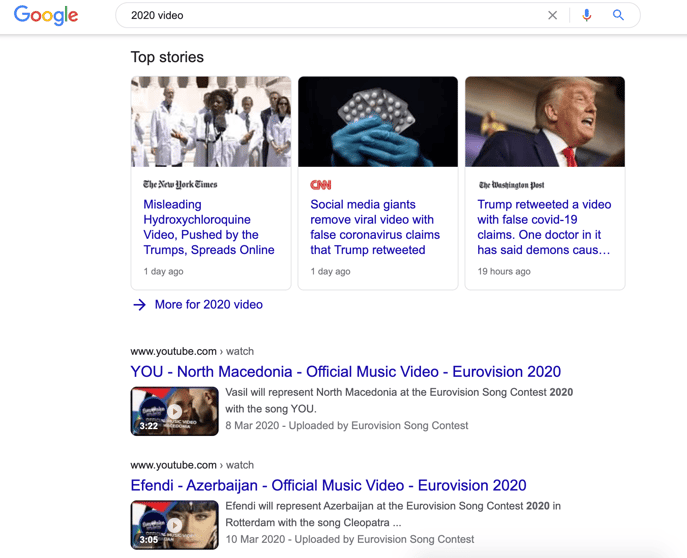 After this, you'll start to get a feel for the different types of visuals you like. The next step is to start making notes to form the basis of your plan. You can do this in a Google doc, using word cloud or mind mapping software, or just the traditional pad and pen. From our research, we were inspired by what has made the year so far, so with that, we've taken the theme of 2020 to create a video on the topic of "trends".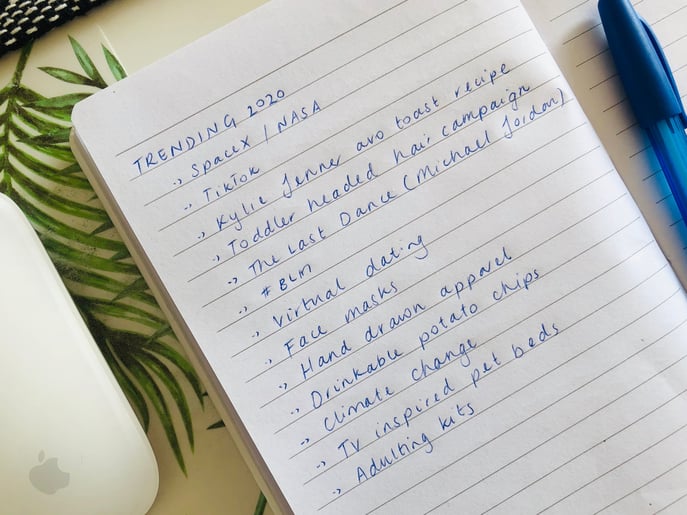 So, we've got our inspiration plan, a few visuals from our research to form a physical or mental mood board. Now let's apply these to a storyboard!
Storyboarding
Creating your storyboard will massively help you when you go to create your video. A storyboard essentially your visual plan using images, drawings, text, directions to map out the sequence of your video.
You can use a computer to create your storyboard. In fact, we have a free downloadable template that you can download to flesh out your storyboard. For this example, once again we've stuck to the traditional pad and paper approach.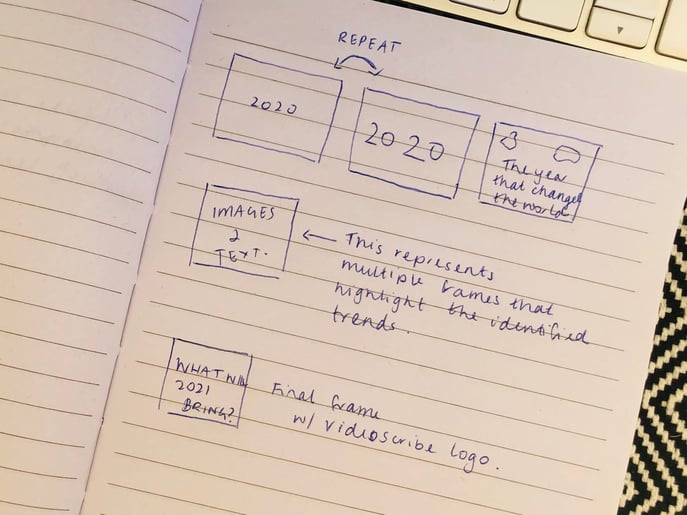 We're really pleased with how this is coming together. In our mental mood board, we can see this video being very "flashy" and "fast" using techniques that aren't traditional to VideoScribe (but that doesn't mean it can't be done)! Let's get creating (and creative!) so you can see how it's done.
Creating your video in VideoScribe
You're spoilt for choice when it comes to animating within VideoScribe. Whether you want to stick to our iconic illustrative style or change things up, our animation options have you covered. You can choose between using the Fade-In effect, Move-In, Morph, or just 'appearing' by setting the animation time to zero seconds. Whatever you choose, make sure it complements your overall story.
For our video, we used a combination of 'appearing' which is no animation by setting the animation time to zero, and a pause time of 0.2 seconds, plus a lot of fading in! We also couldn't resist adding in a cheeky illustration or two but have a watch and see how we unleashed our creativity in this 2020 video!
The finished product
The key to unleashing your creativity with videos is just to have fun with it! There's no right or wrong way - just play around with your thoughts and your video creation product and find what works for you. If you want to get started with VideoScribe, you can sign up for a free 7-day trial!