Adam Holownia makes growing a YouTube channel look easy. Having attracted a huge subscriber base in record speed, he's built a wealth of knowledge on video content creation and YouTube marketing.
With that in mind, we're particularly excited to be able to share our interview with Adam where we discuss his tried and tested tips for engaging an audience and creating videos that wow with VideoScribe!
Adam
is the creator of educational channels
The Art of Improvement
and
Eudaimonia
which together have over 400,000 subscribers.
So, if you want to learn how to create videos that inspire action, whether it's subscribing to your YouTube channel or sharing and engaging with your videos then this is the blog for you.
Big thank you again to Adam for sharing his insights with us!
Please can you tell us a little bit about yourself and your YouTube channels?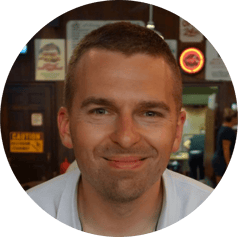 I graduated from University with a Computer Science degree back in 2005. Since then I worked in the IT department of an educational charity. I enjoyed the work but it had limited opportunities to be creative, so in 2015 I started making videos on YouTube in my spare time, as a way to scratch that creative itch.
On my first YouTube channel called Eudaimonia, I created whiteboard animation book summaries on successful people from history. This gave me the opportunity to work with organisations such as the Oxford University Press and I've had my work written about by many authors, including Sir Richard Branson.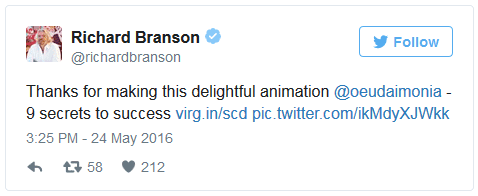 In 2018, I started a new channel called The Art of Improvement, which focuses on highlighting my favourite blog posts and articles rather than just books, especially in regards to productivity and personal development. I now create one video a week using VideoScribe and it has led to some enormous growth with over 16 million views on the channel and counting.
What made you choose VideoScribe to create your videos?
I enjoy watching videos that explain ideas and concepts that are sometimes difficult to visualise when only reading about them. Animated whiteboard videos really held my attention and I had to find out how they were made. Trawling through YouTube comments and forums I discovered the name of the software some people used was 'VideoScribe'. I trialled the software immediately and never looked back.
There are two distinct benefits that stand out for me with VideoScribe. Firstly, it has a very gentle learning curve. I managed to make my first video in a matter of minutes. However, the software is also very powerful and there are lots of advanced features that you can pick up as you become more familiar with it. These really give your videos that professional look and feel. For example, I've added drop shadows on some of the drawings, used different pens to draw the images and picked a handwriting-style font with great effect.
The speed and ease of use allows me to produce a weekly video for my channel. This has been a significant factor in my channel growth. I also like the constant updates, improvements and new images which allow my style of creating videos to evolve and keep existing viewers engaged as well as hopefully educated and entertained.
Why do you think your subscribers like your VideoScribe videos?
I think there are several ingredients required to concoct a video that people like. Speaking as somebody who enjoyed watching other VideoScribe videos before making them, I was drawn in by the visuals. For example, seeing a character drawn on the screen that you can then see experiencing the story being told, helps the viewer relate to the story. It also helps the viewer identify with the character, leading to them becoming more engaged. The combination of a good script, clear audio and seeing the story animated has been a winning formula for me.
How did you grow your YouTube channel so quickly?
I released my first video on The Art of Improvement on New Year's Day in 2018. In less than 2 years the channel grew to over 300,000 subscribers. The first six months were slow going, but the people that did watch the videos loved them, so I knew it was only a matter of time as long as I stuck with it. I'd learnt by now that consistently creating videos and not giving up was key.

Once I'd made about 25 videos, the channel reached a type of 'critical mass' and gained traction on YouTube. Then a snowball effect occurred and the channel has enjoyed steady growth ever since. I've had to think creatively to attract the attention of people with large audiences to share my work, but each time they did it also provided a spike in attention and growth.
Can you tell us what your biggest successes or proudest moments have been since setting up your channel?
One of my biggest accomplishments was getting on the radar of Sir Richard Branson, which resulted in him writing a blog post about my work. It showed me a little extra effort can result in a huge benefit. I'd created an animation summarising key ideas from one of his books and decided to contact the Virgin social media team to let them know. A few days later I received an email from Sir Richard himself asking if he could mention it in his blog. Another unexpected accomplishment is the number of comments I receive from viewers saying how the videos on personal development have changed their lives for the better.
What's your advice for others wanting to start a YouTube channel?
My single biggest piece of advice would be to not worry about making mistakes. My videos have involved lots of trial and error. Bruce Lee once said "Adapt what is useful, reject what is useless, and add what is specifically your own." This is highly relevant for starting a channel. Watch other videos, make notes on which bits you like and ignore the parts you don't. Add your own personal comments and views, then use VideoScribe to bring your notes to life in your own style!
Also, don't be afraid to share your work and go that little extra mile. People like to share their own work, so if your videos can build on what other people have done, they'll be far more likely to share it with the world for you. Just like this example from sports presenter Jake Humphrey...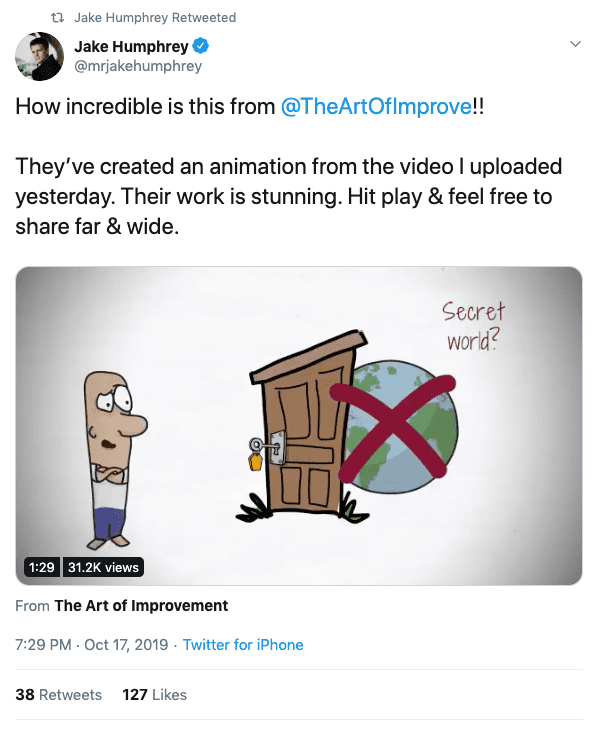 We hope that Adam's journey has inspired you to create your own VideoScribe animations! If you'd like to try it for yourself, start a FREE seven day trial here. We love seeing your videos so please share your finished animations with us @VideoScribeApp!