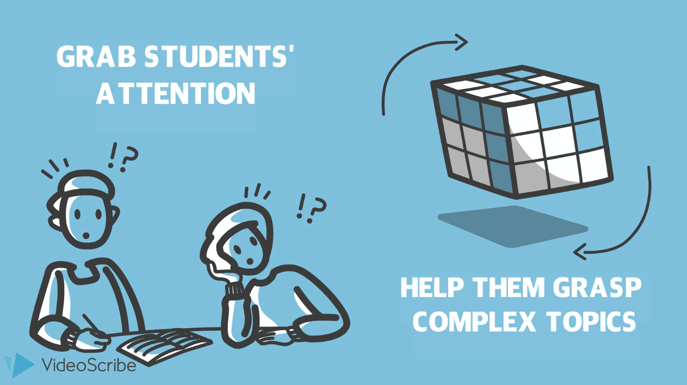 Attention is a limited resource at the best of times, and as a teacher it can feel that the hardest part of your job is getting and keeping the attention of your students.
Dead Time: lack of student engagement
Educational Consultant, Tristan de Frondeville coined the concept of 'dead time' in an Edutopia Article, he said:
"Getting all your students focused, eager, and on task at the beginning of class is challenging enough. Equally problematic, once you have them locked into the lesson, is watching them zone out. There's nothing unusual about that. After all, anyone who has to sit through a long routine -- including a teacher's presentation -- is bound to drift off at some point.
I call this lack of engagement dead time. Dead time interferes with students' learning, and it's contagious. It lures those who are on task into wondering, "Why should I pay attention if others aren't?""
There are strategies for getting a student's attention back once you've lost it, but not only does it distract everyone else, it depletes their energy too (and yours!).
So the big question is, rather than finding ways to get attention back, how can you reduce the chance of losing it in the first place?
Using VideoScribe to keep students' attention
Introducing VideoScribe, your secret weapon and 'dead time' antidote!
VideoScribe is the easiest and fastest way to make your lessons more engaging. It's a whiteboard animation software tool that uses a combination of spoken word, animated hand-drawn images, music, and sound effects to create eye-catching and attention-grabbing explainer videos on any subject. Let's look at some of the benefits of explainer videos.
There are lots of statistics that confirm the power of video, here's just a few:
Our experience of the world is perceived 83% with our sight and 11% with our hearing, that's a massive 94%, with smell, touch and taste way behind with just 6% (Video Marketing Trends).
Video is 12 times more likely to be watched than text is to be read

(Video Marketing Trends) and that's because we're conditioned by evolution to pay attention to things that move in case they eat us!

One minute of video is worth 1.8 million words (Forrester Research).
Youtube is now the 2nd largest search engine – bigger than Bing, Yahoo, Ask, and AOL combined (Etail Insights).
With VideoScribe, not only are you harnessing the power of video itself to keep students' attention, but you're getting the benefits associated with explainer videos too. Famed psychologist Dr Richard Wiseman found that information presented through explainer videos increased knowledge retention by an average of 15%, compared to talking head videos.
What is an educational explainer video?
Essentially, an explainer video is a short, uncomplicated and entertaining animated video that explains an idea, product or service. They feature illustrated graphics and characters, that pack a big punch.
You might be thinking you need to be a creative or tech genius to make your own video, but with VideoScribe the opposite is true! It's highly intuitive making it perfect for busy teachers juggling large workloads.
How can you make explainer videos?
It's as easy as selecting images from our library or your own, adding your text, choosing your music or record a voiceover, and then animating. The background, colors of images and animations are all customizable so you can tailor the look and feel for your topic and students.
Amongst our huge image library there's a new Education folder full of all the teaching supplies you might need along with subject-specific folders like Geography, History, Mathematics, Science and more. To create professional-looking videos even faster you can take advantage of our new video templates that only require a few edits!
You'll be joining a fantastic community of educators already using VideoScribe to inspire their students. Click here to take a look at some of our favorite examples and case studies.
If you need any help along the way we're always here to help. Check out our online tutorials, blogs and guides to get inspiration and ideas, or contact our support team for technical help.
With VideoScribe in your teaching tool box you'll be able to easily create your own explainer videos to make teaching even the most complex topics a breeze.
VideoScribe can help bring your whole curriculum to life!
Affordable and easy to manage!
We know that funding issues can sometimes hold teachers back from using new technologies like VideoScribe. That's why for eligible schools, we can offer considerable educational discounts on both annual and one-off pricing plans.
The more widely VideoScribe is used in your school – teachers, students, PTA, special needs, safety – the lower the price becomes. Compared to the cost of professional video production and other solutions in the market, VideoScribe is extremely cost-effective.
Planning a term's worth of lessons is daunting, regardless of whether you've been in the profession for a few months or you're a seasoned teaching professional. Finding new and exciting ways to present the curriculum is beneficial for both teachers and students, and with explainer videos it's easy.
Students can work through the Tudor family tree; watch the Bayeux Tapestry animate scene by scene; have a geography lesson that brings to life the rainforest's sights and sounds; or delve into the workings of the human body with an informative biology scribe.
How to get your hands on VideoScribe!
Once you've created your explainer video, give it the attention it deserves and share it on social media with #MadeWithVideoScribe for a chance to be featured on our website!
Do you have any tips or advice to add? We'd love to hear from you, let us know on Twitter or Facebook.