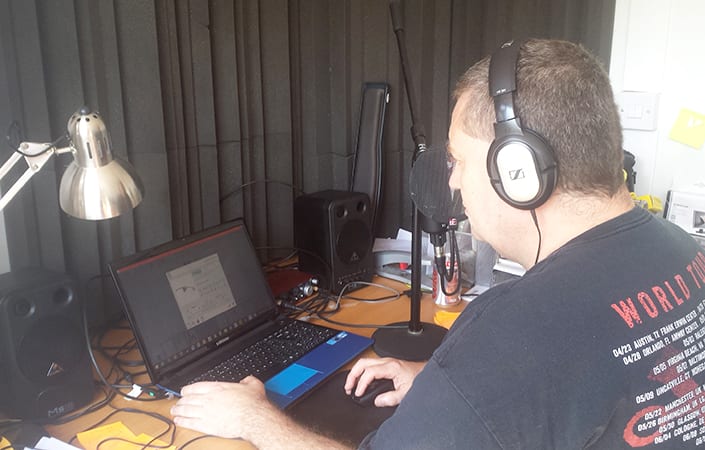 Bruce Graham fuses scribes with training courses for companies and businesses worldwide. We found out why he counts VideoScribe among a new generation of visual tools making training videos and courses come alive.
Bruce is a full-time, UK-based Instructional Designer, mainly creating corporate eLearning. He tells us about discovering VideoScribe and his latest project with Illumine Training, The Nature of Creativity.
How did you first hear about VideoScribe?
I was looking for ways to visually enhance eLearning. I was already adding PowToon animations to Articulate Storyline, and became aware of scribing as a web phenomenon. I had no idea that there was software available to produce the [whiteboard animation] effect, and very quickly found VideoScribe. I immediately took out a One-off subscription, as I could see enormous potential within my day-to-day activities.
How does VideoScribe fit into your work process?
VideoScribe is a superb way to illustrate business flow – but you need the vision to be able to tell corporate clients to dump the words and bullets.
I always have planning meetings and calls with clients before we start to build courses, and I always mention that I can provide this style.
I will usually produce a short proof of concept scribe for them and, after seeing that, most people agree to using it in part or as the basis for the whole presentation.
The longest part of the flow is usually trying to get any custom images created, or finding logos and so on that are in a high quality resolution and look great when built into a scribe.
What does VideoScribe make possible?
VideoScribe enables me to change the pace of learning, to use fewer words and provide an illustration – people can conceptualise things much better when they see then visually. I have a wonderful tool to produce a visual voiceover.
I have a superb illustrator (Laura at Very Vermillion) who produces all my graphics for me. I love the way that I can use the VideoScribe hands to slide in a graphic – perhaps something that the business learners recognise from their own organisation, or a simple image to represent certain types of document.
How do your clients react to whiteboard animations?
They absolutely love them! Corporate eLearning has in many cases come from a PowerPoint history, and they are often not used to seeing this sort of learning. It is refreshing and they react very positively in most cases.
What have you used VideoScribe for?
I have recently been creating scribes to illustrate a course on project management techniques. That subject tends to come from a background of charts, numbers and text, so it was refreshing – and challenging in some places – to find appropriate images and ways to present the topics, but it was also great fun.
I have also just been commissioned to produce videos for a US-based online marketing agency. They have already asked 'How many of these can you produce a month?', so I am looking forward to having a lot more fun and getting paid for it!
Of course – producing The Nature of Creativity for Illumine Training has also been enormously enjoyable – as the subject matter lent itself beautifully to an entire course almost exclusively built using VideoScribe and voiceover.
Tell us a bit about your current project.
Clive Lewis is a world-class creativity and speed-reading expert and owner of Illumine Training. He wanted to produce an online eLearning course that would help learners develop their creativity, and contacted me to help him do it.
I immediately saw the potential of using VideoScribe as the main medium. Scribes are, by their nature, something that requires creativity to get right, and it seemed the completely obvious thing to do. We built six short modules, designed to be viewed as standalone entities. We also built a second version which consolidated everything into one course.
The key thing for me was to have something that was visually engaging, a bit different, but still highly professional. I was really impressed with how [VideoScribe] helped the messages to flow on this project
– Clive Lewis, Illumine Training
What trends are emerging in your field?
Three words – images and animation. These can be in pure video, scribes, cartoons or whatever, but people are generally tired of seeing words and bullet points.
People are so used to seeing these styles in social media, and yet so many corporate training departments still align themselves to the PowerPoint flag. The new visual tools, such as VideoScribe, are opening people's eyes to new styles. That plus YouTube, Pinterest and so on make this the age of visuals – and VideoScribe fits into this model perfectly.
What would you advise other eLearning specialists about scribing?
Animations don't necessarily have to be funny – this scares some clients. Animations allow a style to be developed. A style that increases interest.
You still need to do the hard work of instructional design, but start a theme – for example, use VideoScribe for section summaries. Start small, see the impact, then work from there.
Animations can still incorporate words – VideoScribe does so well when combining text with a well-illustrated speech or thought bubble. Animation can still cover flow-charts, processes, and yes (occasionally) a well-placed visual gag can introduce some wonderful lightness which helps aid recognition and retention.
It is completely possible to, for example, place recognisable corporate images into a tool such as PlaceIt, then export the images and slide them in and out of a video presentation. I used that technique in a corporate explainer video for their new Customer Learning Management System, and now the Product Divisions want to do product training using that style.
How could they get the most out of VideoScribe?
Buy it, play around, have fun. It is hard not to have fun using it.
Like any software of this type – start with a specific idea, and just start to create it. You will learn a lot doing so. Use the forums and tips published on the VideoScribe blog.
Play around with morphing and effects. Learn how to exploit some very well, rather than using everything at a basic level – your scribes (in my opinion) will always look better if you do that.
Find Bruce Graham at www.pperf.co.uk. The Nature of Creativity becomes available in the next few months. You can see Illumine's other online courses here.