Do you find it hard to create marketing content that engages your audience? Your content isn't driving the traffic and engagement you had expected? Or, you're clueless why your content doesn't perform well on Google. Great tools can help solve these problems with your content marketing and more.
Check out the line-up for the 7 best content marketing tools to use heading into 2021. These will help you edge out your competitors and attract more audience engagement to get greater value from your content.
Did you know that videos are trusted by 40% of the millennial population? Given that this is currently the largest population in the world today, 40% is a large number.
Of different types of videos, whiteboard animation videos are 3X more-likely to be shared by viewers. Plus, research shows that whiteboard viewers are twice as likely to buy and recommend the product advertised. Need we say more?
If you're looking for a tool that can help you create these super engaging whiteboard animations, then VideoScribe is the software to choose. VideoScribe has numerous pre-made templates and a huge repository of images, text fonts and music. Just drag and drop the elements you want and quickly and seamlessly create brilliant whiteboard animation videos in minutes.
Here's another advantage. Once you purchase your subscription, you can produce as many videos as you like - there's no restriction. You also have an online team of Sparkol's best animators and customer service reps who are always available should you require assistance using your platform.
Of course, if you'd like a more customized and sophisticated video animation service, Sparkol also has a premium animation studio, where you consult a specialist one-on-one for your new project.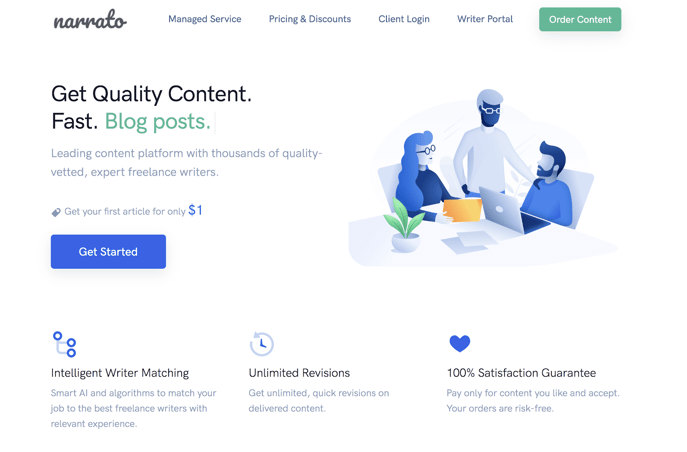 Engaging and educative content can drive more people to your website than any other marketing strategy. But studies show that 65% of companies find it tremendously difficult to produce engaging content consistently. Maybe you're facing the same challenge too.
The content ordering and freelance writer marketplace Narrato can help you here. The platform is home to thousands of highly-qualified and experienced writers, and you'll find people with expertise in all types of writing on Narrato. Whether you want a pillar post for your blog or you're looking for someone to create riveting website copy, the writers on Narrato can help.
Content is comprehensively-researched, SEO-optimized, checked for spelling, grammar & plagiarism and customized to your exact specifications. If you want to try a sample of their writing, Narrato offers trial pieces at just $1.
The writers on Narrato are pre-qualified based on their writing quality and expertise, meaning you don't have to do this before hiring them. Writers are matched to your projects using a smart algorithm, based on the skills you're looking for. Turnaround time is 24-48 hours and unlimited revisions are available for all ordered content.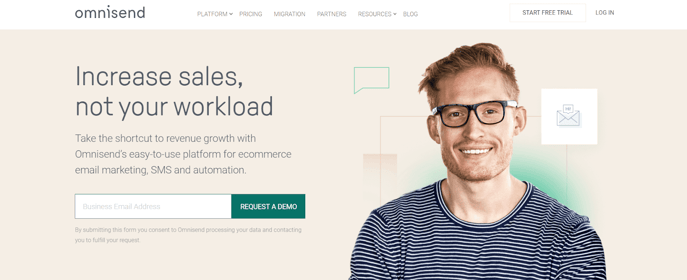 One of the main reasons why companies lose customers is they don't actively engage with prospects across channels. Just sending a prospect a newsletter once a week, but ignoring them the rest of the time, won't lead to sales. To keep your brand front of mind, you'll need to constantly interact with prospects across a variety of platforms.
This type of omni-channel content marketing is extremely important for B2B companies. Research shows omni-channel implementation can help them retain as much as 89% of B2B clients.
Omnisend is an omni-channel marketing automation platform that empowers you to combine SMS marketing and email marketing to promote your ecommerce platform. The tool has a robust feature that allows you to automatically track a prospect's journey on your site. Depending on the action the prospect takes, Omnisend can be used to welcome, inform and send personalized product/service pitches through SMS and email. When customers receive notifications across channels, it reminds them of your presence and encourages them to visit your site.
The tool comes with built-in templates to create your bespoke SMS messages and emailers. You can integrate Omnisend to any ecommerce platform and migrate customer data seamlessly.
Omnisend has four different pricing levels, suited for companies with all budgets.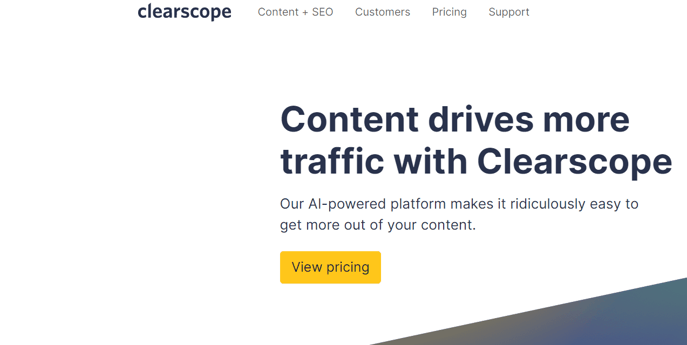 So, you've written your content. It seems to have checked all the boxes, but it still isn't driving traffic to your site. Why is that?
You see, content creation is just one part of content marketing. The other is SEO optimization. When prospects look for products/services online, they use specific search terms. Search engine algorithms rank websites/blogs based on the relevance of the article to the prospect's query. So, unless you have the right keywords in your article, you won't be acceptable to search engine algorithms, thereby not ranking high.
This is where Clearscope comes in. A content SEO optimization software, Clearscope allows you to correct and streamline your content, in-line with the industry's best SEO practices. All you need to do is specify the theme for your article and paste it onto the platform. Clearscope will check your article for keyword usage, content length and readability. You'll then be graded for content quality. Your grade is compared to competitors' articles to show you where you stand.
The tool specifies a list of the most-used keywords that competitors normally feature in content similar to yours. You also get details about the number of times the keyword needs to be used in the article. Clearscope highlights phrases which possess high value in search. If you haven't used enough keywords (or have stuffed your content with too many), the software informs you of the same. As you make the necessary changes, your quality grade also increases.
Clearscope starts at $170/per month for a base package.

When it comes to lead generation customer outreach, emails are more effective than telephone calls, because they're non-intrusive. For 31% of B2B companies, emails are the best way to generate the most-qualified leads.
But the fact is, not every company knows how to use email marketing for lead generation. If you too experience the same problem, then you should consider using MailShake.
MailShake is an outbound marketing tool that's designed specifically for cold emailing. You can easily email prospects to introduce yourself to them and share your content. The software allows you to run multiple campaigns simultaneously. You can easily upload your CSV file and import your contact list.
The tool comes with a responsive email template which you can use to create your bespoke mail body. There are text replacement fields that you can implement to personalize your emails to each recipient. MailShake also allows you to set up follow-up emails that you can pre-schedule. This is a great feature because it helps you manage your time wisely during your busy sales season. There's also an excellent option to pause the entire campaign. If you're too busy to run your campaign now, you can get back to it later where you left it.
MailShake's robust dashboard allows you to actively track each email engagement (such as when prospects follow your links, ignore your initial email or reply to you directly). You can then action each engagement and find qualified leads in hours. The software's email engagement tool is priced at $55/per month, while the advanced sales management tool is $99/per month.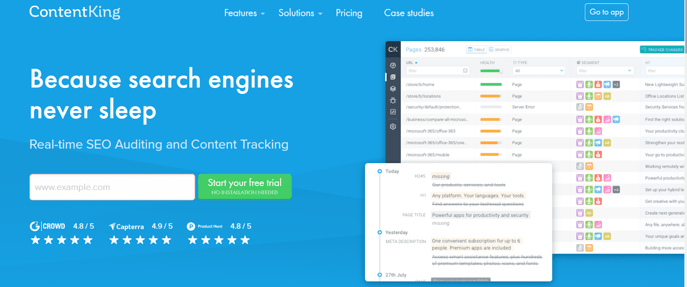 According to Neil Patel, every brand should see an increase in site traffic within 6 months of starting their website, from search keywords other than their brand name. But here's the thing (and Neil concurs), this is possible only if your SEO implementation has been spot-on.
It can take very little time for your search ranking to plummet. Getting it back to top spot can be incredibly hard. It's imperative for brands to be mindful of how SEO-friendly their website content and website design is at all times. This is where a tool like ContentKing helps.
ContentKing is a content auditing and SEO performance management tool that allows you to monitor SEO performance in real-time and make the changes necessary to rank your content high on the search engine. ContentKing's SEO Auditing feature works 24/7, 365 days of the year to keep you in the loop about any search ranking issues you may have.
The tool's dynamic dashboard keeps track of missing/broken links, poor keyword usage, missing or unoptimized headlines/titles, missing alt text & meta and page redirects to name a few. ContentKing allows you to do a competitor analysis as well, to judge your ranking against your benchmarked competitors. The software can be integrated with Google Analytics and used to derive SEO and page ranking insights.
ContentKing has various packages, starting from $118/per month.

Not all content you create is promotional. Sometimes, you'll need to create content containing confidential information that cannot be shared with external content creators. Such as, reports to C-suite teams, apology emails to customers, business expansion plans etc. In this case, you'll need a dynamic writing tool that can allow you to write from anywhere and at any time. Ulysses is that tool.
Ulysses is a state-of-the-art writing app that's designed specifically for Mac/iPhone/iPad users. Its markup-based editor, plaintext ability and clean UI make it very convenient to use.
The app comes with hundreds of built-in templates to create everything from checklists to long-form articles. There's a special typewriter mode that mimics how typewriters work - focusing on the sentence you're typing and blacking out everything else. This allows you to have a completely distraction-free writing experience. The app is keyboard-optimized.
Ulysses is great for collaborative work. Multiple people from your team can work on the same file and use the version control feature to get up-to-speed about any changes made. The app follows a hierarchical organization structure, where you can group files into folders and rank each folder based on project/subject and priority. There's an in-built feature to filter and search through folders. Each piece is automatically updated onto iCloud, with the option to access extra storage on Dropbox.
Once you're done with your work, you can export your files in various formats from PDF to ePubs, to different writing platforms like Medium, Blogger & WordPress.
Wrapping up
Content marketing has become the go-to inbound marketing option for most companies. Now especially during the pandemic, content marketing is one of the only ways brands can continually engage with socially-isolated target customers. With competition rising, it's important for brands to set themselves apart from their competitors.
Content marketing platforms can help you do this. By giving you access to unlimited templates, awesome tools and state-of-the-art software, they empower you with everything you need to create the most stunning content that your prospects will love and respond to.

Guest authored by Nisha Prakash. Nisha is a writer at Godot Media, specializing in social media marketing and content management. She is an avid runner, a trekking enthusiast, and a lifelong bibliophile.