If you want to capitalize on the Halloween buzz to promote yourself, your organization or a cause but don't know how to get involved, this is the blog for you.
With so many options to choose from, designing a video marketing campaign that's Halloween focused but still helps you achieve your objectives can be tricky.
To provide some inspiration and ideas to create Halloween video magic we're sharing five campaigns we're loving that are scary for all the right reasons!
1. The Dodo's Halloween Dog Day Event
Experience the most epic Halloween party of all time — with your dog! Tickets on sale now: https://t.co/bgXlOSCu3L pic.twitter.com/CJg616EPOr

— The Dodo (@dodo) September 10, 2019
First up, we love this sweet animated video from The Dodo promoting their adorable Halloween dog day.
We think you'll agree, not only is this video eye-catching but it acts as a great event teaser that makes you want to click the link to find out more.
We know that videos over two minutes long don't perform as well on social media as audience attention span drops sharply. So if you're promoting your own Halloween event, don't worry about getting all the information into your video. It's better to create intrigue with a higher quality short video and direct your audience to find out more.
To get started, try our Halloween event invite video template in VideoScribe. Just click here to start a free trial and get using it.
2. Dreamworks' Halloween Countdown
Every week we're selecting our favorite DreamWorks Halloween episodes! This week's "Fright Highlight" is Lucky and the Harvest Hunt from Season 2 of #SpiritRidingFree! Check it out on @Netflix: https://t.co/TItgVjC0iO #DreamWorksHalloween pic.twitter.com/BOuG2sMJyx

— DreamWorks Animation (@Dreamworks) October 14, 2019
This video from Dreamworks is a perfect example of how to keep your audiences coming back to your channels.
The animation geniuses have created a series featuring clips of their films and TV programs that relate to Halloween, sharing one each day in the countdown to October 31st.
One of the most time and cost effective options for video marketing is to repurpose existing content. If you already have video content on Halloween that can draw fresh attention to your organization then consider how you can refresh it and add a new spin.
This is super easy to do with your existing VideoScribe files, simply open the scribe and edit dates, information or the look and feel to create a whole new video with minimum effort and maximum impact! Not created a scribe before? Get started for free here.
3. Morgan Wright's Animated Halloween Book Covers
#WritingCommunity: Let's play😍

Which of these 5 book cover animations I've made give you the creepiest #Halloween vibes?

Psst, if you want me to animate your own book covers for Halloween, I'm offering a special discount🥰👉: https://t.co/EyVyMdhjqx#amwriting pic.twitter.com/25mQZo3Scb

— Morgan Wright (@byMorganWright) October 15, 2019
Full creative points to this campaign! Morgan Wright is a writer and animator who brings book covers to life by adding moving elements that attract audiences.
To add a Halloween twist, Morgan is offering discounts on animating spooky book covers. Making this campaign a brilliant way to boost seasonal sales with a unique idea.
If like Morgan, you have photos or images that you want to add animations to, don't forget VideoScribe can help. Simply import your own image and then layer additional images, effects and text over the top.
4. Kent-Teach's Pumpkin Drawing Competition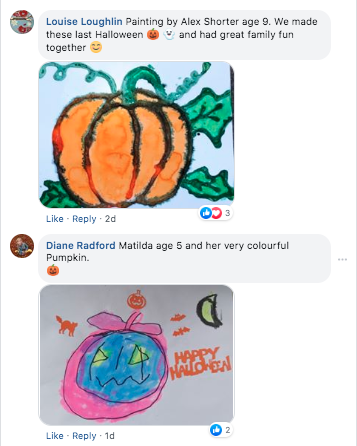 Want to encourage more social media engagement? What better way to get your audience involved than to challenge them to a pumpkin drawing contest!
That's what Kent-Teach, a social network for teaching professionals in Kent, UK has launched to celebrate spooky season.
They've cleverly partnered with another local business to offer free tickets to a family-fun event in return for sharing drawings of brilliant carved pumpkins. This is a great way to encourage conversations on your social media channels and start building a community.
...and on the topic of competitions, did you know we're running our own Halloween ghost hunt? 😉 If you'd like a chance to win a year of VideoScribe for free, click here to watch our haunted house video and enter.
5. Woodland Park Zoo's Planet Friendly Candy Plea
Can we count on you to be sweet to orangutans by shopping from wildlife-friendly candy companies this Halloween? pic.twitter.com/wFSoKX574a

— Woodland Park Zoo (@woodlandparkzoo) October 8, 2019
Last but certainly not least, this video caught our eye for it's simple and striking style carrying a very important message.
It's easy to get swept up in the excitement of Halloween, but shopping for costumes, candy and decorations responsibly is a key consideration. Woodland Park Zoo use the power of video to help their audiences choose ethical products.
This is a great reminder to look at holidays and awareness days more carefully to uncover different ways you can capitalize on the buzz to communicate your message!
Get started making your own video by signing up for a seven-day free trial of VideoScribe today, (no credit card required).
Once you've created your video, give it the attention it deserves and share it on social media with #MadeWithVideoScribe for a chance to be featured on our website!