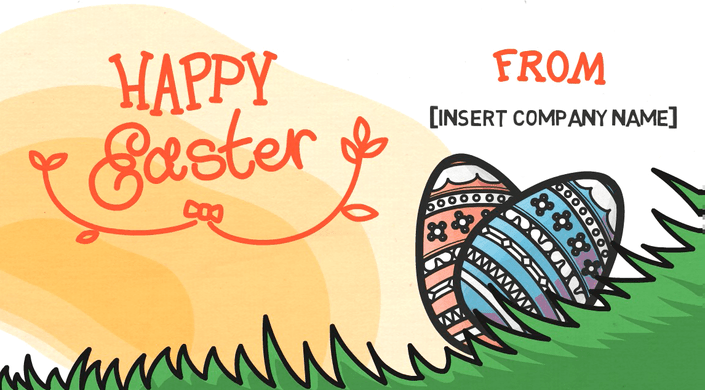 Gone are the days when you need to be an animator, designer or video producer to create professional looking videos that get noticed.
Research suggests animated videos increase retention and keep people engaged for longer periods of time. Business owners, this means you're more likely to convert potential customers into paying customers.
According to the National Retail Federation, 8 in 10 US adults plan to celebrate Easter this year and will spend on average $151. With this in mind, find out how you can get involved using VideoScribe to propel your business!
1. Use VideoScribe to create original Easter e-cards and invites
Keeping in regular contact with customers is important for your business and reputation. Wish existing clients and customers a Happy Easter with an animated e-card from VideoScribe. We've made some templates for you to download, edit and share so it's even easier to send out personalized videos to share on social media.
Videos shared on social media are more likely to be shared, liked, and remembered.
"Did you know,
a video Tweet is
6x more likely
to be retweeted than a photo?"
Animated videos also make for perfect internal communications. Send out an Easter themed e-card to employees inviting them to take part in your company's celebratory Easter egg hunt or company lunch.
Our templates aren't just limited to business owners either. We have some for anyone wanting to send your family well wishes, or planning a get together this Easter. Animated videos are a real hit with the grandparents too!
We don't see the need to waste paper. Save the planet, go digital!
Sign up to VideoScribe to download the templates.
Already a VideoScribe user? Download templates here.
2. Use VideoScribe to create an Easter explainer video
Show your business's playful side. Get creative this Easter by inspiring others to make an Easter Bonnet or Easter themed cupcakes. Use VideoScribe to make an animated version of the recipe or method!
These are perfect for sharing on Instagram. You'll find an increase in follower engagement and interest.
Check out this fantastic example of how to make a Piña Colada. Get inspired!
Sign up to VideoScribe to get started.
3. Use VideoScribe for your marketing campaigns this Easter
Support your spring campaigns with an animated video. You can easily animate your existing Easter assets with VideoScribe. Simply upload your creative assets into VideoScribe, add some text, choose your animation style and share your video everywhere! Then watch the engagement and sales roll in.
Top Tip: VideoScribe is great for storytelling. Create a narrative (it doesn't need to be complex) and you'll find more people will watch until the end and (fingers crossed) make a purchase.
Sign up to VideoScribe to get started.
Not just for Easter…
Remember, VideoScribe is a helpful tool all year round.
Whether you're an educator teaching a challenging new topic, a sales professional selling a product, or a social media pro telling your story, make sure you have VideoScribe to help.
VideoScribe is an affordable tool that allows you to create eye catching animated videos in minutes that shows off your business and drives customers to your product or service.
Sign up to VideoScribe to get started.
We've love to see your Easter creations. Get sharing! Use our hashtag - #eggcellentscribes