Boas notícias! 🎉 We've added Portuguese to the languages you can now use to search for the perfect VideoScribe images. Whether you're looking for a single word image like "árvore" or a phrase like "bebê engatinhando", you'll quickly and easily find the graphics for you.
Read on to learn more, or log in to VideoScribe or start a free trial today to try it for yourself 👇
How do you start searching for images in Portuguese?
It's as easy as logging into your VideoScribe account (or starting a free trial) and then clicking the 'Add New Image' button. From here you can start searching for Portuguese words and phrases to find the perfect images, GIFs or graphics for your video.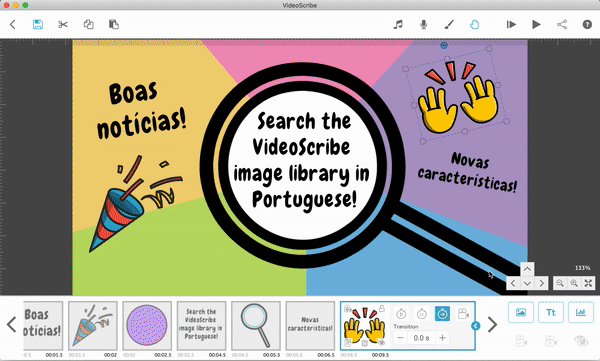 If you're already a VideoScribe subscriber, you don't need to download the latest version of VideoScribe to access these changes, they're automatically applied. However, it's generally a good idea to download the latest new versions of VideoScribe when they're available. You can check which version you're using by following the steps here, and download the latest version from here.
Image library search tips
For a little extra help finding the right images for you faster, try these top tips 👇
Tip 1: Cut symbols and special characters
Our search only recognizes words so make sure you remove any numbers or symbols from your search before you start. If you're looking for images relating to symbols like a question mark or hashtag, use the full words to look for them rather than '?' or '#'.
Tip 2: Refine your search with filters
Depending on what you've searched for, sometimes you might have a very long list of results. In this case you can start using the filtering options on the left-hand side to find exactly what you want. Just click the check boxes to turn the filters on.
Remember, you can not only refine what's in the actual image but the style of image too - i.e. do you want it to be a full color image or just an outline?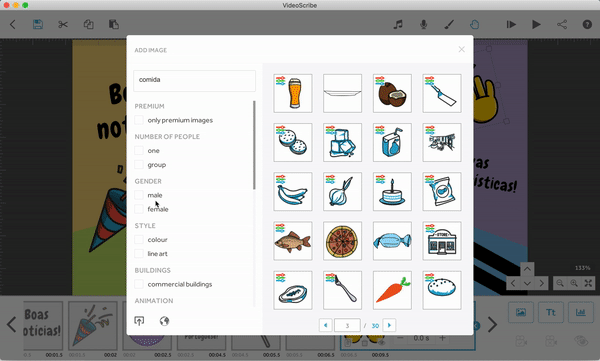 Tip 3: Right click to preview images
Think you've found the right image but just want to be doubly sure? Right click on the thumbnail to expand it and watch the image draw. With this preview you can check it's perfect for your animation or carry on investigating.