If you're an avid user of VideoScribe for your Browser, you may have noticed some recent updates and changes. We're constantly working to improve and enhance your experience using VideoScribe, and our team have been implementing exciting changes over the last few weeks to make your video creation even easier and faster!
From a faster video renderer to an updated template finder, we hope these new changes will enhance your video creation experience. Before we get stuck into the blog, don't forget to purchase a flexible VideoScribe subscription or sign up for your free 7-day trial so you can check out these new updates for yourself! 👇
Template finder
We've added new ways to find and sort VideoScribe templates when you're editing projects in the project screen and when you're searching in the template library.
The below photo shows the new template finder that you'll see when working in the project screen 👇

And the below screenshot shows the new template finder that you'll see in the template library 👇

We've also added new filters so you can sort the templates in the library by orientation (19:6, 1:1 or 6:19), recently added or by name (A-Z or Z-A). This is a super handy feature if you need to create a video of a specific size for your social media channels, as you can select the orientation you require and easily see which templates fit your requirements, rather than having to sift through the entire template library.
The screenshot below shows the new orientation filters 👇

Faster video sharing
You may have noticed recently that your video creations are downloading MUCH faster than usual... well that's because we've added graphics acceleration to our video renderer (aka GPUs), meaning your exports will be ready up to 10x faster!
We've also decreased the time users are waiting for their video to be rendered, so your creation will be exported in the blink of an eye!
Project filtering & sorting
We've also added enhancements to the project screen, so you can easily sort and filter your old projects. This will help to make it much easier when you need to find a particular project or refer back to a previous video you created.
The screenshot below shows the new search bar that's available when you're in the project screen. To search for a project, simply type in the name and all projects with that same name will pop up below it! 👇

You can also sort your projects by orientation, recently used or by name. You can also use the toggle at the side to view them as a list or as a grid, depending on how you prefer to browse through your projects.
The screenshot below shows the options for filtering by orientation 👇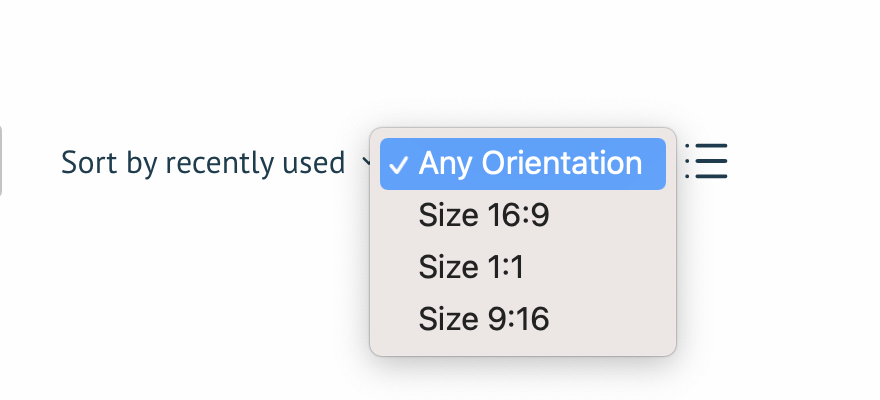 So, that's a wrap on the latest enhancements and updates in VideoScribe for your Browser, we hope you find these new features useful. Be sure to let us know in the comments your thoughts! 👇