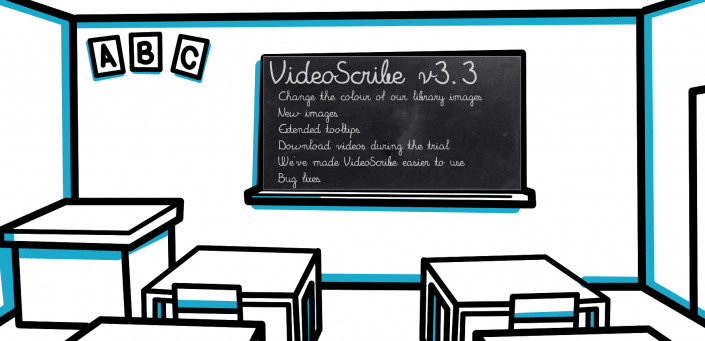 We're excited to bring you VideoScribe v3.3! It's ready to download now! Let's take a look at what's new...
Change the colour of our library images
We've been working hard and we're delighted to bring you the ability to change the colour of the images in the VideoScribe Library!
More than a thousand images have been updated to support this new feature which is over 20% of our library. Look out for icon below in the top left of a thumbnail to see which images can change colour.

Whenever you see this icon you will have up to 4 colours you can change. Simply pick a colour from our handy palette or add your own hex code. Find out more about how easy this is to use on our colour change help page.
New images
We have added colour versions of our technology images giving you an extra 31 images to choose from… of course, these all change colour too!

We've also added the extremely popular tap dancer from our website homepage video. Find him in the 'People' folder in VideoScribe in both full colour and highlight styles.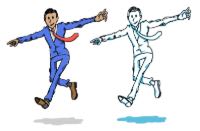 Extended tooltips
Not sure what a button does? Wonder no more! We have added a 'more info' option whenever you hover over key buttons in VideoScribe.

Click 'more info' to see a short explanation of what the button does or hit 'read more…' to see the help page covering that feature in detail.

Download videos during the trial
Up to now, free-trial customers have only been able to publish their VideoScribe projects to YouTube or PowerPoint. This restriction has been lifted in v3.3 and you now have access to the local download function as well.
Free-trial projects will still carry a watermark but you can now export locally to your machine in MOV and WMV video formats.
We've made VideoScribe easier to use
We've also tweaked a number of other areas to make it easier to use:
We've improved the way you select elements on the canvas. You can now click anywhere within an image to select or move it. Previously, you couldn't click on transparent parts of an image.
The rotate and resize handles have been updated. We've moved the rotate handle to just above the image. This makes it harder to accidentally select it when you're trying to move an image.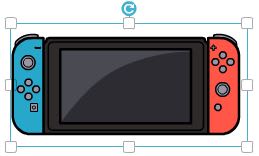 We have changed the way you browse through screens when you have multiple pages. We've removed the pagination dots instead giving you much clearer page number options with next and previous page arrows.

If you change the font you are using, VideoScribe will remember this for the rest of the project rather than defaulting back to basic each time you add a new text element.
If you use the Next/Previous element buttons within the image properties screen it will remember the tab you're using rather than defaulting back to the drawing options tab.
To support recent updates we have added 2 extra options to the 'user preferences' section. You can now decide if you would like to View Extended Tooltips and also Remember the Timeline bar quick menu state as you move between timeline items. By default, both will be set to on.
We have added DPI Scaling Support for those of you with devices that use this.
Bug fixes
We've also squashed some pesky bugs in v3.3 of VideoScribe:
We've made some big improvements to the animation engine which has fixed a number of issues you might have had with animation timings, particularly for elements with a 0.0 sec animate time.
If you paused the preview of your scribe that would sometimes cause pause and transition times to be ignored in your future previews. Which was annoying, but fear not we've fixed it!
Large amounts of text with short animation times would run out of time to draw and the last part would just suddenly appear. We've now increased the speed of the drawing hand to stop this happening.
'Move-in and Fade-in, sometimes previewed slower than they should, especially with high-resolution images. They're real time now.
Pausing an audio preview that was longer than your animation would disable the pause button. Not anymore!
Auto-save sometimes stopped working if you had dismissed the What's New screen. Sorry about that, it's all fixed now.
Morph animation now works for images in silhouette mode too.
Using the previous/next element buttons to scroll through and edit text elements wouldn't save your changes. Now it does.
We've packed a lot in and we hope you like the sound of all these improvements! Here's how you upgrade to v3.3...
If you would like to upgrade to the latest release of VideoScribe, simply download and install it here. For detailed instructions on how to do this, please see the links below.
Download and install VideoScribe – PC