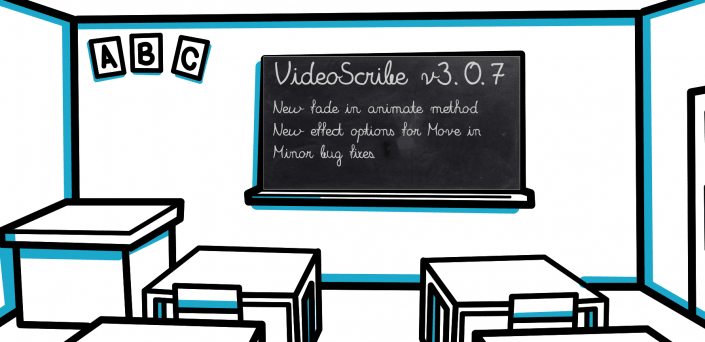 VideoScribe v3.0.7 was released on 21st February 2018 and is now available to download from your account page.
New 'Fade In' animate method
Fade is one of the most asked for feature requests and we are delighted to say that it has become a reality with this release. It's available on images and text (with the exception of GIFs) and with just a few clicks you can get the element to fade in onto the canvas. The duration of the fade in effect is easily controlled by the Animate Time.
Below is a quick tutorial video on how to use this new feature and you can also read our Instant Answer for more details, including how you can use it to produce a fade out effect as well.
[embed]https://youtu.be/Z3_2LU2-3rQ[/embed]
Updated options for the "Move In" animate method
In previous versions of VideoScribe you had access to 3 effects. 'Smooth in', 'Go to far' and 'Bounce in'. These have been renamed to 'Smooth', 'Overshoot' and 'Bounce' as well as adding a new option of 'Uniform'.
Nothing has changed with 'Overshoot' and 'Bounce', apart from the name.
We've updated the 'Smooth' effect to cope better with longer animation times. Users had reported that the hand slowed down too much and took too long to be removed with animate times above a few seconds. So we've updated the algorithm we use to account for this.
At the same time, we have also introduced a new effect called 'Uniform'. This effect causes the element to be moved in at a constant speed.
We find that the 'Smooth' effect is best when using a hand to move an element in, but the new 'Uniform' effect is often better when using a 'No Hand' move in effect, such as a car moving in from the side, or rain falling down from the top of the canvas. You can find out more about Move In by reading our new Instant Answer on this animate method.
Minor bug fixes
We have also fixed a couple of bugs:
You can now click and hold the Zoom and Canvas Move buttons to zoom/scroll continuously.
The add image, add text and add chart windows are now correctly named.

That all sounds great! How do I upgrade to v3.0.7?
If you would like to upgrade to this latest release of VideoScribe you just need to download and install it from your account page. For detailed instructions on how to do this please see the below links.
Download and install VideoScribe – PC