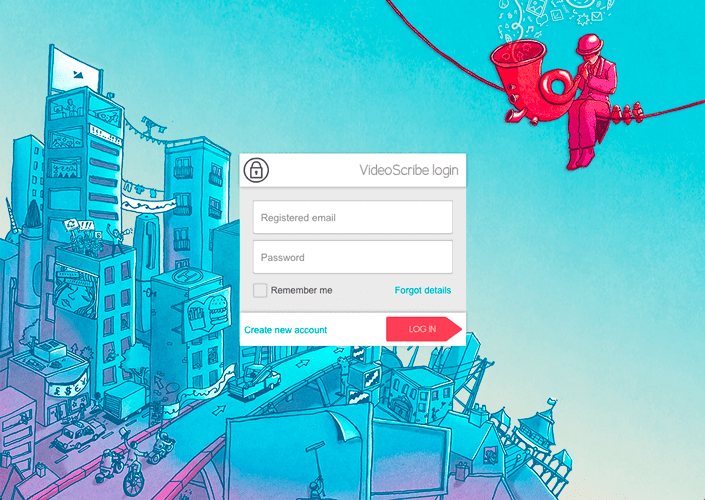 From 17 September 2014 we will be automatically prompting all VideoScribe desktop users to upgrade to the latest version of the software. If you'd like access to all the great new features of version 2, please follow these instructions.
VideoScribe desktop version 2 was released 9 June 2014. There are big improvements to the interface – you'll find new features, a better search and preview functions and a much cleaner way to save and publish your scribes.
Subsequent updates (2.0.1 and 2.0.2) introduced the ability to search your projects, choose frame rates, and fixed some annoying bugs.
You can find out more about VideoScribe version 2 from the release notes, tutorials and worksheets.
How to upgrade
From 17 September all VideoScribe users will see a popup message when they log in to VideoScribe.
If you'd prefer not to upgrade just yet, simply dismiss the popup. If you'd like to go ahead, follow the instructions onscreen to download the update.
PC
If you're upgrading from version 2.0/2.0.1 to 2.0.2 – once the software has downloaded, you will be able to run the installation wizard in the usual way.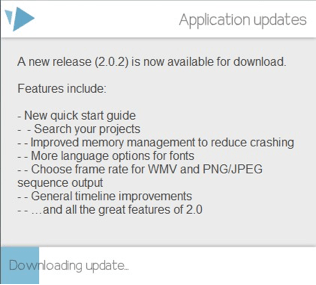 If you're upgrading from version 1.3/1.4 to 2.0.2 – as version 2 is a significant change from version 1, you may find that you need to manually start the installation after the download.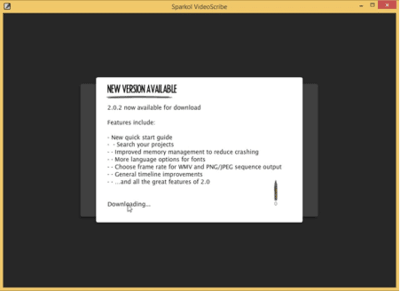 Once you accept the upgrade, the download will begin your default browser will load allowing you to open the installation file.
You can then open up the installer file (VideoScribe.msi) and run through the installation wizard.
Mac
The Mac upgrade process is the same regardless of what version you're currently using.
Once you have opted to upgrade, the download will begin.
This is what you will see upgrading from 1.3/1.4: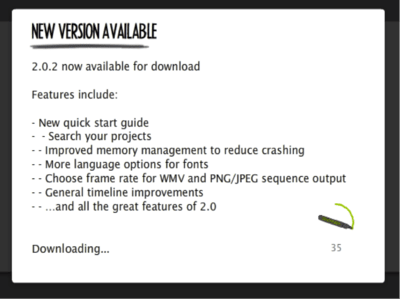 This is what you will see upgrading from 2.0/2.0.1: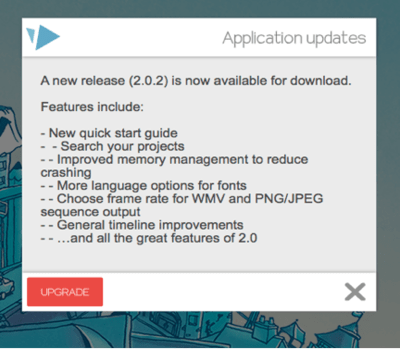 When the download completes, your default browser will open the installation package. Open the file to begin the installation.

Drag the VideoScribe icon into the applications folder. If you have issues with this, please check the Mac troubleshooting guide.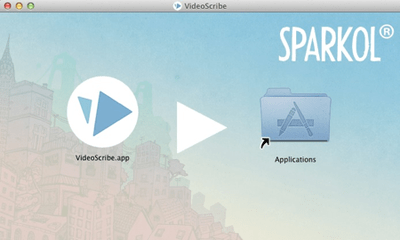 Once the new version of VideoScribe (left) is visible in the applications folder, move the old VideoScribe icon (right) into your trash and empty it.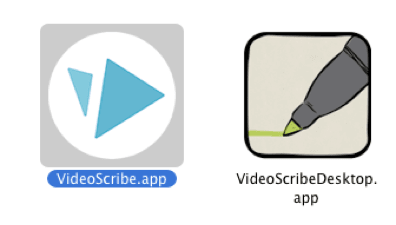 Restart your Mac and you're ready to go.
Upgrade troubleshooting
If you have issues with the upgrade and installation:
Check that you have a strong, stable internet connection
Make sure you're running the latest version of Adobe Air
Check that you are logged in as a system administrator. If you work in a school or office, you may need to speak to your systems and network administrator. This information will help them install VideoScribe.
If you've accepted the upgrade and the download does not start or fails, you can also download it directly here.
Still having trouble? Get in touch with our support team by raising a support ticket. Please provide as much information as you can about the issue you're experiencing.