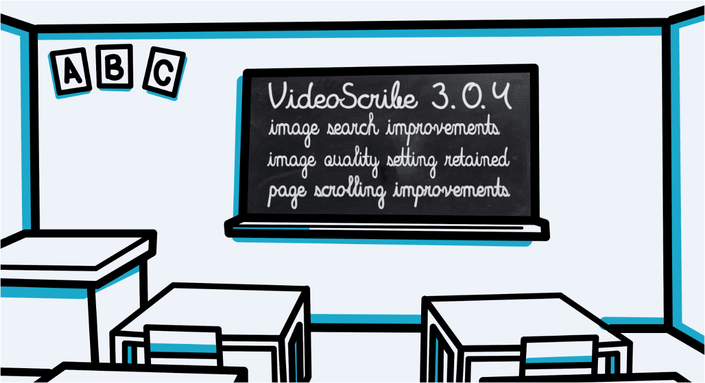 VideoScribe 3.0.4 is now available to download from your account page. We have made a number of improvements in this release and are delighted to end 2017 with a new version for the VideoScribe Community.
Image search improvements
We've updated the way image search works so that it will return a lot more relevant images for each search. Plus you can now use spaces, colons or semicolons to separate your search terms as well as commas. So for example you can now search for "curved arrow" or "thin arrow" or even "curved thin arrow".
Image quality setting retained
Images now retain their original quality setting when you open your scribe projects. You have always been able to select the 'Image Quality' option in 'User Preferences', which determines the quality the images are displayed on the canvas. In recent versions of VideoScribe, the setting was controlling the quality of everything on the canvas rather than the images. Once again adjusting this setting allows you to control the quality of your images.
Page scrolling improvements
We've made improvements to the page scrolling controls. This affects places where you see lists of items, like the Projects screen and the Scribe Music screen. In the case of images we've also improved the way these pages are loaded.
Minor bug fixes
We have resolved a number of minor bugs, including fixing the issue where the canvas was moving when you pasted an element using the keyboard shortcuts, and the issue where the currently selected element was not showing its start and end time in the timeline.
Sign into your account today and hit the download button to get the new version.