We're delighted to bring you a host of new features in our latest VideoScribe update (v3.4.0 if you're counting). Download it here or sign up for a free 7 day trial.
Customizable video templates
We've saved you from the dreaded blank screen paralysis. Now, when you launch VideoScribe you'll have a bank of template scribes to get you started. So if you're looking to create an announcement video to update colleagues on changes our 'High Voltage' template has you covered. Perhaps you're looking for a powerful way to promote your business? Share your awesome customer feedback with our 'Case Study' template.
Are you a teacher looking for a more engaging way to share your lesson content? We've got templates for that too!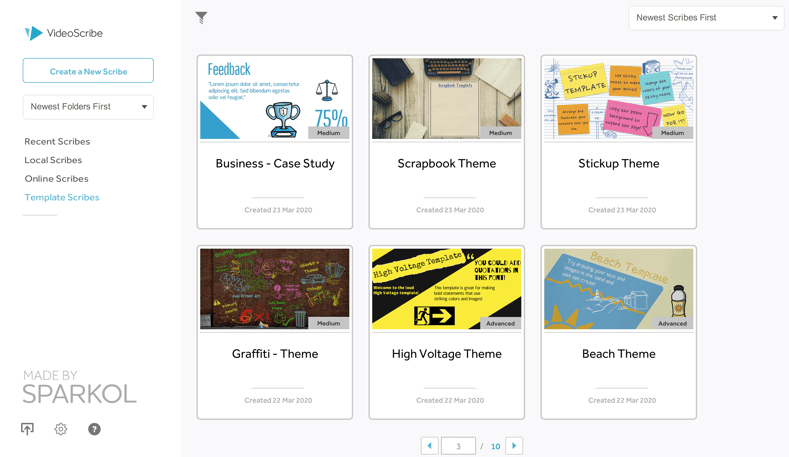 Every element of our templates are customizable, so you can personalize them to suit your brand or style. We'll be constantly building more, you can vote for what you'd like to see next here.
To access these video templates, download the latest version of VideoScribe and look for the new folder 'Template Scribes'. Check out our tutorials on how to use the templates.
Publish your videos to Vimeo
We're always looking to make it easier for you to create and share your fantastic videos. And so we've partnered with Vimeo to allow you to easily publish videos directly from VideoScribe to Vimeo. This works alongside the existing functionality to download directly to your computer or publish to YouTube, Powerpoint or our video hosting site Sho.co.
Vimeo is a fantastic option for video creators, it gives you incredible control over how your video is presented and who can view it. You can swap out a video file without losing your stats, add password protection and more, all with super high resolution and sound quality.
You'll see the Vimeo logo by tapping the "share or download" button in VideoScribe. If you don't already have a Vimeo account, you can sign up directly within VideoScribe.
Say hello to American English
You say organization, I say organisation! Our friends across the pond can now choose to use VideoScribe with American English rather than British English. Head to user preferences to make the switch. VideoScribe is already available in Spanish and watch this space for more languages coming soon!
And that's not all! Here's a glimpse of what we're creating next...
We're working hard to bring you new features that make VideoScribe work even better for you. Making it easier and quicker to create high impact videos. Here's a little glimpse of what's next on our to do list….
More advanced text editor
A more advanced text editor to give you far greater control over how your text appears within your video. With highly accurate kerning and more character sets so you can add text in your native tongue.
Third party image integrations
We're partnering with third party image providers which will give you access to a much broader library of rights-free images to choose from.
To try the exciting new features download the latest version of VideoScribe here.