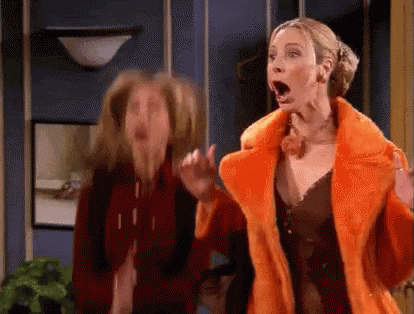 With animated GIFs exploding in popularity since their creation over 30 years ago, you may be wondering how you can create your own, especially if you're not a whiz on Photoshop. Well, wonder no more! VideoScribe is the simplest and quickest way to create your own animated GIFs, without the need for any artistic ability. Simply choose your template, customize using our simple editor and export as a GIF file.
To start creating your own animated GIFs, start a 7-day free trial of VideoScribe or log into your account.
In this blog, we'll be taking you through our top 5 tips and tools to create awesome animated GIFs for your social channels, website, blog or marketing emails. Read on below to get all the tips you need to create your own 👇
1. Make it eye-catching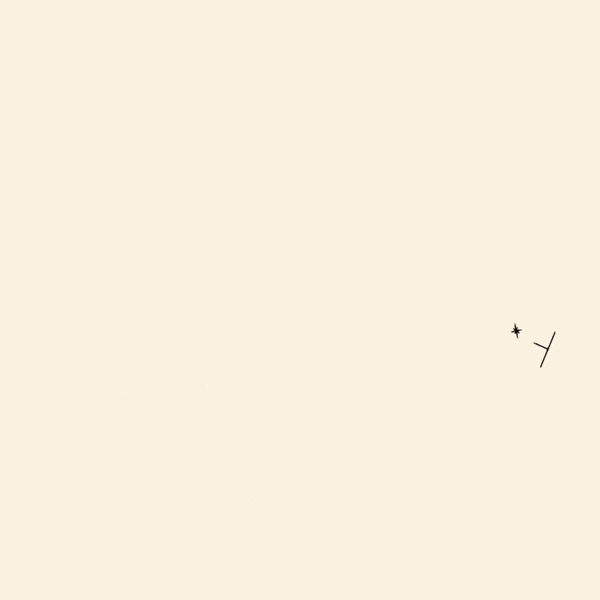 The aim of your animated GIF is to engage and attract viewers, so being eye-catching and visually appealing should be a top priority. Keep your GIF transitions fast and don't be afraid to use bright, bold colors in your design.
2. Keep the file size low
Keeping GIF file sizes low is crucial to ensure your emails and web pages don't load too slowly. You don't want complaints from frustrated subscribers! For emails, it's best to upload GIFs that are less than 5 mb to avoid a slow loading email.
An easy way to compress your GIF file is to use EZGIF, an awesome free online tool you can use to easily optimize and reduce the file size of your creations. Just upload your GIF and choose your level of compression. It's worth noting that the more you compress, the lower the image quality will be.
3.Let your personality shine
Using animated GIFs is a great way to connect with your audience by showing a humorous and fun side to your brand. GIFs are more interesting than static images and are likely to make you stand out amongst your competitors on social channels. Don't be afraid to let your brand's personality shine!
4. Use a template
Staring at a blank canvas and struggling to think up creative ideas isn't the best way to start! Lucky for you, we've got a library of easy to customize video and GIF templates ready and waiting for you to use. Simply log into your account (or start a free trial), select your desired template from our library, customize it as needed and download as a GIF file.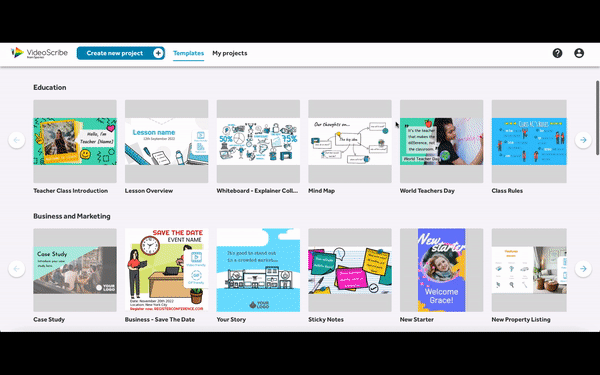 5. Download videos as GIFs
Did you know you can export your creations as GIF files straight from VideoScribe? Simply create your video as normal, click the 'download' button and choose 'export as GIF' from the download options. It really couldn't be simpler.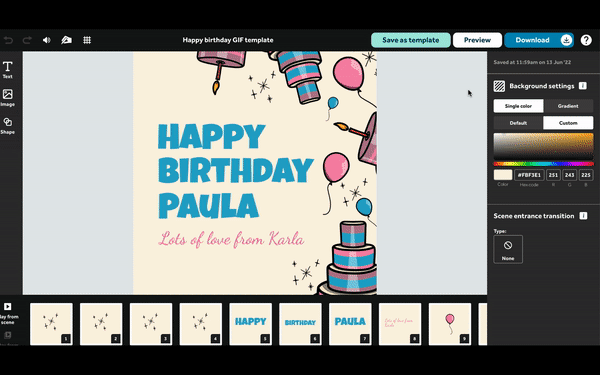 This means you can use almost any template in our library and export your video as a GIF file.
💡Top tip: be sure to keep the length of your GIFs to under 15 seconds.
Ready to start creating your own awesome GIFs? Simply start your free 7-day trial or log into your VideoScribe account to get started!