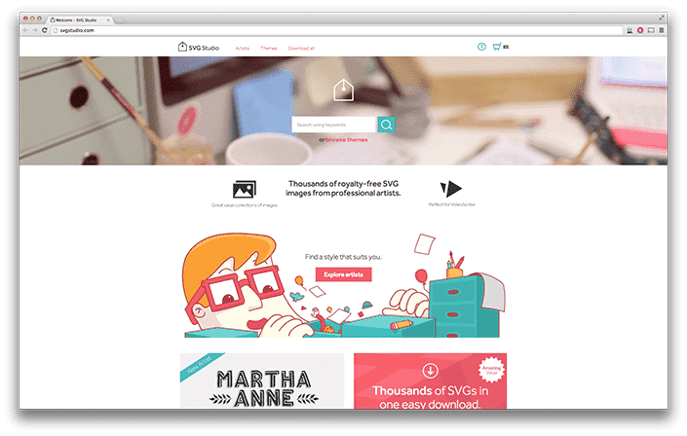 SVG Studio's brand new character illustrations and clean new design make it even easier to find a hero for your story. Browse our exclusive artist collections and themed bundles for thousands of high-quality vector graphics.
Choose the perfect character for your animated video
Find the star of your scribe.
If you're struggling to find consistently-styled images of people to use in VideoScribe, SVG Studio is what you need.
SVG Studio's artist collections are full of stylish, unique characters you can use to illustrate and narrate your scribes.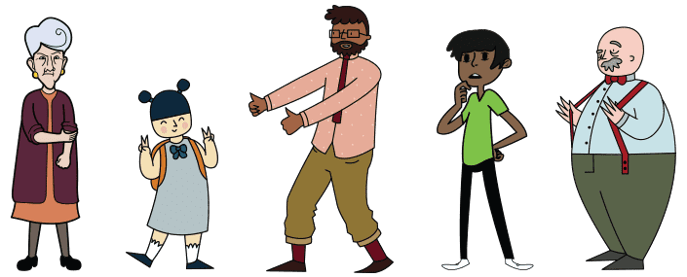 Designed by professional illustrators, each image has been fully optimised for VideoScribe. You'll find ten images of each person – five people in each pack – in a variety of expressive poses. Perfect for bringing your message to life.
Pick up an original collection for $75 – that's only $1.50 per image!
New artists and collections will be added each month, so be sure to check back often. You won't find these kind of images anywhere else.
Themed SVG image collections
Browse through themed collections from 'Alphabet' to 'World'.
Abstract concepts and metaphors can be tricky to illustrate. Luckily, SVG Studio has over 70 themed collections of SVGs, ranging from 'Hindrance' and 'Blunder' to 'Focus' and 'Success'.
You'll also find lots of useful packs like 'Animal', 'Medical' and 'Food' – just what you need to build yourself a stockpile of high-quality SVGs.
Grab a single collection for as little as $24 or build the ultimate image library with the Sparkol bundle – over 3000 Sparkol SVG images for only $499.
Try a sample SVG image for free
All the images in SVG Studio draw beautifully in VideoScribe and other illustration programs. If you want to see what the fuss is about – download a free sample today.
If you've got some ideas for what we should add next, let us know! Drop us a line at our Facebook page or on Twitter.