Who can resist a great GIF!? Whether they're funny, promote an important cause or are just plain random, research from GIPHY shows more than 100 million people use GIFs each day and we're watching 2 million hours of GIFs a day. Considering most of them are only a few seconds long that's pretty mind-blowing 🤯
So, have you thought about adding GIFs to your videos? But not just any GIFs - GIF stickers. You've probably used GIF stickers on social media Stories or in messages. They're essentially a really video friendly GIF that can add extra movement, fun and personality to your creations.
Read on to learn exactly what GIF stickers are and how you can use them in your videos to level up your animation game 💪 Then get set to put that inspiration into practice in your own VideoScribe 👇
What are GIF stickers?
If you've not heard of GIF stickers before, you might be wondering how they differ to regular GIFs. The main difference is that the outline of a GIF sticker is transparent whereas a regular GIF would be one rectangular shape. With that in mind, they're a lot easier to layer on other videos and images. They're also great for:
Adding extra moving elements to your animations to keep audiences watching for longer.

Bringing personality and unique touches to your video creations.

Tapping into trends, pop culture and recent news events.
So, where do you find them? There's dedicated websites and search engines for GIF stickers like GIPHY Stickers, Tenor Stickers, Gfycat Stickers and loads more. Just search for topics or designs you're interested in to enhance your video storytelling.
How to add GIF stickers to your VideoScribe video creations
You won't believe how easy it is to add GIF stickers to your videos in VideoScribe for desktop and for browser. Just follow these 3 steps:
1. Choose the GIF sticker you want and download it from your GIF site.
2. Click the 'Add image' button.
3. Then click the upload icon on the image selector and choose your GIF sticker file.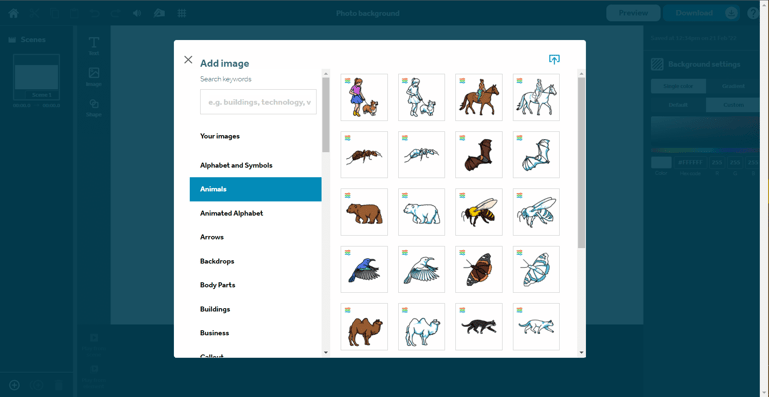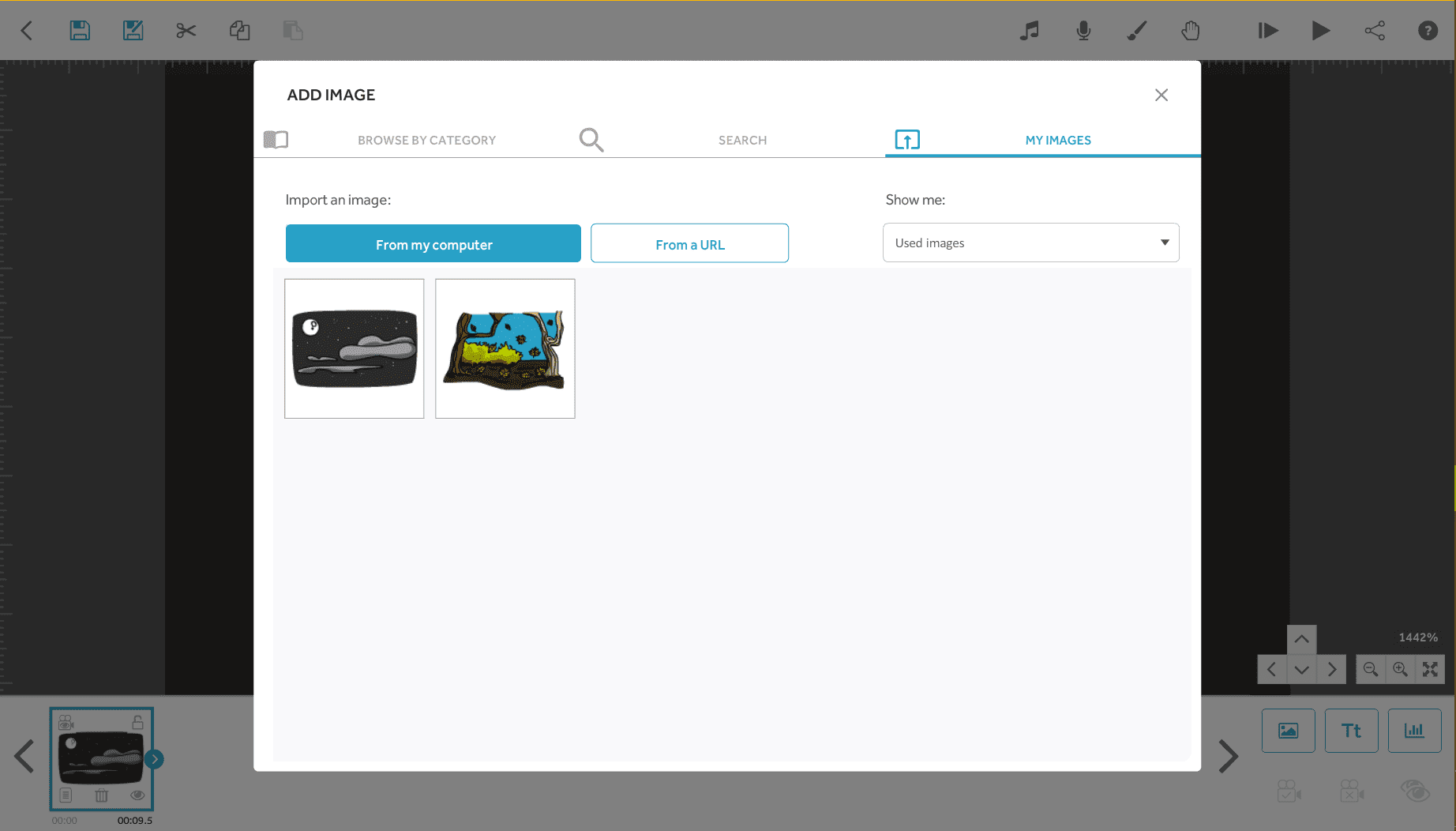 Boom! Your GIF sticker is uploaded - hello irresistibly engaging videos 👋
You'll also find lots of GIFs ready-made and waiting for you in the VideoScribe library GIFs folder whether you are using the desktop or the browser version!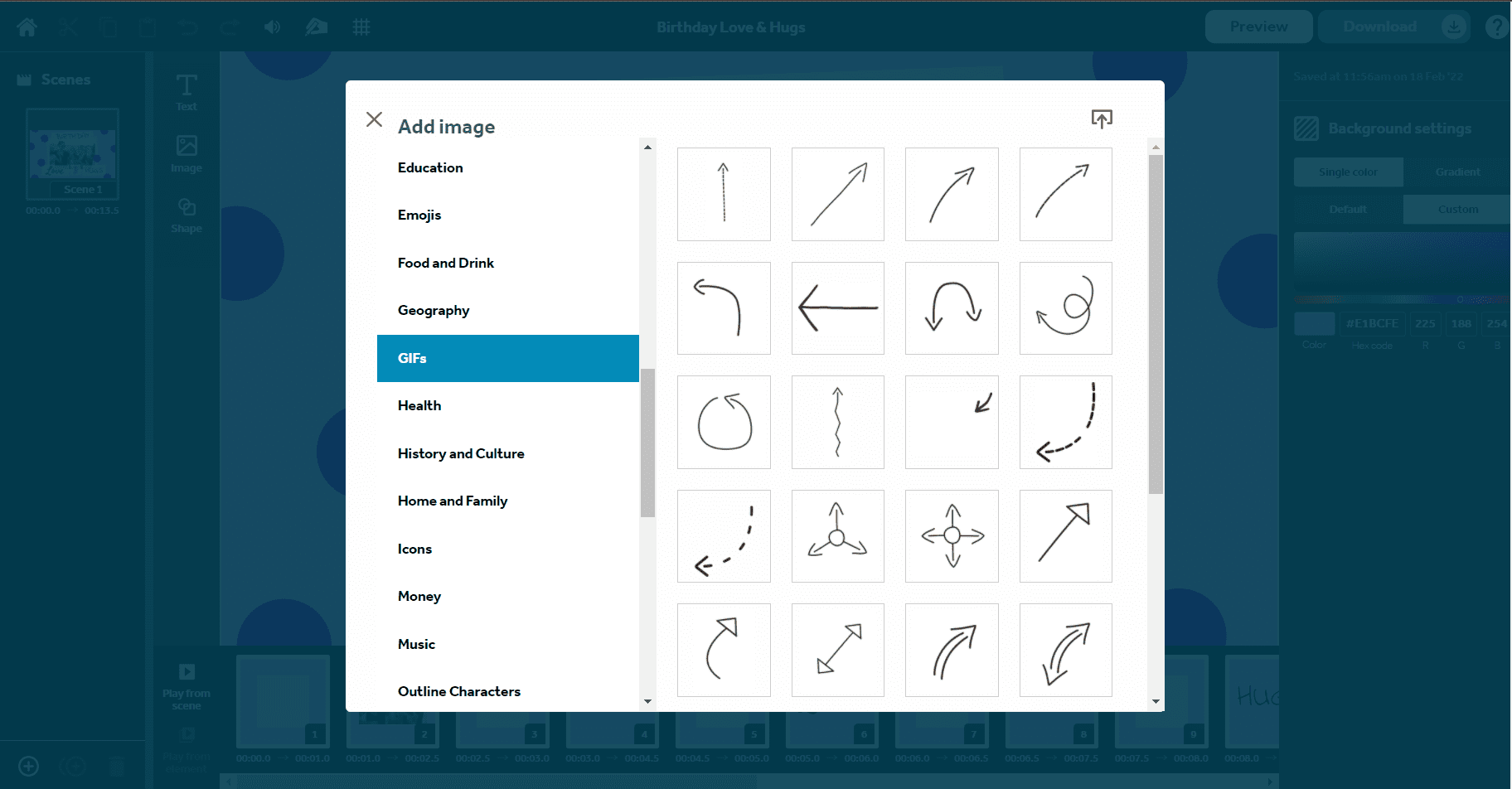 4 fun ways to use GIF stickers in your videos
So let's talk ideas - how can you use GIF stickers in your videos? These are some of our favorite ways to incorporate them for an extra fun, engaging and professional touch 👇
1. Create badges
The most obvious option is to swap out static images for GIF stickers! There are stickers for almost any topic or graphic you could think of so just get searching to find one that suits your message.
In this case, we've swapped out our library images representing COVID-19 protection measures for GIPHY stickers. These have more personality and keep moving throughout the video to keep us engaged. We've also picked three stickers with a similar styling to maintain consistency so keep this in mind when you're choosing multiple stickers to work together.
2. Draw attention to important points
GIF stickers are also great for highlighting the most important information in your videos or providing direction to your audience. In this example we've added an arrow sticker to our 'Out of office' video template guiding the viewer onto the next bit of information.
This is a really simple and effective way to incorporate GIF stickers into your next video. Plus, how beautiful is this template!? Regardless of whether you're vacationing at home or away this year, your colleagues will be jealous with this message 😎
3. Add emotion
GIF stickers tend to include more photos and illustrations of people, particularly people showing a range of emotions, which make them great for boosting emotional connections with your audience. We find it easier to understand the tone of a message and relate to it where we can see other people's emotions.
So why not try adding in a happy shimmy GIF sticker to your next video to show just how excited you are about your latest company news or update 🎉
4. Structure information
Looking for a different way to present your points in a presentation? Keep all eyes on you with GIF sticker bullet points or markers. We love the way these spinning planets look in our space themed education template!
Plus, this idea can so easily be replicated to suit almost any video. Just pick a images that link to your video theme or topic and add as many GIF sticker bullet points as you need.
So there you go, it's as easy as that! You'll be creating engaging videos with GIF stickers in no time. Get started today with VideoScribe 👇