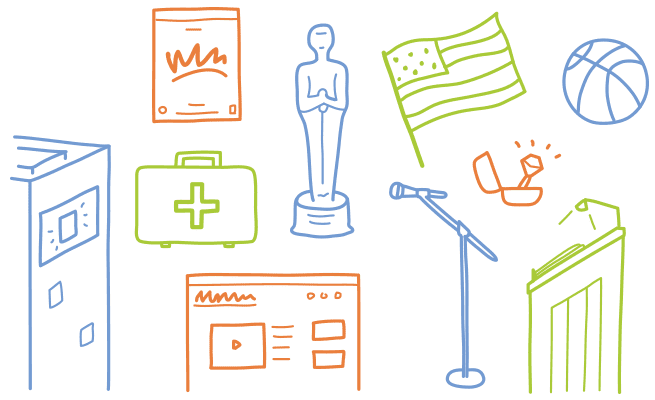 VideoScribe has sold in 109 countries around the world and that number is going up. Even so, you might be surprised at just how popular scribing has become. Here are 9 places you'd never have expected a whiteboard video to be used.
Those of us that scribe know there's something a little bit magical about whiteboard videos. It seems the rest of the world is catching on as well...
1. On President Obama's website
It took more than 4,000 photos to tell the story of why Obama's government thinks immigration reform is necessary. The result is one basic but effective scribe on the Whitehouse.gov website. You'll never find something like immigration reform so engaging again!
2. All over Mashable
The Mashable scribe A Hand-Drawn History of Facebook has already been shared nearly 4,000 times from the Mashable website and bagged over 73,000 views on YouTube. It's a perfect example of how stylish a scribe can look when you make your own illustrations for VideoScribe. And Mashable have made several more since.
3. In British Government communications
Whatever you think of Chancellor George Osborne's financial cuts, at least he had a go at a whiteboard video. His scribe for describing the Spending Round and what a deficit is can be seen on the gov.uk website.
4. In the opening credits of Weeds
How do you sum up seven series' worth of exciting drama in a one-minute episode intro? Simple, use a scribe. This whiteboard opener solidified Weeds' status as an offbeat comedy, with childlike drawings that clash gleefully with the dark subject matter.
5. Among Adobe's advertising
Whiteboard animation turns what could have been a long, tedious product explainer for Adobe Echosign into a quirky animation that gets the message across just as well (if not better).
6. In Errol Morris's portfolio
Academy Award winner Errol Morris was drafted in to direct these devastatingly simple adverts for UPS. A few masterful strokes of the whiteboard marker and bam! a van is transformed into a freight lorry. Brilliant stuff.
7. At an emotional moment for Bono
This beautifully illustrated scribe comes from Blank on Blank, who take vintage interview tapes and combine them with new animations to 'remix the past'. Singer and campaigner Bono talks about the final days of his father's life and the epiphany he had during the experience.
8. On ESPN
Even ESPN, one of the biggest American sports networks, know that sometimes you need to keep it simple when talking facts and figures. Luckily, scribed videos are the ideal medium for setting out information simply and clearly.
9. For a marriage proposal
Video scriber Ramy contacted us last year to tell us about his unique experience using VideoScribe:
I used VideoScribe to propose marriage to a girl. Sadly, she said no. However, some girls at the restaurant loved it so much that now I'm dating one of them! So yeah, I believe video scribes have some kind of magic.
We agree!
…and one expected place – where it all started
The RSA Animate videos popularised whiteboard animation and became the inspiration for VideoScribe. The best talks by renowned psychiatrists, philosophers and activists are brought to life in scribe videos. See the collection on the the RSA website. They're the perfect length for a lunch break.